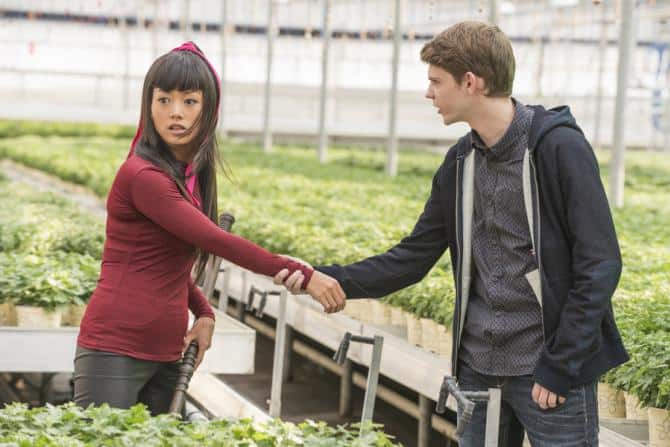 After what seemed like ages, Heroes Reborn has returned to finish out it's limited run with its final three episodes. Now, I wish I could say that the transition was seamless, but I don't believe that to be the case. It was a little bit of a long hiatus for after three episodes. "Send in the Clones" had picked up some serious steam by the end, but they could've used momentum much more efficiently and double up episodes a couple more times, because the mid-season break didn't do it any favors. However, once I had figured out/remembered what was happening before the break, the story did come together and become a tad more compelling.
This week on Heroes Reborn: After Noah disappears, Luke takes over the effort to help Malina save the world, but not before encountering Quentin, Phoebe, and some of the clones. Tommy, desperate to double-cross Erica, sends Katana Girl to the clinic to assist the others. Taylor is taken by Matt Parkman, who finds out some interesting information. The world is alerted to Erica Kravid's plans as the end of the world approaches.
Compared to the rest of the season, this episode actually did not feel particularly meaty. Even though it touched just about every character in every different plot thread, they've started to come together in such a way that makes sense, and it condenses and focuses the story much better than it has previously. The first part of the season was a struggle in terms of keeping up with the story, but in the last few episodes it has become much clearer overall, and a second viewing would help considerably in the first half.
You may have noticed at this juncture that I have not reviewed most of the previous 10 episodes of Heroes Reborn, but I WILL be the one finishing the season. If you'll recall from my guest appearance, I did not watch the original Heroes series. That being said, please let me know if I am missing some things. I'm generally aware of the characters and whether or not they played a role the first time around. However, as loyal readers, please point out any glaring canon errors I may have made.
There are many talented actors sprinkled throughout this series, but among the strongest are Robbie Kay and Zachary Levi. Kay has really taken to the heroism in his role. He's a compelling young hero and you can feel the conflict radiating from Tommy as he attempts to do the right thing and meet his destiny. Tommy was likable immediately. I loved Kay's work on Once Upon A Time, and while this is a departure, it's a good one. Levi is a bit of a different story. You won't find a bigger Chuck fan than me (okay, maybe you will, but you'll have to look hard). But that's why Luke disappointed me at first. At the beginning there wasn't much to him, but soon you started to sense the conflict in him. He discovered his abilities. He realized killing the Evos was wrong. As we've gone on, Luke has become one of the most compelling characters on the show. It was a quick turnaround, but one I was very glad to see. His journey will be a pivotal one to watch going forward.
Ultimately, "Send in the Clones" felt like a mixed bag for me, but perhaps that's to do with the stale feeling I got from being away so long. These are definitely 13 episodes that should've all run together. However, I still found it a compelling, well acted episode that's setting up some compelling stuff for the final two episodes. It's sure to be an interesting journey.
What did you guys think? Did you enjoy this episode? Are you glad it's back? Let us know!
Heroes Reborn airs Thursdays at 8/7c on NBC
Tell us what's wrong with this post? How could we improve it? :)
Let us improve this post!