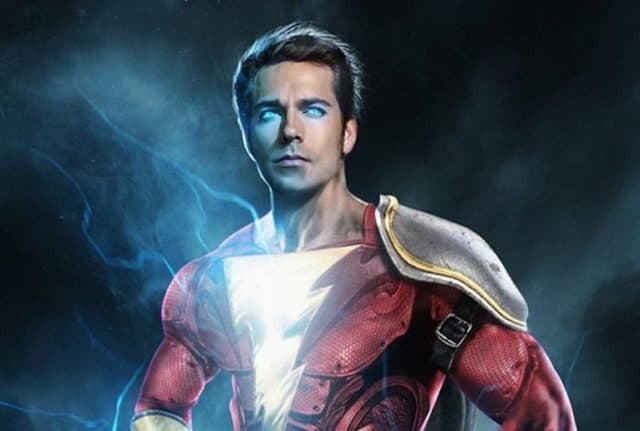 In some ways I think the comic book movie genre is starting to get a little out of hand. I know, shut my mouth and slap me upside the head for such a though, right? But in all honesty it seems to be dominating the market at a time when it should really be taking a breather and getting back to basics. The idea is that the comics need to finally start being represented on the screen as they are in the books. Take for instance this awesome picture of Zachary Levi in the Shazam outfit that might be what it finally looks like when the movie comes out. I get the fact that the old costume isn't going to be of much use since it was really nothing more than a body suit, but this getup seems almost like something out of the Injustice video game, all armor and little real substance.
Plus, how much mobility would it offer? Designers are, I hope, taking into account how the human body moves and how an impediment that covers you chest and one shoulder in such a big way can affect one's fighting prowess. That could be why the old costume didn't look like a suit of armor and instead was something a little more flexible. Now if the suit is in fact a lot more flexible than it looks like then that's one thing. But that shoulder pad still looks like it would limit his mobility a bit.
Also, the casting seems just a bit off. Levi might be a good actor and a good fit but I can recall Shazam being this huge, muscular guy that has bulging arms and legs. Levi is definitely in good shape but compared to Dwayne Johnson, who will be playing Black Adam, Shazam's nemesis, he looks like he'd get his butt handed to him pretty easily. And considering how powerful Black Adam is in the comics it might be something that fans would expect just from the size difference. I mean really, look at Johnson, he's huge next to Levi.
I know appearances can be deceiving and Hollywood magic has a way of changing a lot of things to make sense, but it really seems like we're getting a slimmed-down version of Shazam. If the acting is on par however and the story is told as it should be then maybe this won't matter. After all there have been other heroes that were created with actors that didn't match up to the physical qualities of the their roles and they turned out just fine. Hugh Jackman was a lot taller than Wolverine was supposed to be and look how well he did.
The Shazam movie will not be featuring Black Adam to start with apparently. Black Adam is slated to show up in his own movie before the two converge in what is already being planned as a second Shazam film. At this point everything is being planned out so far ahead in advance that fans are either tingling with excitement or starting to wonder if Hollywood is building a stack of cards that might come tumbling down eventually.
Let's hope the movies come out before anything like that happens.
Had a little time this morning to work on a @ZacharyLevi #Shazam so excited for this movie, hope we get @TheRock Black Adam showing up pic.twitter.com/KfRUPpDulf

— BossLogic (@Bosslogic) October 28, 2017