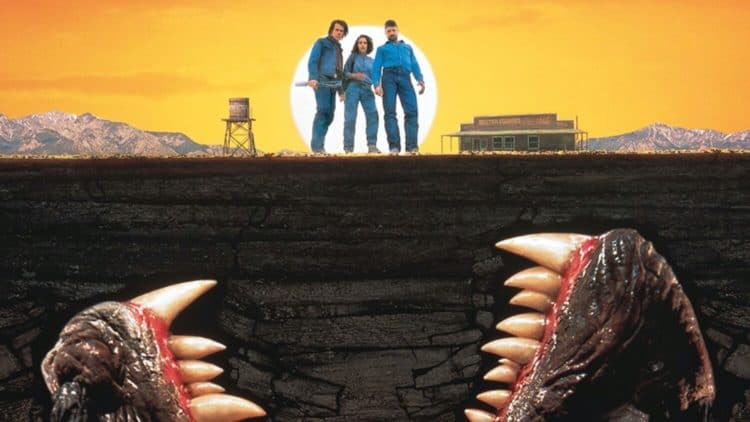 If anyone feels like being honest, and most of those in the clip below do thankfully, Tremors was a low-budget movie that a lot of people might have thought was going to be kind of goofy and not really worth much, even if some people believed in it. Kevin Bacon has actually admitted that he thought Tremors would be the end of his career. But obviously, something great happened since the story has inspired the Burt Gummer-led sequels that have continued to entertain people as the graboids have changed with each movie until finally, they're hard to recognize from the initial movie, where some folks think it should have ended. One would have thought that this might have been obvious when Kevin Bacon didn't come back for the second movie, and then Fred Ward didn't come back for the third one. But still, people have been entertained for the past several movies, and it's largely because Burt Gummer became such an iconic figure for the movies. As odd as it was to see the father from Family Ties playing a gun-toting survivalist, it worked in a way that a lot of people didn't expect. And being able to believe Bacon and Ward in the roles of handymen was even better since their on-screen chemistry was absolutely great and made for a lot of laughs.
From the start of the movie, the script was great since the 'wake-up call' that Val gives to Earl is one of the funniest bits of the movie, and it only gets better since the back and forth nature of the men is one of the highlights of the story. But learning how much went into this movie makes it even more impressive since learning how much digging had to be done, and the idea that Perfection had to be built from the ground up is simply amazing. There are still a lot of questions that the movies might have covered about graboids at this point, but the fact is that the original movie left a lot of questions as well but people didn't really care since the movie was so much fun and it was great to see how everything came together. But to think of all the work that went into making it, there's no doubt that the people doing all this work made every cent stretch as far as they could since the implication that the graboids, the upper half of them anyway, were guys tooling around in a rubber suit, is a bit hard to swallow. But at the same time, it's amazing since the creatures were actually well-constructed and looked fairly terrifying for something that people had never seen before.
The cast was great as well since there was a fairly diverse mix of people in the small town, which is something that a lot of people don't tend to realize. While two white men were the heroes, the female scientist was instrumental in the movie since without Rhonda it's likely that Val and Earl wouldn't have really known how to react to the graboids, and might have fallen along with those in Perfection that were doing their best to survive. Think of it this way, if Rhonda hadn't been around, or if the graboids had eaten her quickly instead of waiting, then Val and Earl wouldn't have understood the utter importance of not making any noise, and the few Perfection residents would have perished, likely one by one. So yes, this story was a little more diverse since it took the effort of everyone to survive, and while it didn't have any POC it definitely didn't suffer for it since people didn't appear to care. It was initially written off as kind of a goofy story anyway, but it definitely gained traction over the years as more and more people started to find out about it.
Personally, the first movie has been a favorite for quite a few years and the second was even somewhat enjoyable since Fred Ward and Michael Gross have good on-screen chemistry as well. How a person feels about the sequels after the second movie is a matter of whether they like the fact that Burt took over or not, and to be fair it's something that isn't for everyone, especially since the graboids continued to evolve at such a crazy rate. But the story's simple beginning was great and it's fun to see just how it came together and what kind of practical effects were used for the movie since CGI really wasn't used in the movie, which makes it even more impressive and labor-intensive. Learning these kinds of things just makes a person love the movie even more since the extra effort put in was worth every second of enjoyment a person could get out of the movie.