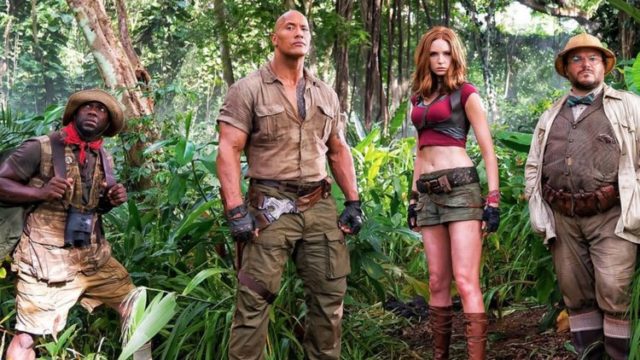 It's hard to even fathom saying this, but there will be another Jumanji. When Jumanji: Welcome to the Jungle was announced a lot of people did a double-take and probably groaned when thinking about anyone trying to upstage Robin Williams' attempt at the movie, but then Sony got lucky and landed some of the biggest stars they could find to make the movie into something great. They even went a step further and made a more modernized version of the movie so that the current generation would be able to relate a little more since board games seem to be a thing of the past now.
But making a Jumanji 3 seems to be pushing it, especially with how the last film ended. Granted, it probably takes more to destroy Jumanji than just dropping a bowling ball on it like Fridge did, but it feels more like Sony is making a big cash grab at this point than seeking to respect the success of the movie and move on. That seems to be the name of the game these days though, milk the movie for sequels until it's finally decided that there's nothing else to give. It doesn't matter if the movie's driven into the ground and the name becomes a giant joke, let's just keep hammering away at this idea without doing anything new until there's nothing left for it to give. Another sequel could be enticing so long as they find a way to make it just as entertaining and perhaps give a shout out to those that have come before. After all, the homage to Alan Parrish, aka Robin Williams, was a nice touch in the most current movie since it showed a great amount of respect to the movie that made this one possible.
But with the original cast seemingly set to return and the same director coming on board there's a good chance that people will look at it with eyes rolling and say "another one?". That's never a good startup to a movie and never anything that a director wants to see as a reaction. The cast was awesome to be honest and they played their parts to perfection, but bringing them back yet again in order to take on the same roles seems like a very bad idea. Of course the studio would be likely to say that they're not going to repeat themselves since that would be the height of foolishness in this day and age, but considering how crazy Jumanji gets in both movies they already have a high bar to reach and would have to go all out crazy to even get there. And then they'd have to think about just what kind of hook they're going to use to get the players into the game.
I'll be honest and say that ideas are rolling into my head as I write this, but given how Sony seems to go about hamstringing their writers at times just like the rest of Hollywood it would seem that it's very likely that a lot of story ideas will be rejected before they touch upon the most obvious ones that a kid could come up with. All skepticism aside, the release date has been set for 2019, and the bold proclamation that all screens shouldn't be set aside for Star Wars is one that seems kind of foolish to make at this point.