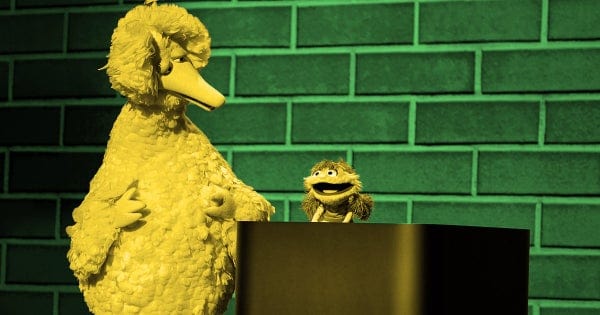 For those familiar with the decades old children (and adult?) programming of PBS Sesame Street you get the sense that eventually the corporate world would invade and begin to use the show as a way to influence children early in life. With Helpsters we're talking about preschoolers, those malleable minds that usually hear the wrong things and repeat them back at the most inconvenient and embarrassing time. So what will come out of their formative mouths and help them understand the world better? Here are 10 things you didn't know about the new Sesame Street offshoot, Helpsters.
1. It is being sponsored by Apple Computer
Actually, it is being more than sponsored; Apple TV will also be influencing its content in a meaningful way. This is an important first point because there are a lot of people who simply do not like anything connected to Apple. Then there is the group of people who own or use an Apple product or service, but if they had another choice they would break their connection with the company. By knowing that Apple may be unduly influencing the young minds around the house offers the choice of tuning out.
2. Helpsters is about coding computer programs
This may seem weird to be teaching a preschooler how to program an app, but somewhere in all of this Apple decided it is something children need to know. It's fun, and Apple will make sure it is easy to learn so when a child gets a few years older and they want to program an app, it will most likely be influenced by Helpsters. The kind of app they will create and what platform they will prefer will likely have already been predetermined.
3. The Muppet's coding character is named Cody
Naturally. According to Apple, the purpose of the exercise is to "foster collaboration [and] critical thinking skills" among preschooler viewers. Cody is a friendly sounding name and easy to remember, so when preschoolers think of Cody they will think of Helpsters which will then resonate with Sesame Street which will then resonate with Apple Computer. The collaboration will reflexively be connected with Apple, who seems to have an app for everything.
4. The show is intended to promote critical thinking skills
This is Apple's claim, as noted above, but is something that lends itself to criticism. Children and preschoolers use technology all the time, so what could possibly be wrong with adding critical thinking skills to the mix? The traditional response is that preschoolers should be learning to socialize, not collaborate, and focus on kid stuff like playing with toys and getting along with others. A virtual friend is not a friend at all, but just a figment of one's imagination. They are only as real as long as we don't Unfriend them or block them from our universe.
5. Cody's intended influence is aimed at going beyond the world of programming and technology
Though Apple has not released a trailer of the show, it did manage to bring on Big Bird to promote Cody to the world. "You're helping kids grow up to be smarter, stronger and kinder" was a line delivered by the Big Yellow Bird at Apple's public announcement of the upcoming show. Smarter, maybe. But stronger and kinder? It's hard to see how manipulating lines of code makes anyone physically stronger, and definitely harder on how Cody will make coders kinder people (if you know a coder you can judge for yourself). On the one hand, this stronger, kinder character is consistent with the character history of Sesame Street. On the other hand, this seems to be advancing the idea that children can make friends with technology that has a personality.
6. None of the regular Sesame Street characters will appear in the show
One reason is legal — HBO has bought the rights to the show for the next five years. This means that viewers will be seeing an all-Apple production, which should be interesting given that they have to accomplish this feat while staying true to the iconic format of the original show.
7. It will cost you to watch it
Helpsters is just one of several shows that will be used in an attempt to draw people to purchase a subscription to the new AppleTV+ service. Apparently the idea is to provide a little something for everyone of all ages. As a matter of history, Apple has always sought to attract people who look at the world differently, so the criticisms of Cody may fall on deaf ears to the Apple-minded.
8. The target audience of the show is actually the parents
This can easily be overlooked but it is actually a corollary of the above. From what can be understood, even in this youth oriented culture, is that preschoolers do not make the purchasing decisions of the home. Nor do they have the financial means to pay the monthly cable bill (power of attorney notwithstanding). This seems to indicate that the parents who will be tuning in are already ensconced in technology.
9. One of the show's major flaws is that it presumes every child wants to or can write programming code
The media, including Apple, has advanced the idea of STEM programs as a way to secure the employment and financial future of future generations. As well-intended as that concept may be, the fact is that not everyone has the ability to program — despite what Apple wants you to believe. Just check out the number of job openings in the computer programming section.
10. Don't blame Steve Jobs
The lion's share of Jobs' time at Apple was focused on developing products, not services. It is not by coincidence that Apple's Chief Design Officer recently departed. Tim Cook, who has been running Apple since Jobs' departure has changed the company into a service-selling entity. It's hard to see Jobs going down this road in seeking a more profitable Apple.