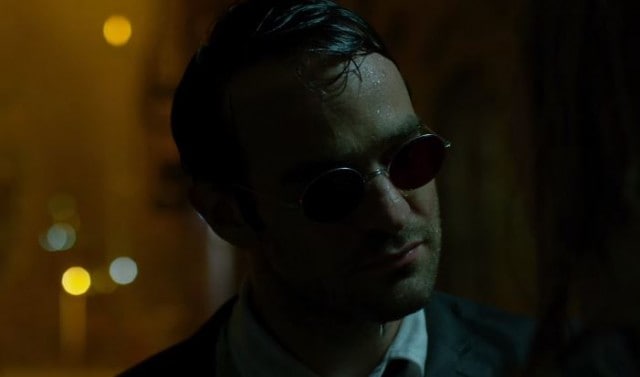 Marvel fans cannot wait for the release of Daredevil Season 2 this Friday on Netflix, and with only a few days left until the series finally returns, the streaming giant debuted a final trailer to get viewers even more excited for what's in store in for the show's highly anticipated second season. So what can fans expect from Daredevil Season 2? If this final trailer is any indication, it's going to be nonstop war in Hell's Kitchen.
The trailer below promises a "war bigger than everyone," one that Matt Murdock believes he needs to fight alone. However, we know that won't be the case, as both Frank Castle, aka The Punisher, and Elektra will be arriving in Daredevil's second season. Not to mention, Stick will also be returning to Hell's Kitchen this year.
As for the foes that Matt will be facing off against, we know that Frank Castle will at least be one at the start of Season 2, as he and Matt have very different ideas of how best to clean up the city. But perhaps an even bigger antagonist for Matt and his friends will be The Hand, the villainous group that will also play a major role throughout this new season of Daredevil.
Daredevil Season 2 hits Netflix this Friday, March 18. Watch the final trailer for the show's second season below, and comment with what you're most excited about. Is it The Punisher? Elektra? Matt in his new Daredevil suit? Whatever it is, let us know.
Just when Matt thinks he is bringing order back to the city, new forces are rising in Hell's Kitchen. Now the Man Without Fear must take on a new adversary in Frank Castle and face an old flame — Elektra Natchios.

Bigger problems emerge when Frank Castle, a man looking for vengeance, is reborn as The Punisher, a man who takes justice into his own hands in Matt's neighborhood. Meanwhile, Matt must balance his duty to his community as a lawyer and his dangerous life as the Devil of Hell's Kitchen, facing a life-altering choice that forces him to truly understand what it means to be a hero.
[Photo via YouTube]