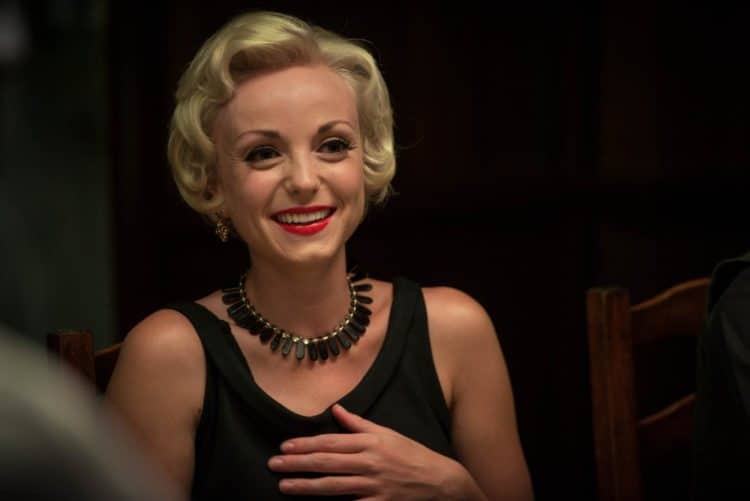 Helen George's career has been the type of thing that every actor dreams of. Within just a few years of making her first on screen appearance, she was cast as Nurse Trixie Franklin in the TV series Call The Midwife. Helen has been playing Trixie for almost a decade now, and she has become a fixture on TV screens in homes all over the world. At this point in her career, there are probably a lot of people who simply see Helen as Trixie, and that is a true testament to how well she's brought the character to life. Now in its 7th season, people are hoping that Call The Midwife will continue for many years to come. Continue reading for 10 things you didn't know about Helen George.
1. She's A Shy Person
When most people think of actors, they automatically assume that they're naturally outgoing people who love being the center of attention. Surprisingly, that isn't always the case, however. There are plenty of actors who have admitted to being shy and Helen George is one of them. She told the Daily Mail, "I'm actually a very shy person and if I feel nervous my default is to be very quiet and a little awkward and people misconstrue that. They see it as me being unfriendly and snooty, which I absolutely am not."
2. She Was A Ballet Dancer
Helen has always loved to perform, but acting wasn't always her method of choice. Instead, she started off dancing at a very early age. She took dance lessons for several years and proved to be quite talented. She eventually became a junior associate for the Birmingham Royal Ballet.
3. She Studied At The Royal Academy Of Music
Dance isn't the only thing Helen has been formally trained in. Once she decided that she wanted to focus on acting she knew that she wanted to learn as much as she could. She studied theater at The Royal House of Music in London as well as at the Birmingham School of Acting.
4. She Was A Track Star
Helen has loved sports for her entire life. She did track and field for many years and competed in the long jump. In fact, instead of becoming an actor, he dream was to become the manager for the Aston Villa football team. Despite the fact that her childhood dream didn't come true, Helen is still living the dream.
5. She Was Diagnosed With Intrahepatic Cholestasis Of Pregnancy (ICP)
There's a lot of irony in the fact that Helen plays a midwife on TV but had a very difficult pregnancy in real life. During her pregnancy, she was diagnosed with a condition called Intrahepatic Cholestasis of Pregnancy (ICP). According to Medline Plus, ICP "is a liver disorder that occurs in pregnant women. Cholestasis is a condition that impairs the release of a digestive fluid called bile from liver cells. As a result, bile builds up in the liver, impairing liver function." She has since become a supporter of the ICP Support organization. Helen welcomed her first and only child in 2017.
6. She Loves Dogs
Helen's daughter may technically be her only child, but she also has an adorable fur baby who requires lots of motherly attention. Helen's dog, Charlie, has made frequent appearances on her Instagram and it's very clear that he is an important part of the family.
7. She Says The Birth Scenes On Call The Midwife Are The Hardest
As with any other show, there are certain days on the set of Call the Midwife that are more difficult than others. She told the BBC, "The days that we do birth scenes are always very tough because they are so long. Everyone has to stay focused for 12 hours. It's a long stint. But they're always the most exciting as well because you have to be technically brilliant at it. You've got to do it correctly because midwives watch the show!"
8. She Loves Fashion
Some people simply see clothes as something worn strictly out of necessity. Other, however, see clothing as a form of self expression and creativity. Helen is part of the second group. She loves putting together stylish outfits and she isnt'afraid to try new things.
9. She Had A Paranormal Experience While Filming Call The Midwife
Call The Midwife isn't a show that involves any kind of science fiction, but Helen says she experienced the presence of a ghost while filming the series. During an interview with The Guardian she said, "We all stayed in an incredible castle, which was supposed to be haunted by the former lady of the house. We had these grand dinners every night, and the waiting staff always left an empty chair for her ladyship at the end of the table. Through a trick of the light, or the wine, you'd sometimes feel someone sitting there. I didn't sleep at all when we were staying there."
10. She Was A Boyzone Fan
Almost everybody grew up listening to (and loving) at least one boy band, and Helen George is no exception. She was a big fan of the Irish boy band, Boyzone. The group rose to prominence during the early 90s and continued to perform until 2000. After a seven year hiatus, they performed together again until 2019.
Tell us what's wrong with this post? How could we improve it? :)
Let us improve this post!