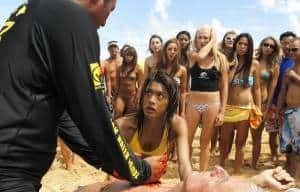 Every crime series eventually gets to the "someone close to one of the main cast members is murdered, is in trouble or is evil" episode. For Hawaii Five-O, tonight is that episode, and the storyline is given to Kono (Grace Park). Her surfing mentor is murdered, and she takes center stage.
Practically in front of Kono (and Kevin Sorbo), her mentor Ian is shot mid-wave and dies instantly. As far as shootings go, that takes some effort. Five-O is called in to investigate, and as Chin Ho points out, there are plenty of suspects simply because Ian had plenty of money. Yet how many could pull off such a difficult shot? That's the question Steve and Chin Ho have, and they soon connect the case to the Kapu, the equivalent of a legitimate gang that unofficially protects the North Shore. Two of its former members, Levi Parker and Diego Stone, have a connection to Ian: he testified against them in court, and they've just recently finished doing time. The Kapu are nice enough to drop the two punks off for Steve and Danny to interview, but they have an alibi.
Kono has no choice but to dig into her past, including Ian's old surf buddy Carlton (Sorbo) and Carlton' s disgruntled son, Ben (Josh Dallas), who's living in a tent community and telling her that Ian had changed into a big-business mogul. They're attracted to each other, which immediately makes him a prime suspect if you're playing by the "cliches of TV" rulebook. Unsurprisingly, Five-O finds out that Ian was the owner of a holding company that was trying to buy the land Ben's new home is on. Chin Ho investigates the company books and finds out Ian had changed his will to name Ben the sole beneficiary. Kono confronts Ben with that information, and he claims innocence. That's what we call dramatic license.
The show isn't done with Levi and Diego yet, however, as the partial plate on a motorcycle that invaded the community is traced back to them and allows for a car chase. Steve and Danny team up with the head of the Kapu to interrogate them, and the two punks lead them to Randall, Carlton Bass's driver. He just so happens to have the murder weapon in the trunk of his car, but claims "It's not that black and white." Cut to Carlton being arrested for Ian's murder; he hired the two goons to torch the tent community and then kill Ian. It turns out that Ian really was Ben's father, and was going to bequeath the land to him before Carlton had him shot. At least Kono and Ben make up, and I'm happy to say Hawaii Five-O avoids the cliche ending. Too many shows would have taken the easy way out.
There's some casting scoop for you tonight, courtesy TV Guide: not only will we be seeing a new version of classic series villain Wo Fat, but Victor Hesse (James Marsters), last seen in a smackdown with McGarrett, will also return. I'm almost more interested in the hilarity that ought to come with Danny in a Santa suit. That will be memorable.
I find myself comparing Hawaii Five-O and Chase, possibly because they air in the same time slot and because I cover both series. Tonight, Hawaii Five-O did what Chase promised but failed to execute: it gave center stage to a supporting character. Grace Park got a sizeable amount of screen time and a lot of backstory in this episode, and she made the most of it. This show is an ensemble show, not just in theory but also in practice, and perhaps that's why it feels like a more well-rounded show. I certainly look forward to learning about all the different characters, and seeing where their stories take us.