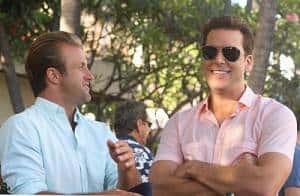 At this point in its first season, Hawaii Five-0 seems perfectly content to rely on relatively straightforward standalone plots without much progression to the season-long arc. (That, in itself, isn't necessarily a bad thing… When the standalone plots aren't engaging enough, though, it feels like wasted time.) Despite some (sort of) interesting developments with Danno, last night's episode was more of the same – '˜Loa Aloha'may have had its occasional decent moments, but it was mostly disappointing, with a significant amount of it spent focussed on a boring case-of-the-week.
That case essentially boils down to being about a man named Travis (whose son died in prison after being charged with a DUI) seeking revenge on the judges (and lawyer) he sees as responsible for his son's death. It all begins when the first of the judges receives an ominous phone call on his 60th birthday, only to then watch his daughter fall to her death after the zip-line that she's on snaps (due to a remotely detonated explosive). As you can probably guess, Travis aims to make his victims feel the pain that he did… by murdering their children. From that point onwards, it's unsurprising where the story goes and really, it's just not all that interesting or compelling.
As ever, it wasn't an entirely unsatisfactory hour. The strong parts of the episode were about Danno and the events that arose from the appearance of his brother, Matthew (Dane Cook). I felt that Cook did a reasonable job portraying Danno's laid-back brother, but that there were some fairly obvious and predictable elements to his plot-line. From the moment any family member just 'shows up,'you know that they're certainly going to be trouble. Matthew was very much trouble, with the FBI after him and involvements in money laundering for criminals – inevitably, Danno offered him help, and, just as inevitably, he ran from the problem.
Still, even if the story was painfully obvious, it did provide Scott Caan with an opportunity to show off some diversity in his acting. He dealt with the emotional scenes very well, and while they weren't particularly logical, Caan was able to give them some real feeling, making the final interactions between him and his brother all the more meaningful (and even putting me in a position where I'd like to see that character return at some point). There were also a fair amount of compelling scenes between Danno and his ex-wife, Rachel. The dynamic that the two of them share is fun to watch, and there's some chemistry there that actually makes the possibility of them reconciling (Danno's brother pointed out that he's still in love with her) and getting back together something that I'd want to see in the future.
All considered, though, it was a fairly uninspired episode of Hawaii Five-0 with not a lot of interest to be found. The case was so dull that it made the majority of the Five-0 team reliant on their all-powerful supercomputer, and, even with all the tech-wizardry, the way that the story played out quickly became predictable and underwhelming. With Steve, Kono and Chin Ho doing relatively little to move the plot along in a sufficiently engaging way, the responsibility of saving this episode from failure fell to the character of Danno. Yes, the detective did have an occasionally interesting side-plot, which meant that I managed to enjoy moments of '˜Loa Aloha,'but, as a full episode of television, I was decidedly unimpressed. Here's hoping that we can see an improvement next time round, and perhaps even some backstory and insight into the personal lives of Chin Ho or Kono…