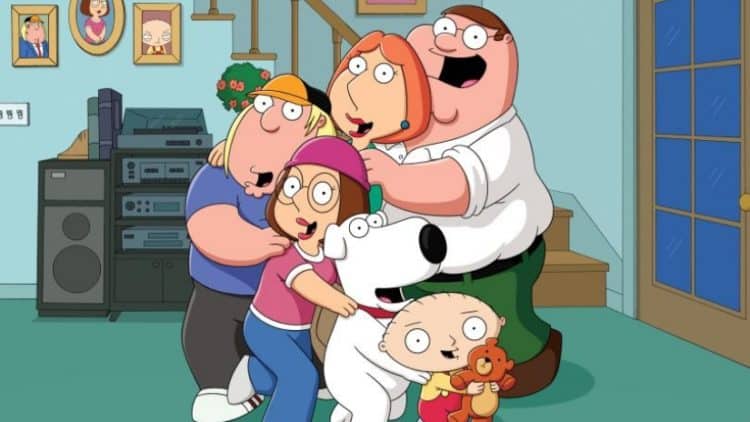 We love a good reboot or reimagining of our favorite cartoons and shows. However, when it comes to some shows like Family Guy, there's a pretty high chance that it's going to be horrible. With luck, it will be the right kind of horrible. Since we're taking some artistic license with this one, we'll assume a movie like this would follow the Dora the Explorer pattern and be set a few years after the show itself. The children would be a little bit older and a lot more world-weary with parents like theirs. One thing is for sure; this star-studded nightmare reimagining of Family Guy would be a career killer for someone… unless it turned out to be the best movie of the year.
Drew Carey as Peter
Drew is hilarious and incredibly accomplished as an actor. We have no trouble seeing him as flaky Peter Griffin. He'd be nearing retirement age with no plan for how to stop working and still manage to pay the rent. In our minds, he'd pretty much be stuck as a Walmart greeter to make ends meet. Drew could pull of a tragic, older Peter in a way that has heart and remains funny. We see him harassing potential shoplifters and getting almost-fired. He stages a workplace accident that means they can't fire him lest he sues like a man did (IRL) in 2017 after his foot got caught in a watermelon palate.
Fran Drescher or Katey Sagal as Lois
We've always thought both of these actresses were incredibly talented. Given a chance we'd cast them both, but there's only one Lois. Either way, convincing one of them to wear a red wig would be a challenge. Fran Drescher has a cheerful demeanor, and that voice is killer. We could see her playing a fantastic Lois. Katey Sagal makes the perfect older, angry, but still attractive wife. We'd have to let schedules and a casting director work this one out for us. Nevertheless, we see Lois managing young women, probably porn stars, or models. She'd have to run her own incredibly successful business to pay for Peter's faux pas.
Jillian Bell as Meg
Jillian Bell has played the 'fat best friend' more than she deserves. She knows how it feels to be marginalized and treated as nothing more than what people see in a bad snapshot. If that doesn't suit Meg, we don't know what does. We think she'd be the perfect grown-up and more attractive Meg who graduated from college but still struggles with the way people used to treat her. We can see her arguing with her mother over why she doesn't need to lose more weight or work with Lois.
Spencer Breslin as Chris
The Razzie awards once almost nominated Spencer for Worst Screen Couple or Worst Screen Actor for his part in The Cat in the Hat. That seems a little harsh given all the dreck that makes it to the big screen. The good news is that he ended up not making the cut. Usually not getting an award is a bad thing, but in this case, we're glad he didn't get that Razzie because we think he's hilarious. We think he'd make a great grownup Chris Griffin. It's not hard to see him as a part-time struggling rock and roller in a band that plays a seedy club. To pay the bills, he'd work at a burger joint on the morning shift.
Paulie Litt as Stewie
Let's be honest; Stewie is a tough act to pull off. We can only see him as a motivational speaker, or possibly a too young military drill sergeant who loves his dog too much. He married right out of high school but doesn't have a healthy relationship with his husband. Regardless, Paulie Litt has the right level of obnoxiousness, talent, and drive to pull off this character. We love that the chubby child star grew up to be a handsome young man and we could see Stewie going the same way if he ever outgrows his Hey Arnold head.
Adam Baldwin as Joe
Joe, for all his motivation, has a big self-pity problem and probably never went anywhere. We see him as a divorced and aging ex-police officer who drinks too much and keeps making citizens arrests. He runs the neighborhood watch like a paramilitary unit and isn't allowed to be a boy scout leader anymore because of his temper. Adam Baldwin has the right physique and more than enough experience playing tough-guy Jayne Cobb on Firefly and Serenity among other tough-guy tropes. We think he'd manage to pull off both funny and tragic in a way we want to see in a bad live-action Family Guy movie.
Sacha Baron Cohen as Quagmire
Here's one actor who has no problem playing controversial and genuinely awful roles. That describes the incredibly rapey and unrepentant Quagmire to a tee. Convincing anyone to play Quagmire the way we see him in this movie would be rough, but Sacha might just think it's funny enough and statement-making enough to be worth it. In our bad live-action movie, Quagmire is just moving back to town and fresh out of jail. His transexual mother managed to keep the house even after her son was locked up for some of his many crimes. Having the two of them under one roof again could only go wrong.
Caitlyn Jenner as Ida Quagmire
Quagmires' father is about as controversial as a character gets. Caitlyn Jenner's story of going from celebrated male athlete to the woman she is today might be perfect for Dan/Ida. We think she'd be perfect as the amazing and formerly male military father turned happy as herself mother of Quagmire. We think she could draw on the life experience as a beloved male figure who knew the woman she wanted to be would change everything. Getting her son reintegrated to society while working out their problems is a challenging role. Caitlyn could bring some real heart and understanding to the part in a way we can't see anyone else pulling off the same.
Final Thoughts
A live-action Family Guy movie would quite possibly be the worst thing anyone has ever done to a cartoon show. It's more likely to bomb horrifically and go down as the least celebrated film of all time than even make it's money back. Then again, we can see it swinging the other direction a la Archie becomes Riverdale. No one saw that coming, but it was and remains frankly brilliant and well-executed. A reimagined world with the Griffins and their friends as real people who handle their demons in less cartoony ways could actually work. Do you think it would be a total disaster? With the right cast could this reimagining actually work? Let us know in the comments below.
Tell us what's wrong with this post? How could we improve it? :)
Let us improve this post!