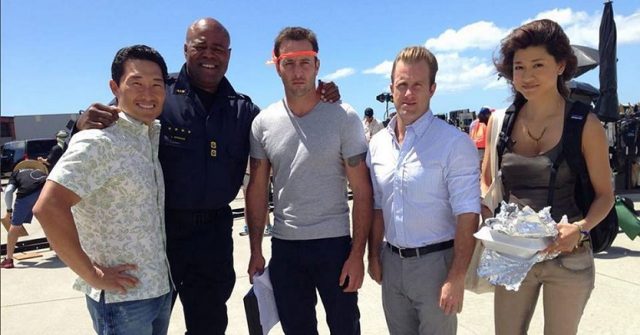 The current television series Hawaii Five-O is a remake of the first Hawaii Five-O series that aired between 1968 and 1980. At the time, Jack Lord starred in the series as Hawaii Five-O Sergeant John McGarrett, crime fighter extraordinaire for that time period. Now, fast forward to the new and majorly improved Hawaii Five-O and we find that the new series is centered around the now late Commander McGarrett's son, handsome HPD Lieutenant Commander Steve McGarrett, played by Alex O'Loughlin, and his equally hunky partner, HPD Detective Sergeant Danny Williams aka Danno, played by Scott Caan. One of the most enjoyable facets of this show is getting to watch the dynamic between Danno and Steve. Together, they are so funny and they've been through so much together, since the beginning of the show in 2010.
And the rest of the cast is great, too. From Daniel Dae Kim as HPD Detective Lieutenant Chin Ho Kelly to Grace Park as his cousin HPD Officer Kono, Masi Oka as Dr. Max Bergman, Chi McBride as former HPD SWAT Captain Lou Grover, and Jorge Garcia as conspiracy theorist and Special Consultant Jerry Ortega, they all come together to make Hawaii Five-O one of the best crime dramas on TV today. So, although Hawaii Five-O has more twists and turns and slippery slopes than a Lake Tahoe mountain road, we managed to weed out all but the top five most unexpected shockers in our humble opinion. So, here they are:
1. Chin Takes Sara Home in "Ka'ili aku"- (Season 7 Episode 11 & 12)
As Chin's criminal-mastermind-cousin is dying, he makes Chin promise to take care of his little girl, Sara, played by Londyn Silzer. She moves in with Chin and he falls in love with her, treating her like she was his own daughter. All is well until the girl's aunt and uncle in Mexico decide that they want to raise her themselves. Chin does a deep background check on them and finds out that, although they are quite wealthy, the father also has a call on his cellphone to a known drug dealer involved with the Mexican cartels. However, Chin is unable to discredit the couple enough to sway the courts, and the little girl has to go live with them. Later, we find out that the number was on his cell phone because he's a lawyer and the man is his client.
On Chin's birthday, he gets a call during the party saying that Sara has been kidnapped. He rushes to Mexico with the Five-O team in tow to get her back. They find out that the men related to a cartel head that they had killed were luring them down to Mexico to get revenge. So, by literally swapping his life for Sara's, he gets her back safely and the Five-O team then heroically saves him with their amazing combo of brains and firepower.
Meanwhile, back at the aunt and uncle's house, Chin steels himself to say goodbye to Sara once again when they surprise him by telling him that she would be safer with him and that he should have custody and take her back to Hawaii with a promise that they could visit her from time-to-time. Both Chin and Sara are elated by the surprise change of heart and leave for Hawaii. That particular moment is our #1 because it was so unexpected and so warm and fuzzy.
2. Danno Donates Half His Liver to McGarrett- (Season 6 Episode 5)
While escaping deadly drug dealers in a small plane, Steve McGarrett gets shot and needs a liver transplant. Danno turned out to be a perfect match and he offers half his liver to his best friend. Not sure if that is so surprising but we thought it was a momentous episode because not only was it surprising that Danno was a match but also because it was no surprise that he was willing to sacrifice part of his to save Steve's life. He's just that kind of guy. And, you've just got to watch these videos for some of the funniest McDanno banter ever, not to mention some of the most hilarious wheelchair races since Cole and Rowdy in the movie "Days of Thunder".
3. Danno Has a Son! (Ongoing during Seasons 2 and 5)
Although all along, Danno thought that little Charlie was his ex-wife's new hubby Stan's kid, it turns out that he's actually a Williams offspring! Rachel had kept the boy's paternity a secret. In season 2, Rachel went into labor while Stan was away on business and Danny was there for her and the baby during the difficult birth. During that classic "looking thru the glass into the hospital nursery" scene, which seems to be a staple of almost every movie and TV show ever made, another dad tells Danno that the boy had his nose. Little does he know that there's a really good reason for that!
Then, in Season 5, Rachel finally comes clean with Danny but only because the boy is sick and needs a bone marrow transplant. We have to wonder if she would ever have told him otherwise. But anyway, Danny's a match and he gives his son his bone marrow, of course, and all is well.
4. Mystery Solved! Lou's Son is Danny's Daughter's Boyfriend- (Season 7 Episode 8)
https://www.youtube.com/watch?v=dYvBrG_o9Tc
While Danno is doing his best to try and figure out who his daughter Grace's new boyfriend is, it turns out to be none other than Lou's handsome young son! While Danny is chaperoning Grace's winter formal, a terrorist attack ruins the night and everybody is in serious danger. They're holding everyone hostage but their underlying goal is kidnapping the son of a foreign diplomat. With a little help from Grover's son, Danny and the team save the day and everybody at the dance. At the end of the episode, Lou and Danny learn who the young Ms. Williams' secret boyfriend is.
5. Katherine Comes Back and Learns a Secret Re: Proposal (Season 7 Episode 7)
While Steve is having a much-deserved beautiful romantic dinner with his new girlfriend, the lovely blonde mini-skirted Lynn, Katherine shows up unexpectedly at Casa McGarrett. When Steve gets called away with HPD business, the two girls chat and Lynn accidentally lets Katherine in on the fact that Steve was going to propose to her just before she left for Afghanistan. Surprise! Not exactly the way she would have wanted to find out and definitely not how Steve had planned things.