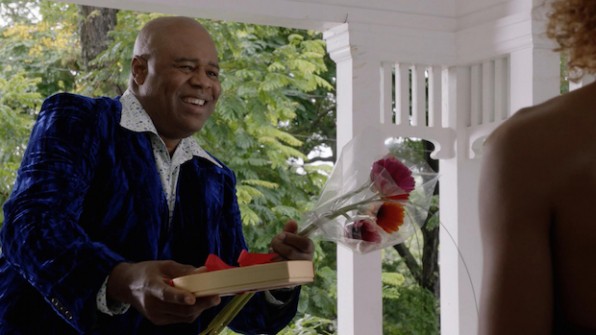 Love is in the air! At least, it's supposed to be. This Valentine's Day the members of Five-0 recount their not so perfect day of love while working an even more depressing attempted murder case. All things considered though, if all of Hawaii Five-0 is alive, it's not so bad.
To start off, everyone arrives at the crime scene to find Steve's got a black eye, and Grover's sporting a 70s style suit. There's no end to the giggles, but back to the victim. Luana Cruz is found shot in a rented apartment typically rented out to cheating couples. She lies in a coma while Five-0 tries to figure out why she was shot. At first the team thinks Luana was there to have an affair, but she shows signs of having handled a firearm. The team then sets out to locate her husband, but it turns out he's dead too. He was actually murdered 24 hours before his wife. Five-0 knows that at some point the room Luana was shot in was used by an escort and her companion. Through a little recon from Danny (who apparently spends a fair amount of time at Victoria's Secret) they find their John, Michael Foxton. He explains that he was involved in Lana's shooting, but it was accidental and he didn't really know her. Foxton goes into cardiac arrest because his heart medication wasn't in his system. Jerry finds the last piece of the puzzle, which turns out to explain these crimes as a "Strangers on a Train" type of incident. Take two extremely unhappy wives who want to get rid of their husbands and you've got the worst Valentine's story ever. This is how we find Five-0 on a stakeout on two days later when they set a trap for Foxton's wife.
Now let's recap what actually happened to Five-0 on this unfortunate Valentine's Day. Grover completely forgot Valentine's Day and ended up in the dog house with his wife. He ended up hopping around to different members of the team's houses trying to find a place to crash. All of his friends have their own drama going on, so he spends Valentine's night alone in a motel.
Next up in our sorry, sordid stories is Chin. Poor Chin, this one I definitely didn't see coming. He had plans to share a romantic night at a hotel with Abby, only to have her suddenly run out of the room with no other explanation than repeated apologies. Chin ran after her, but he did so in a small towel and got locked out of his hotel room. Of course there was no other way to get back in than to go down to the lobby in that towel and get a new key. The situation was already embarrassing before he ran into Duke and his wife. If there are Valentine's Day stories more embarrassing than that, I can't think of any.
Stuck in a stakeout, Danny is forced to tell his story. He had a good Valentine's Day with Melissa, up until the point where they got into a fight because he has never told her he loves her. As Kono says, we're all Team Melissa on this one. Danny's divorce left him with some serious relationship issues, and considering the number Rachel did on him, he's allowed some leeway. However, Melissa is completely justified in wanting her relationship with Danny to go somewhere.
At this point we take a break from the stories to arrest Mrs. Foxton. Once that is resolved we finally get to hear Steve's story. Things have been going well with Lynn, until she finds the engagement ring Steve intended to give Catherine last year. They work it out pretty quickly, which rules out the idea that Lynn punched Steve in the face. It's a shame, I had money on that bet. Steve really got the black eye when during a strip tease Lynn kicked off her wedged shoe right into Steve's face. I've always said a heel can be deadly if used properly.
The only person who did have a good Valentine's Day is Max, whose relationship with Sabrina is still going strong. Jerry eventually gets there too with a sweet blind date. All of these scenarios are resolved. It's kind of fun to see Kono, the only female voice of reason, play off of the men in the group as they tell their stories. Truly the only person who should be complaining is Kono since her husband is in prison, and that's a scenario that can't be solved. A mystery emerges in the last few minutes when Abby calls Chin to apologize, and lies about being in San Francisco when she is really still on the island. With most of the OMG moments going to Gabriel this season, that was definitely one I did not expect.
Any ideas on what Abby is hiding? Are all of the Valentine's Day stories resolved or are they just warm-ups to bigger relationship issues?
Hawaii Five-0 Season 6 Episode 14 Review: "Hoa 'inea (Misery Loves Company)"
Summary
The members of Five-0 trade bad Valentine's Day stories as they work a case on tonight's Hawaii Five-0.