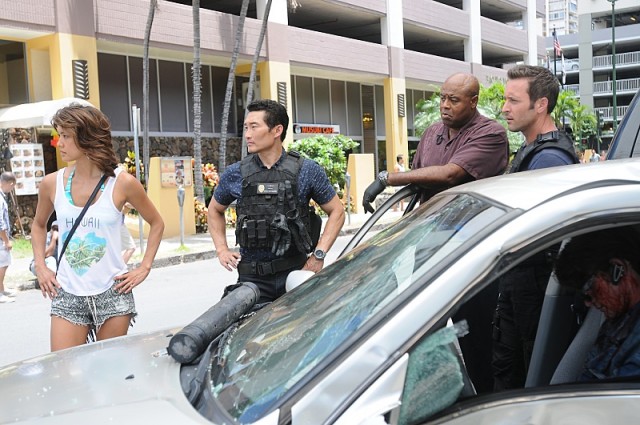 Sometimes, even the best laid plans will backfire on you, as was the case with this week's episode of Hawaii Five-0. The team tries to solve the murder of a millionaire named Harrison Crane, who went missing over twenty years ago with a bag filled with a million dollars in counterfeit money. The twist to this unfortunate death is that it involves a young woman named Laura and a painting that the people who kidnapped Laura wanted.
It was nice to see Willie Garson guest star in this episode as an arts dealer named Gerard Hirch (I mentally referred him as his character Mozzie from White Collar). I didn't know that he could draw caricatures of people as he had shown when Kono and McGarrett went to see him, but I have a feeling in the back of my mind that those awesome-looking drawings were probably drawn by someone else (sorry, Mozzie).
I liked the whole undercover/cat-and-mouse game that went down towards the end of the episode. The way that the kidnapper instructed Hersch to ditch his phone after receiving another one from the hostess at the restaurant and headed to the gift shop to change his clothes was intriguing. I was hoping that the kidnapper would release Laura after Hersch handed over the painting, but it was not to be as he took off in a small convertible and got rammed by an incoming van. It might be intentional, but for now, let's just label it as an accident.
The scene where McGarrett was making his way through highway traffic to retrieve the painting that was thrown onto the road by the group of Russian thugs, who worked for a Russian crime-lord named Alexander Koslov, was absolutely nail-biting and borderline dangerous. There should be a caption at the bottom of the screen that says: controlled stunt–do not try this at home.
Laura was later found back at the missing millionaire's backyard in a tiny hole covered with a giant cement vase when the team found out that the kidnapper's partner was none other than his mother (who is also the caretaker who worked for Mr. Crane). I found this to be kind of ironic, because I have played mystery games like Clue and read old crime stories like Sherlock Holmes where the rich man is killed by someone who works for him (e.g. the butler).
It also looks like Adam is about to go back to the dark side as he was kidnapped by the Yakuza and forced to beat up a man named Aaron James, who works for Gabriel and asked him repeatedly where Gabriel is. When James couldn't give an answer to Adam's question, he was shot in the heart by a mystery man, whom I assume arranged Adam's abduction from the physical therapy center. The mystery man also told Adam to come up with a large sum of money to be delivered to the Yakuza boss-man, and if he is unable to come up with the money, then Kono's life would be in danger. Adam, you better come up with a solution soon, because you can't start a marriage based on lies and secrets, even if they are being said and kept to keep your new wife safe from harm.
I enjoyed the ending scene with everyone sitting at a table at a beachside bar, when Jerry Rice showed up. McGarrett then asked the famous ex-football player for an autograph, which will be given to Danny, who is recovering at the hospital from a bone marrow transplant for his newly discovered son, Charlie. Way to be a good friend, Lieutenant McGarrett.
This was a great episode and I hope this review does it justice (to an extent). Just wanted to comment on the group picture taken at the end with Jerry Rice. I'm 100% positive that Danny will be extremely jealous (to an extent) when he sees the picture, and probably trade barbs with McGarrett like they usually do, but at least he will have the autographed menu.
[Photo credit: Norman Shapiro/CBS]