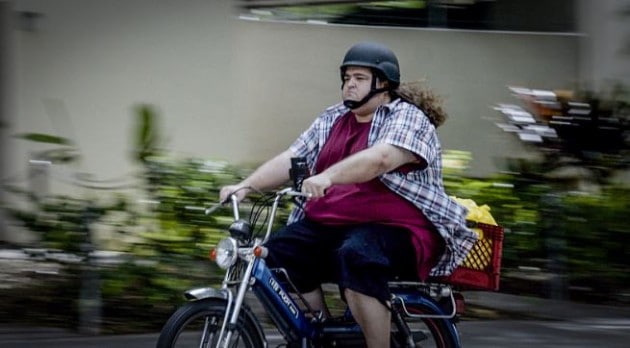 The nice thing about Hawaii Five-0 is that it's always been able to pull off serious cases as well as ridiculous ones (I equate it with Castle in that way, just more surf-loving). If The Hangover taught us anything, it's that nothing is more ridiculous than grown men drinking and acting like fools.
This week's Hawaii Five-0 featured guest stars Jaleel White, Pauley Shore, and Kevin P. Farley as middle-aged men who come to the island to relive their youth. They wake up extremely hungover and in pain…with a dead girl in their hotel bathtub. These men have no idea how the girl got there and are ill-equipped to deal with this situation, so they decide to dump the girl's body. By the time Five-0 catches up with the situation, these guys look very guilty. The story that is about to be told is through the memories of the very guys who can't remember anything. This should be fun to try to figure out.
Max discovers that the victim had no drugs or alcohol in her system, unlike the guys, who had alcohol and ketamine in theirs. Since the rifle found in their room doesn't match the murder weapon, the team is left to retrace the guys' steps. At this point, I wholeheartedly agree with Steve that Danny should make Grace get her college degree online to avoid any and all places like the spring break retreat their suspects crashed. If that debauchery wasn't enough, these silly grown men also got themselves kicked out of a club, played with a Hawaiian Fire Dancer's torch, and got naked and jumped in a ball pen. Five-0 finally figures out the victim, Rebecca, was a waitress who had a brief run-in with the guys at a club. Rebecca was just a good college student who recently was told her dying biological father wanted to meet her. Unfortunately, her biological big brother wasn't going to let that happen if it meant being cheated out of his inheritance. At this point, I have "Money, Money, Money" by ABBA stuck in my head.
Also in this episode, Jerry takes a part-time job as the new delivery man for Kamekona's shrimp truck. It seems like a normal day until he witnesses an abduction on the street. Jerry follows his instinct to follow the car, only when he finally finds it, it is the abductor who is dead. Chin and Kono discover that Jerry has stumbled onto a sex trafficking ring. Victim and killer were actually business partners in this scheme. Chin and Kono track down their suspect's hideout, only to find out her sex trafficking ring was actually a slave labor camp. She is ultimately shot and killed for her crimes by Kono, and I assume her victims are freed.
Both cases are closed rather cleanly this week. My second favorite part of this episode is Grover's parting advice for the three morons (upon giving them back their wedding rings that they forgot): "Go home, hug your wives, kiss your kids…don't come back here." Husbands everywhere take note. My favorite part of the episode has been a long time coming in my opinion. Jerry receives a Medal of Valor for his work on the case (while advertising Kamekona's Shrimp Truck of course).
All seems right with this Ohana, but next week kicks off a gripping turn for Kono that will test her mind, body, and spirit.
[Photo via CBS]