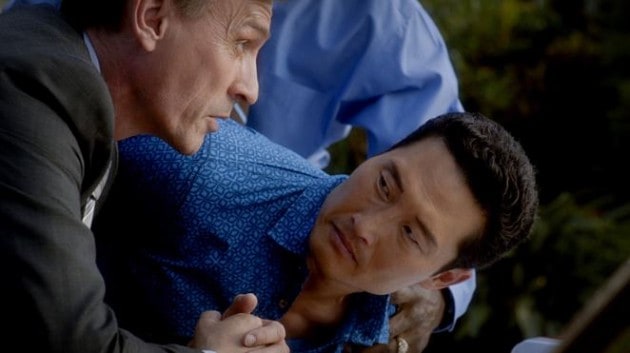 If you didn't watch the latest episode of Hawaii Five-0, you're going to regret it. This was arguably the best episode of the season, and should definitely qualify as one of the top five best episodes ever. All the consequences of past actions came crashing down on the team, which resulted in a heart-pounding hour.
The consequences of Danny and Chin's actions last year have finally caught up with them in the worst possible ways. They are both arrested within minutes of each other; Danny for the murder of Marco Reyes, Chin for taking dirty money from his brother-in-law to help Danny. Now instead of simply recapping, I'm going to review the reasons why this episode was amazing.
The concurrence of Danny and Chin's arrests force Five-0 to work together harder and more covertly than ever. With Joe's help, the team do everything they can to break down their friends' cases, which isn't all that much. Even if they could tear down Danny and Chin's cases, both of them did actually do what they are accused of, which is exactly why freeing them becomes that much harder.
For another point, the strain of trying to free two friends at the same time forces the team to make a decision about who they could actually save in the limited amount of time they have. In one of the hardest calls to make, Steve decides the team will save Danny first instead of Chin. While Chin could possibly last awhile in prison, Danny becomes an American cop in a South American prison, so his life expectancy decreases by the second. I haven't been this much at the end of my seat since the Season 2 season finale, and that ended in the murder of Chin's wife. Luckily it is two corrupt government officials who pay the price for the actions today.
There was also finally a mention of Steve's dear mother. Wherever in the world she is, she kept a close eye on her son as she is the one who provided all of the intelligence for Steve to follow, and the one who kept him out of a prison cell next to Danny in the first place. Isn't it lucky that Steve has many other good friends like Jimmy Buffet who will actually give him a fair and honest answer the first time around.
We even got the light-hearted emotion that comes with the show. Before everything went to hell, Max bogarting Danny's presentation to Grace's class was worth a chuckle. Steve stepped up in the emotional support in both big and small ways. In addition to being there for Grace in her time of need, we're reminded of a certain down on his luck kid Steve promised to spend time with awhile back. Uncle Steve earns his title just by being present for these kids.
In the end both Danny, and Chin are free and safe, and both of their arresting officers pay the piper for their actions. So why am I not smiling by the end of the episode? Because this episode was so well put together, so well developed and portrayed, that I could genuinely sympathize with the emotional toll this took on the team. It was the first time in a long time that it truly felt like the team might not win. Furthermore, even though they did win, their actions will follow them for a long time as before. Danny is not free of the guilt of killing a man in cold blood. Chin may never be free of his brother-in-law, he just has no way of knowing for sure. Two members of the team were knocked down and they almost didn't get back up. That is why this hour was the best of Hawaii Five-0.
How were your emotions during this gripping hour of Hawaii Five-0?
[Photo via CBS]