Lucas Bryant, leading man of Syfy's mystery series Haven, answered questions recently about his character and tonight's shocking season finale and TV Over Mind was there. Haven's past returns to haunt its inhabitants as Audrey, Nathan, and Duke become the target of ghosts. Truths are revealed, lives are in danger, it's the season finale so you know there'll be a cliffhanger, and to top it all off Tamoh Penikett (Mortal Kombat: Legacy, BSG) guests.
Though some might think it spoilery, Syfy promoted the fact that Stephen McHattie (Rev. Driscoll) & Nicholas Campbell (Nathan's father who exploded into bits last season) will be reprising their fan-favorite roles in tonight's finale. Canadian born Bryant counts reuniting with his oncscreen dad for this episode as a personal highlight of the season, "Nick Campbell is a giant of stage and screen. In Canada for sure, and then I know that he also has many fans in the states. But to be able to work with him is such a huge honor and thankfully it's just such a beautiful scene, and, to have him back after being out of the season for so long, it really was special." Tonight's father-son reunion will hold some answers to questions you've wondered about, as well as to questions that haven't yet been asked, "the conversation that Nathan and the chief have in the season finale is revealing. But, how do I say this, it also doesn't reveal everything that it could. Though, I believe there's going to be large ramifications from it, which we won't necessarily come to understand until God willing, season three, four or five. So it's a big moment obviously for the character, and also for the show. But saying this, I wonder if people when they watch the show will be like, what the hell was Lucas talking about, because I didn't see that. Let me just say that there's more to their interaction than we necessarily experience now. Boy that's a bit vague, isn't it?"
When asked what to expect from tonight's cliffhanger finale Lucas quipped, "it would be nice to say that everything is revealed and they figure out how to end the troubles, and everyone lives happily ever after. But we want to do another ten seasons, so… No, I mean, you get some great answers, learn some crazy stuff, and we'll see if people think that it's as rug pulling as the season one finale was."
Now that the relationship between Nathan and Audrey is changing fans are wondering what else between them might change, and since settling down with the 'right' person often alleviates (or negates altogether) most townspeople's troubles, could love be the drug that cures the lead characters afflictions? "I think a lot of fans got what they wanted this past episode – I mean a taste of it anyway. And then maybe some were horrified, but I hope there's not too many of those. There's some feeling of fate there. But I'm sorry to say I don't see it progressing as easily as one might hope or idealize. I mean there's definitely going to be some roadblocks and speed bumps. I can't tell you exactly what they are, and I don't know the half of them. But yes, I think that puts us on a trajectory that has potential to be lovely but will probably inevitably be very difficult and potentially dangerous." Regarding the emotional impact for the characters, what about romance with Audrey scares Nathan most? "Well I guess first of all he is intimidated and/or scared by her, period,… because he is just that way. Not so comfortable letting it all hang out. And also because I think he has a great friendship with her and mutual trust and the last thing he wants to do is screw that up. Not that that has to inevitably be the way it works out, but I think as with any good relationship, there's a lot of trepidation that comes with taking it any further."
Surprisingly expressive and quick to smile in real life, Bryant explains the most challenging aspect of the Nathan role, "The overall characteristic of being reserved. Someone that doesn't wear his heart on his sleeve, it's strange, because he kind of does in many nonverbal ways. So it's that, how to communicate the heart and soul of this guy that's so unwilling or unable to communicate it verbally. And that, I think, that just came with trust and experimentation." On the other side of the coin, "One of the most fun and challenging things to do is explore how he progresses as a man when he has so many socially awkward issues. On the one hand he's like, totally comfortable in his role and relationships in the town. People, I think have generally a good feeling about him. And he's a good guy, but he's not terribly excellent at expressing himself. And so any time that Nathan's put in an awkward situation or often with Duke or with women or with his emotions, that is a real pleasure and challenge to work through. Sometimes I just want him to pull the trigger. Not literally, but it's like, man do something, tell her, do it, kiss her, step forward, you know, punch him, whatever. Nathan has a great and sort of strange sense of humor, and a more quirky and weird personality than we get to see all the time. Like his terrible dancing ability, which, that was totally ridiculous to shoot and even more awkward to watch, but that was a lot of fun. That might also be my least favorite of Nathan's characteristics is his terrible dancing.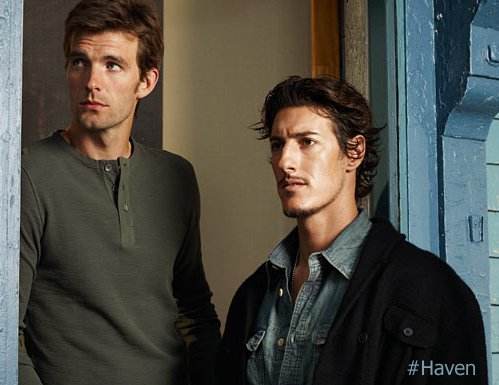 Fans of Duke (Eric Balfour) will learn more about his character's connection to Nathan tonight. Lucas shares, "It is a very complicated relationship, and you're going to understand a bit more about why in the season finale and I'm really happy about that. I mean we know something about their complicated history, but there's a really great reveal in the season finale that doesn't explain fully their relationship, but gives a lot more insight into why it is what it is. And, I had a blast. He's a great actor and he's a lot of fun to play with and work with. Any time we get to buddy up for a moment or be at odds is a pleasure. I think it's something fans have enjoyed as much as I have, so it's a blast. Beginning to understand more why they are the way they are, which we do in the finale, is I think going to add a lot more weight to that relationship."
Just in case you bump into Lucas on the street don't expect him to have answers about season three because, "I have completely given up trying to get my head around what the heck is going on here. There's stuff that they want to keep from us. But then there's also – I don't necessarily want to know the things that Nathan doesn't know. I enjoy discovering it as we go, as he does. So I don't know, I hear some rumblings about potential storylines, but then I imagine those will all change as well in the writers room as they hash things out. So no, I'm as clueless as you. Not to suggest that you're clueless, no." However, if Lucas could give any advice to his character (Nathan Wuornos) what would it be? "Just step up and risk taking more risks, I think he's got a lot of potential, power and danger and anger and good love if he could just step things up, that would be lovely."
Typically the wait between Syfy seasons is a whole year. So for Lucas Bryant fans who, after tonight's Haven finale, just can't wait till next summer to see more, catch him in The Vow scheduled for a 2012 Valentine's Day release. "I play a small role in that movie. It's a beautiful little quirky, heavy, love story between Rachel McAdams and Channing Tatum. And that was a blast to do too. I shot that just as I was finishing season one of Haven. So I was flying back and forth shooting the finale and shooting that movie. And I just play a little part. But it was really cool to get to play a sort of a weirdo at the same time as I was flying back to Halifax and playing Nathan."
* Note: Syfy has completed filming already of a Christmas episode for Haven, so, Lucas fans won't have quite so long a wait after all!
Don't miss the season two finale of Haven tonight at 10/9c only on Syfy. And check out this preview clip (below) featuring Eric Balfour & Stephen McHattie.