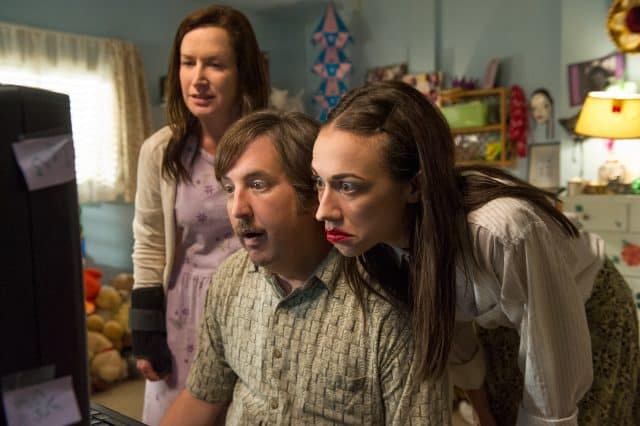 Television is a very crowded landscape, and it's often difficult for a truly original idea to emerge. With reboot culture being a (not necessarily) huge thing these days, creators should be applauded for trying something new. One relatively untapped angle is that of social media celebrity, and it seems that television is finally ready to make that transition.
Among the first of plenty of social media-based series in development to make its debut is Haters Back Off!, Netflix's foray that tells the story of Miranda Sings, a creation by Internet-famous Colleen Ballinger, who stars in the new series. Miranda is a completely delusional and self-absorbed young woman with absolutely no talent whatsoever that manages to thrust herself into fame and stardom, and the eight-episode series serves as an origin story of sorts for the character who has populated YouTube in the real world since 2008.
Haters Back Off! is a show that's so surreal and absurd that it takes some getting used to before you can finally settle in. I've been watching Miranda Sings videos on and off for years (so I pretty much knew what to expect going in), so I can't even imagine what it would be like jumping into this series completely raw. The first couple of episodes, while definitely funny, were pretty rough, and it took some smoothing out as the season went on before I could fully commit. If you like the humor and feel of something like Napoleon Dynamite, then this may be the series for you. The thing about Haters Back Off! is that, while it's the most absurd thing you may ever watch, it still manages to sit right on the edge of believability. "This could never happen," you tell yourself, but could it? With the way that social media and YouTube has permeated society, it just may be possible.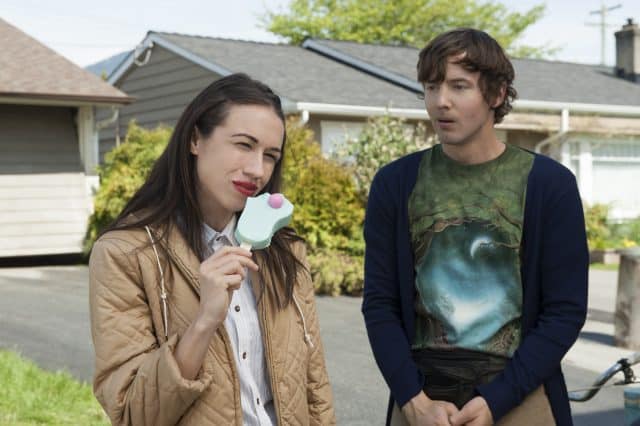 The best thing that Haters Back Off! has going for it is its cast. Ballinger absolutely shines as Miranda, but it makes sense when you consider that she's been perfecting the character for close to a decade. Miranda is the most annoying and delusional character on television, but Colleen does a great job at putting just the right amount of herself into it that, despite yourself, you start to care about what happens to Miranda. In addition to Ballinger, the rest of the main cast is also very strong. The reason for this is clearly because they commit so completely to their roles. The more time you spend with Angela Kinsey (The Office) as Miranda's mom, Bethany, or with Steve Little (The Grinder) as Uncle Jim, the more you see how Miranda has gone through her life the way that she has. Erik Stocklin does a wonderful job as Miranda's mumbling and awkward best friend/love interest Patrick, and the guest and recurring cast delivers completely appropriate performances that fit in with the world that's built (a highlight was Chad Lamar Shepherd as Keith, a local pastor that gets involved with Miranda's family).
The absolute secret weapon of Haters Back Off!, though, is also the series' big surprise. Francesca Reale plays Emily, the previously unknown sister of the Miranda mythos that is a new creation for the series. Reale's character was kept in absolute secrecy, and even critics were asked not to reveal anything about the character before the review embargo lifted. Emily's introduction in the premiere is played as a pretty big twist, but her place on the show is absolutely vital to its success. While the rest of the family lives in absurdity, Emily is the straight man to all of their antics. Reale does an extraordinary job throughout the eight-episode season, and I completely believe that her performance on this series is going to lead to some major opportunities for her.
As I mentioned in the beginning, Haters Back Off! is, essentially, an origin story for Miranda that explains the behind-the-scenes actions that led to her Internet stardom. Because of this, the series is a period piece, taking place in the far distant past of 2008. A ton of attention to detail is present in order to keep the series setting looking like it happened a decade ago, and the introduction to each episode being a portion of a Miranda Sings video helps you never forget what this series is all about and where it came from. Because it tries to explain details of Miranda's past, though, there are a lot of times that it's unnecessarily hampered by explanation (such as why Miranda performs in red pants) when it could easily stand as its own distinct thing. In addition, some aspects of the series can seem pandering to the part of the audience that knows Miranda well, but it quickly goes back into its absurdist form that just seems to work.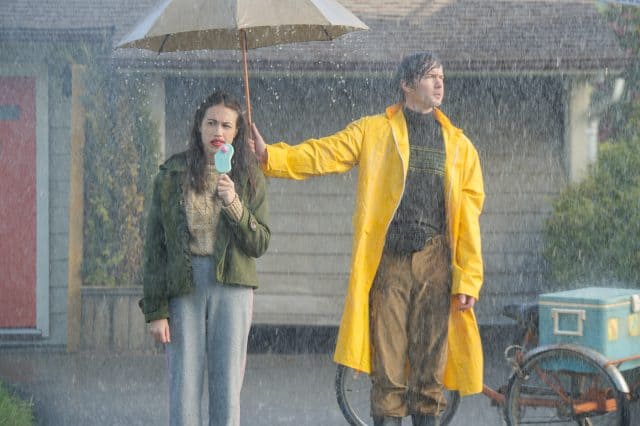 The latter half of the season is where we start getting some actual depth to the narrative, moving away from the simply superficial stories (without spoiling too much, the development with Bethany in the final few episodes is one of the best stories that the series attempts to tell). These episodes also start featuring some surprisingly strong character growth, particularly with Miranda starting to develop feelings for Patrick (even though the end of the season undoes some of that). In addition to Bethany's story that I previously mentioned, Emily's arc is also incredibly strong (again, bolstered by Francesca Reale's performance), and it's so heartwarming to see her start to accept her family for what it is and heartbreaking when that crumbles back down again.
One of the biggest flaws of the series is the reliance on sexual innuendo and double-entendre (something that carries over from the YouTube history), and it's often just way too much to actually be funny. A lot of the time, this element can make you extremely uncomfortable (and not in the show's typically good way), and I could absolutely do without another similar interaction between Miranda and Uncle Jim (despite how well Ballinger and Little sell the "relationship"). Conversely, one of the understated strengths of Haters Back Off! is the musical score, and the composer does a spectacular job at fitting the tone of the series.
Overall, Haters Back Off! is not going to be for everybody, but the nice thing about Netflix Originals is that it doesn't have to be. The audience for this series is already built in, and there's enough strength in the material that I think it will attract more eyes than expected. It's got its fair share of flaws, but Haters Back Off! is a series that absolutely knows what it wants to be, and its commitment to that tone is unflinching. In spite of myself, I found myself wanting more after the credits roll on the final episode, and I hope that Colleen and the writers get the chance to bring more of this in the future.
Will you be checking out the series when it releases  Friday? Let us know your thoughts in the comments down below!
[Photo Credit: Netflix]
Summary
With its commitment to tone and the strength of its cast, Haters Back Off! may just be the Netflix series that you hate to love, just like its title character.