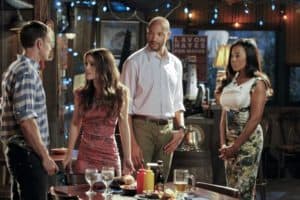 In a world like Hart of Dixie, you have to be careful about what you say and, more importantly, what you do. What may seem like a fairly minor move or turn of phrase can spark and turn into an inferno of controversy that you might not have expected at the time. Couple that fear of becoming blacklisted by the BlueBell elite with multiple characters that are afraid of being hurt or that don't know how to express themselves as openly as they should and you have one bottled up population ready to blow.
Is tonight the night that it all comes pouring out?
Keeping It Casual
After hearing from Wade about the joy of living in the moment last week, Dr. Hart is having a no strings arrangement with the bartender once again. They make love and do a lot of role-playing (i.e. WWII pilot/sexy medic), but they don't have a commitment other than to not have sex with other people. Zoe can't talk to Lavon about her booming love life and has to seek an ear to listen from Ruby, who mentions that her cousin Zach is coming to town. Initially, Zoe refuses the date offer, opting to stay within the bounds of her unspoken agreement with Wade, but once she sees Wade heading into his home with a pretty blonde (and a sock on the door), she changes her mind and agrees to go out with him. However, rather than heading to the bistro in Mobile, she wants to go to the Rammer Jammer to try to make Wade as jealous as she was.
Dr. Hart could have very easily made mention of her feelings being hurt and pride being wounded to Wade, but as she tells Ruby, she doesn't want to give him the satisfaction of knowing that she's bothered. Zoe tries to get a rise out of Wade by mentioning that she might have a "house guest" the next morning; his nonplussed reaction gets under her skin, as does his cordiality toward Zach at the bar. Naturally, Zoe cared much more about Wade chatting up a cute blonde vs. talking to her date, getting pretty tipsy thanks to her desperation. When Wade mentions that Lavon got arrested for shoplifting, she blurts it out loud enough for Ruby to hear, though no amount of begging could get her to keep the information from getting to the press.
At the Meat & Greet, Zoe finally gets to talk about Wade with Lavon, revealing how wounded her pride was at Wade sleeping with another woman. Later that night, she goes over to repent for her actions and try to get Wade to become monogamous, which he does agree to.
It turns out, though, that the woman at Wade's was from Ace Building Supply and had delivered bathroom tile. The sock was a result of raccoon poop.
Election 2012
Lemon has taken her duties as campaign manager rather seriously, doing up a poster, going after an endorsement from The Owl Club, and coordinating a "Meat & Greet" barbecue that will serve as a platform for the endorsement to be revealed. The only problem is…Lavon never officially gave her the job. Lemon manages to talk him into giving her a shot, even with him denying their friendship and bristling up at potential awkwardness between the two of them, and actually makes good on her promises. There's a soft endorsement from Dash Dewitt, but Ruby has scheduled a barbecue for the same day, only hers has Paula Deen as a guest cook.
Lemon had had stomach problems recently, trying to calm them with ginger ale at the Rammer Jammer, and at a Belles meeting later on, one of the girls mentions that they thought she was pregnant. The pastiness, the ginger ale – it read like morning sickness, which scares Lemon into getting a pregnancy test. Only right before she picked it up, multiple people kept interrupting her and making her that much more paranoid than she already was; too embarrassed to buy it outright, she slips it into Lavon's bag, only to be caught by the recently installed alarm system. Lavon takes the fall, blaming it on Burt Reynolds being in heat (and a female), and Ruby immediately calls the paper to get the story of Lavon's shoplifting arrest ran the next day. Lavon may have gotten off with a $42 fine, but he has to deal with the first bad press of his administration as a result, getting angry at Dr. Hart for her having (drunkenly) leaked the information to Ruby at the Rammer Jammer.
At the Meat & Greet, Zoe and Lavon make up and Lemon confesses her role in the incident to Frank, the owner of the store that she had stolen from. Frank promises to spread around what actually happened and luckily, the endorsement from the Owls didn't get completely rescinded; they're not endorsing Lavon yet, but they aren't endorsing Ruby, either, so there's time for Mayor Hayes to make good on the bad press. Thanks to the selflessness of Lemon's action, Lavon happily calls her a friend.
Breaking Up the Compliment Sandwich
George's first date with Shelby may have ended in them getting kicked out of the restaurant, but since that time, they've been on an additional two dates. For his part, George isn't feeling a connection with the perky blonde and wants to figure out a way to break up with her. He's not had to let anyone down for nearly two decades, so he's a bit out of practice in the art of compassionately ending things with someone. He turns to Wade, who teaches him the art of the compliment sandwich; in a compliment sandwich, you lead with a compliment before telling the truth that you wanted to confess and rounding off with a compliment.
George gets to test the validity of the compliment sandwich when Shelby comes over to his apartment talking about discount online shopping and (inadvertently) blocking him from saying…well, anything. George leads with the compliment (about her beauty being too much for a simple man like him), though rather than taking it for what it is, she demands to know what exactly about her beauty is that stunning. Once Wade calls about Lemon's pregnancy, George leaves the date and heads to the boat, where he tells his former fiance that he'd be there for her if she were pregnant. Fortunately, she's not. The two did get a chance to share a drink and reminisce, which helps Lemon figure out the root of her recent sickness and pasty complexion. It's not pregnancy – it's seasickness, which Lemon has always been afflicted with. As a result, George offers to change residences with her; he's overwhelmed by all the pillow shams (and memories) in his apartment and Lemon would have ended up living there anyway. Why not give her an affordable break from the nausea and give yourself a fresh start in the process?
At the Meat & Greet, Shelby pops up expecting them to finish their date, but with Wade close by, George manages to tell her that he doesn't want to see her again. He flubbed up the sandwich with two "meat" and one compliment, though it works.
He gets slapped.
But he's single again.
Getting By Without You
With Lemon beginning to stand on her own two feet, Brick and Magnolia have to figure out a way to get by without the substitute mother figure/homemaker that has keep them in line for years. Lemon may not have had a job-job before, but she did all the housework and kept the Breeland household running smoothly, to the point that her absence is kind of a big deal for Brick and Magnolia. It doesn't take long for the two to begin feeling Lemon's absence, as they quickly run out of food and clean plates; neither Brick nor Magnolia know how to go food shopping, clean the house, or do any of the household things that Lemon did every day, Magnolia turning a load of white clothes purple and Brick's etouffe not turning out at all.
They hatch a plan to get Lemon to come home under the guise of tutoring Magnolia in chemistry. Once she comes back, they surmise that she won't be able to help herself in helping them, doing a load of laundry and making macaroni and cheese in addition to tutoring her sister. Down to their last bit of peanut butter, Brick and Magnolia head to the Meat & Greet to find Lemon, only to be told that she confessed to stealing the pregnancy test from Frank. Lemon explains everything that happened and that she knows that he didn't raise her like that, extinguishing any potentially manipulative plan designed to foil her independence.
Brick doesn't have the heart to break his eldest daughter's personal breakthrough, instead telling Magnolia to go buy them new clothes in lieu of doing laundry and gather up a week's worth of barbecue to take home.
Additional thoughts and observations:
-I liked that Zoe would roleplay as a sexy hobo on a train.
-Zach was cute, no?
-Magnolia telling Brick that once they ran out of peanut butter she'd eat him was unexpectedly hysterical.
-Lemon continues to be the highlight of the season for me. Props to the writers for both deepening her character and making her a much more sympathetic figure.
–Next week on Hart of Dixie: It's Halloween in BlueBell and George has a sleepwalking problem that gets between Wade and Zoe. Meanwhile, AnnaBeth comes up with a plan to help Lavon pull ahead in the race for Mayor.