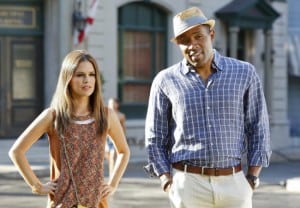 At the end of the season premiere, Zoe followed her heart (and other parts) by making a choice between Wade and George. Rather than dive into a relationship with the genial lawyer or the smooth bartender, she decided that she didn't want to be George's rebound after Lemon and encouraged him to sow his oats…while doing a bit of that of her own by continuing her sexual relationship with Wade. Hart of Dixie kicked off with Zoe being broken up with by the man that she had spent much of her 20s with, so there's a bit of incentive keeping her with Wade; she wants to be wild for once and have a little fun right now, which makes the predicament that she got herself into in "Always on My Mind" interesting.
Zoe continues trying to tell herself that she'll end things with Wade, that the last time they had sex would indeed be the last time. Wade bets her $50 (that she raises to $100) that they can't go 48 hours without having sex, lightly stroking her hand with his finger once they shake on the terms. But Dr. Hart won't be able to get much distance from him to increase her chances of taking home the money, as the two are heading to Mobile on a mission with Rose. The teenager, tired of simply being "the indie rock chick," had become jealous of another girl in her grade that was going to a Black Keys concert that weekend and would be bringing a shirt home that would surely impress their peers and take her niche. After talking to Dr. Hart, she comes over to Lavon's house with flyers for the first annual BlueBellapalooza, a music festival meant to increase her standing at school and trump a simple concert t-shirt. Dr. Hart had told her that her mother had worked with musicians in the past and in accordance, Rose put some pretty big names on the advertising (Talking Heads, P!nk, Mumford and Sons). However, a platinum artist wasn't in the cards for the festival, though Wade had a connection in Mobile in the form of former band mate (and ex-girlfriend) Lily Anne, hence the road trip the three took.
Wade about won the bet before they got out of BlueBell, changing the radio from news to a seductive country song and getting Dr. Hart to pull over in the process. But after getting interrupted by Rose, they head to Mobile to see if Lily Anne would be willing to come to town to play; when they get to her home, she's playing "Run from Wade", a fairly angry acoustic song about a love gone wrong. It's obvious that the two ended things on bad terms, as Wade continually snipes at her mental state among other things, though she gets advice from Zoe about acid reflux that could have come from her mood stabilizers. Zoe ultimately convinces Wade to apologize for missing Lily Anne's sister's wedding, though Lily Anne not-so-subtly hints that she wants to hook up with Wade once she gets back into town.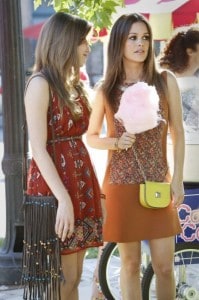 On the day of the festival, everything looks as colorful and fun as you might think. Zoe and Rose spent much of the night before setting up the town square, which ended up filled with balloons, flowers, and a decent-looking stage. It might not have been that elaborate or glamorous a venue, but it brought out a pretty good amount of the town and gave Rose enough indie rock credit with the girls at school, as she's surrounded by her peers for the entirety of the festival. Though the former "anime chick" had to put up a whole lot of effort in order to maintain her niche and be the best self that she could be, it seems like throwing BlueBellapalooza gave her confidence in who she is and a little more spring in her step that could serve her well at school.
The festival itself found Lily Anne with a numb picking finger, nervous about what it could mean for her playing career. Wade described her earlier in the episode as a hypochondriac and Dr. Hart (subconsciously) played right into that, mentioning that it could be nerve damage. Cut to Lily Anne leaving BlueBell and heading back to Mobile, along with Wade packing up his stuff and calling Zoe out on her obvious insecurity about him being with other women, though she did ultimately win the sex bet. Though she didn't get a chance to talk things out with him, she had to look for a singer to play with Wade's band (a keyboardist, two guitarists, and a drummer) or the festival would have been ruined – luckily, George Tucker was there. You'll remember that during the trip to New Orleans that he took with Zoe, George performed some impressive karaoke; Zoe certainly remembered, as she pretty much begs him to take the stage and perform, much to his chagrin. George performed in New Orleans due to the three hurricanes that he drank and the fact that he didn't have to do it in front of people he knew, but there's no time for nerves here. He takes the stage to perform "Ramblin' Man" and it serves almost as his reintroduction to the female population of BlueBell. There are groupies both in front of the stage and waiting for him backstage, giving him (and Wade) their phone numbers and making Zoe rethink her choice once again.
George needed the shot of confidence that the performance gave him, since his time in the dating pool earlier in the episode didn't go that well. After spending much of his post-Lemon, post-Zoe time drinking and fishing, George gets convinced by Wade that he needs to have a one night stand and begin the process of moving on. Wade agrees to become his wing man for the night at the Rammer Jammer, a night where a women's beach volleyball team would be stopping in town on the way to Daytona. However, when Wade has to head to Mobile, George has to go it alone, sans a few tips given via phone, mostly relating to C-7 on the jukebox and approaching the woman drinking Chardonnay in the corner with her purse on her lap. Though he initially bumbles around, Wade's plan actually works, George finding a pretty brunette nursing a wine glass and getting a dance out of it. However, once George sees Lemon upset across the room, he goes over to talk to her, picking her spirits up with a joke, a smile, and an offer to make up his actions to her in the near future. That future is now, Lemon making him bus a few tables in penance for him dumping her and forcing her into the working world; unfortunately, the woman who George had seemingly wooed walked by and saw him with the tub of dirty dishes and half chewed food, relieved that she didn't actually hook up with a bus boy.
But what could get Lemon that upset? This is a woman who spent much of the first season of Hart of Dixie with the stiffest upper lip in all of BlueBell, so anything that brings her to tears has to be pretty major. I know you'll be shocked at this: Lemon Breeland isn't a great waitress. She mixes up orders, she's not terribly polite to the customers, she seems pre-occupied – it might be time for her to be fired, at least according to her boss Wally. However, nobody knows how to fire Lemon Breeland – not Wally, not Wade, not George – especially not when she's determined to prove a point to her father. After Brick and Magnolia continually harangue her career choice and how it's bringing shame to the Breeland name, Lemon invites Brick and girlfriend Emily to the Rammer Jammer (on her night off, where she picks up an extra shift) so she could serve them and prove that she has what it takes to make it on her own. Brick had been trying to push his daughter into becoming a receptionist for him now that Addy had vacated the position to go to graduate school, but Lemon taking that would keep her under his thumb and the entire point of her becoming a waitress was so that she could do something on her own.
However, Lemon didn't get a chance to shine, as Emily accidentally took a bite of the seafood gumbo, aggravating her allergy to it and forcing Brick to take her to the office for a shot.
Lavon dealt with an issue of office, only his problem came from someone trying to take his seat in the BlueBell Mayoral office. Much of his time in the episode (not spent ragging on Dr. Hart for her poor life choices and contradicting viewpoints on her relationships with George and Wade) was with Ruby, who he had seemed to finally get on good terms with. The two had put their animosity and hard feelings from the past behind them now that she had decided to stay in town for a while, though her grandfather still holds a grudge against Lavon for breaking her heart. To the point that he threatens to run against Mayor Hayes (and his 98%+ approval rating); you might think that it was just the ramblings of past heartbreak coming out in present voice, but there was a little truth to that. No, Ruby's grandfather won't be running – Ruby will. I think?
After spending an evening with her former flame having drinks and trading laughs, Ruby used something Lavon told her against him, as the football standout informed her that he kind of fell into the job of mayor. He didn't have much direction in his life following his football career, but once the suggestion came into his life, his political career just sort of…happened. Similarly aimless, Ruby confronts Lavon at the festival and tells him that she plans to run against him. Interestingly enough, though, she won't quite confirm it once it falls out of her mouth, playing a head game with the mayor that likely comes from years of resentment. Ruby has yet to let go of her (petty) feelings toward Lemon, who she bullied in high school, and I don't think I'd put it past her to needle the man that she waited for who never came home.
Additional thoughts and observations:
-Did Lily Anne (and "Run from Wade") remind anyone else of Corinna from Boy Meets World?
-What do you think about the new opening sequence? Upgrade? Downgrade? No grade?
-BlueBell has officially been dropped from the Southern Living Top 100 Southern Towns list.
-Zoe pounding marshmallows to keep her mind off of Wade was cute.
-Lavon's friendship with Zoe is by far my favorite part of Hart of Dixie. I appreciate seeing a male/female dynamic on TV that has no chance of becoming sexual/romantic, plus their playfulness/banter is quite fun. Zoe needs someone to come in and be like "hey…get it together" once in a while; Lavon is the type of person to keep her in check and enjoy her crazy.
-In music news, tonight's title is from the Willie Nelson song, the premiere title is from a Patsy Cline song, and the song that Wade put on in the car was this.
–Next week on Hart of Dixie: Zoe tries to convince a reporter that her practice is thriving, George tells Lemon that he's beginning to date again, and Tom Long has leprosy. Really.