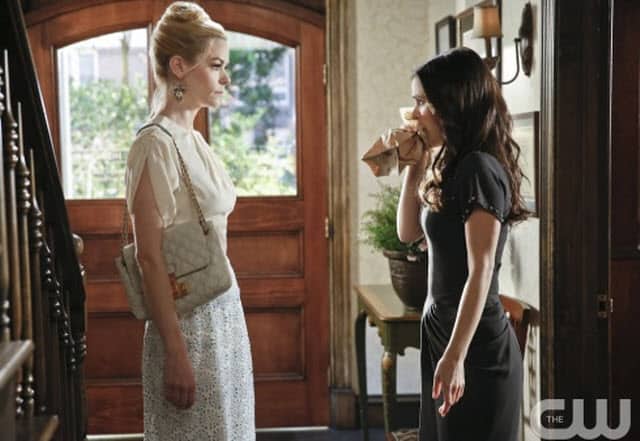 Just when I thought I had Hart of Dixie figured out, they go ahead and surprise us in this season finale. I have to emphasize that this is only a season finale because if this was a series finale, I'd have much bigger problems.
The man, the myth, the legend that is Don Todd visited Bluebell upon the urging of his 2 biggest fans, Lavon and George. They first met him when they were the only fans to show up (and actually camp out for) a book signing. They're devastated to hear he plans on retiring so they cheer him up with a visit to their hometown where he's an idol to many. Little did they know that their hero's relationship advice would unbelievably dredge up the oldest love triangle since before the show even began.
Oh Don Todd, I love that you're such a huge celebrity in Bluebell and I do wish you'd consider moving there, but you have no idea what you started. It was bad enough that George has been obsessed with Lemon ever since their one-night stand but the plot twist that Lavon also still has feelings for her was ridiculous.
Lavon is supposed to be in love with Annabeth! It was all going according to my plan when AB finally turned down Davis' proposal because she's still in love with someone else (ie: Lavon!) I was really shocked that the writers are reverting back to season 1 with this new love triangle, but add in AB's now-unrequited love for Lavon, and it's more like a love rectangle. To quote Mr. Hayes himself, "naw, naw, naw, naw!"
A bad case of stress-induced hiccups seemed to be going around town. First Zoe struggles with her feelings for Wade before she worked up the courage to publicly declare her love for him after Meatball and Lily Anne's wedding fell through. This was the first of 3 weddings that were originally planned in a hurry to be held at Fancie's but since that got damaged in a fire, the town scrambled to throw together ceremonies for all the happy couples elsewhere.
In the midst of planning her vow renewal ceremony with her singing/dancing husband of 10 years, Crickett "caught" the hiccups next. She cracks and admits in front of everyone at the actual wedding that she's gay and tired of living a lie anymore. Stanley's reaction was the funniest because everyone probably thought he'd be the one who was secretly gay.
The only successful wedding of the weekend was Brando and Sylvie's. Of course, Joel and Vivian came to town since they are family and each ran into Zoe and Wade, respectively. I was especially happy to see that Zoe and Joel are friends, and she even knows about his new girlfriend. He's the one responsible for giving her the push to tell Wade how she really feels before he moves to Atlanta.
Wade later decided against the Rammer Jammer franchise offer because he realized he'd only be working in the corporate offices and he's not the suit and tie kinda guy. He broke the news to Zoe at her uncle's wedding where they danced together. As nice as it would have been to see them kiss and make up, I'm happy they're gonna take it slow this time.
Lemon has her own problems to deal with so she's absent from almost all of these crazy weddings. She gave in to her grandmother's badgering about the singles cruise in exchange for $100,000 to buy George out of Fancie's. Interestingly enough, she starts hiccuping before the ship has even left the harbor. I wonder if whatever she has to say is directed at either George or Lavon who both showed up at the dock when it was already too late. Consider this the Hart of Dixie version of the cliche run to the airport, only the gate's already been closed and she didn't get off the boat/plane.
Lemon hasn't shown any romantic interest in George since their one night stand this season that sparked his sudden longing for her. It could have been interesting to explore more of Lavon and Lemon's relationship again if this was still season 1, but they've both changed so much. I really hate that this triangle is being revisited. I'm all for second chances but not in this case. Lemon will only complicate matters when she comes home from the cruise with a new boyfriend/fiance/maybe even husband if she's really into it.
Overall, the promise of a Zoe/Wade reunion slightly outweighs the anger over this boring old love triangle. The fact that Don Todd actually came to Bluebell was a pretty epic way to end the season, so I can't entirely hate it. Plus, Wanda and Tom are getting the best of both worlds: Wanda is pregnant and actually agreed to let Tom adopt the llamas he talked about earlier this season!
We have a while to wait until the fourth (and possibly final) season starts back up again in 2015 but until then let us know what you thought of this finale and the third season as a whole!
[Photo via The CW]