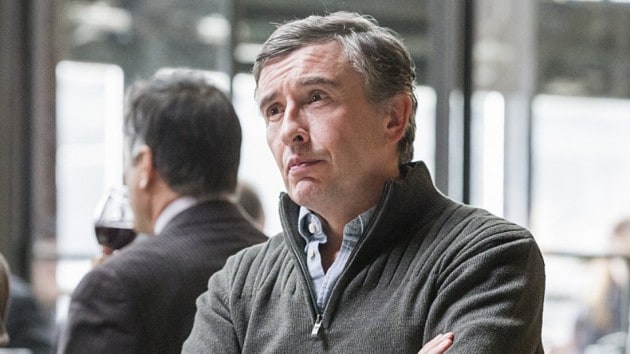 In the climatic moment of Happyish's pilot, disgruntled marketing professional Thom Payne argues with a fictional version of his boss about the tenants of Albert Camus's philosophies on the paradox of life. Le Mythe de Sisyphe (better known in America as The Myth of Sisyphus) is the defining work of Camus' ideas on the absurd, exploring the contradiction of trying to find meaning in a meaningless life. Using the fictional tale of Sisyphus (the man who pushed a boulder up a hill, only to see it roll back down another hill), Camus explains that, ultimately, we as conscious beings have a choice on how to approach the absurdities of life; he realizes that the path to happiness is by learning to love the struggle.
However, as much as Happyish wants to spout about Albert Camus' insights into human consciousness and existence, it doesn't quite embody the great philosophers' ideals of absurdity as it wants to. Adapting Camus' material into the modern world is an easy, natural fit, but Happyish still insists on forcing it on audiences, holding our hand through thinly-disguised monologues to the audience, all while ultimately underscoring its own point. Part of this comes from the show's rampant vulgarity; by design, the dialogue of Happyish is designed to be absurd (and I could watch Kathryn Hahn snap "f***ing bulls***" at people for hours at a time), but it emphasizes the philosophies the show is trying to embody, turning many scenes into nihilistic bents that don't so much as suggest some kind of philosophic revolt as they do to sticking to one's guns in a changing world. The final scene sees Thom tripping up a bunch of iPad-reading milennials (who are squarely the enemy in this show, as most angsty middle-aged white men's shows are) and being the only one to find his way, because he's reading a book, the Steve Jobs autobiography the pilot both admires and admonishes.
Happyish spends so much time explaining its point, it never has a chance to make it a part of the show's personality. There are hints of interesting moments exploring the absurd, but the show ultimately sells them short trying to sound cool. The best embodiment of this is probably Thom wanting to sleep with his wife, but not being able to because of his Prozac; there's a hint of life's contradiction in the modern world at play here, but it's undersold by the whole "I'd rather you be miserable and hard, then happy and soft" thing his wife (who is played beautifully by Kathryn Hahn, who makes any project she's in worth watching) tells him. Ultimately, Happyish suggests we can only enjoy moments of happiness by leading a miserable life resistant to change. Camus always insisted that he wasn't a nihilist, and Happyish loses that, even as it spouts off about "revolting" rather than suicide.
There is a lot of promise to Happyish: Hahn's performance, the slight tinges of metaphysical philosophy, and Steve Coogan's neurotic faces certainly make slogging through the show's heavy-handed, "edgy" dialogue and predictable narrative a quick watch. I can't help but wonder what this show might've looked and felt like in the hands of its original star, Philip Seymour Hoffman; not that Coogan is terrible, but anyone who has seen Synecdoche, New York knows what Hoffman could've brought to the table. Coogan isn't quite able to inject Thom with the necessary pathos to make his existential struggle meaningful. Instead, it gets buried under the bitter language and world view with its conversations about "joy ceilings" and how a miserable childhood is the "only way to happiness," unable to create an empathetic connection between character and audience, even when the ideas behind them are more than intriguing enough.
That being said, the pieces are there for Happyish to grow into an interesting show; it's about whether or not the series is able to move beyond its self-affirming nihilism and really embrace the absurd pursuit of happiness it purports when it mentions writers like Camus and Beckett. As much as I love a steady stream of f-bombs in my angsty parodies, that indulgence must come with some sort of self-realization, one Happyish doesn't quite feel its grasped yet.
[Photo via Showtime]