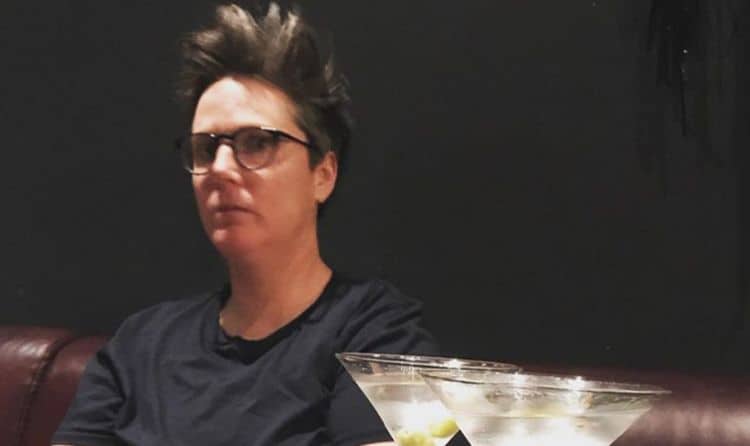 The gist of her comedy is something that seems to be best explained by saying that she's funny at given moments but one has to really listen to the context and then decide if they want to laugh. Hannah Gadsby is funny, there's no doubt, but it would seem that one really has to be into her brand of humor to laugh uproariously at what she's saying. Even then it might not be possible to sustain that laughter since quite honestly it's hard to know when she's joking sometimes or trying to make a point. But again, it's a matter of perception and she's made a name for herself doing what she likes to do so it's not at all fair to say that she's not talented. After all, you don't get to where she's at by having no talent, especially when it comes to comedy. In someone's perception anyone can be funny, but it does require a true sense of humor and timing to really get people on board with that thought.
Here are a few things about Hannah you might not have known.
10. It sounds as though she suffered a nervous breakdown in college.
This might sound like a horrible thing and it is to be honest. If it's never happened to you then you might not fully understand the ramifications of it since it does happen to feel as though your life is literally falling apart and nothing you do can possibly make it right or put the pieces back together.
9. She became homeless after a while.
This was due to several factors that saw her fall into destitution of the sort that had her doing whatever she could and yet somehow still failing as she tried to piece her life together bit by bit. Eventually she had to be hospitalized, and after this it would seem that she started turning things around.
8. It was in 2006 that she got into comedy.
Her comedy, as I said above, is kind of hard to understand and at times does sound like a lecture. But thankfully she doesn't give in or despair when people don't understand her brand of funny, she just keeps pushing ahead and doing her thing regardless of what people say. In comedy and in life what's what a person has to do sometimes since otherwise thinking too much tends to bury a person's reputation and career.
7. She has ADHD and autism.
That seems like a rather odd mix to deal with and as I did mention above she did become homeless due to a few factors, though she did claim that her ADHD is a part of it. If you understand the condition however it's not that a person is ultra-hyper and can't focus on anything, it's that they're trying to focus on EVERYTHING and can't do it all at once, so they continually bounce around from one subject to another. That's one theory.
6. She's openly lesbian and makes this a part of her stand-up routines.
If you can make fun of your own life and the way you live then you've got comedy figured out since quite honestly there is so little that's taboo, if there is anything in truth, that if you can't laugh at yourself then you're not really cut out for comedy.
5. Throughout her career she's made numerous appearances on other shows.
Her list of appearances on other shows isn't incredibly extensive but it's enough to think that she's stepped out of a comfort zone more than once in order to do something else with her career. That alone is something that's worth mentioning since she's shown a great deal of growth since she stepped on the scene.
4. She's been nominated for quite a few awards in her time.
This is just further proof that people like what she's done and those that might criticize her really don't have a lot of pull when it comes to her career. Nominations aren't wins but in some cases they're just as good since it's validation that what you're doing is right and that it's working.
3. She's a very charitable person.
Whether it's because she's just that altruistic or because she knows what it's like to be down and out and have nowhere to turn to she's been involved in a few charities during her life and has managed to help others in need more than a few times.
2. Her social media presence isn't massive but it's substantial.
Hannah does have a pretty decent following and she seems to keep up on it as time continues to pass. Of course social media is a rather big deal in show business as it's one of the best ways to keep relevant in a constantly changing industry.
1. Her net worth at this time is around $6 million.
She's amassed a pretty good chunk of money in her time and has done rather well for herself. Her comedy is a big part of this but she's also become a very prominent presence in show business as well.
Don't ever think just because someone's comedy is a tad dry that they're not funny.