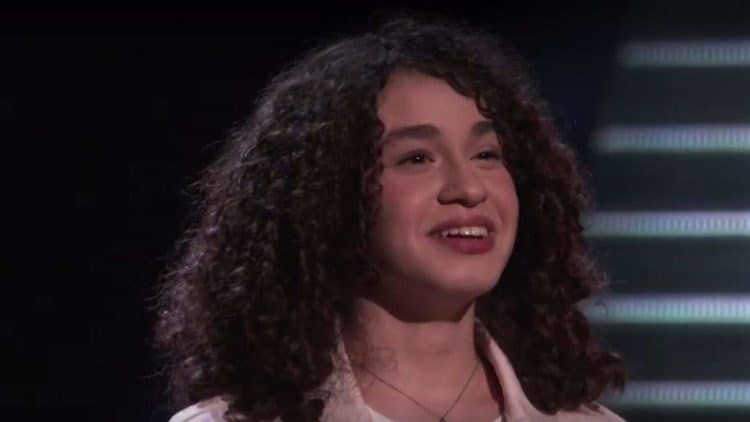 Remember being 13? It may have been recently. It may have been 25 years ago. Either way, 13 is an age. It's a time when things are exciting but also terrifying. Most of us had no idea what our lives would look like or how they'd turn out, and we didn't really have much of a plan for the future other than getting through middle school, high school, figuring out college, and then thinking about life. For Hailey Mia, however, that is not what life looks like. She's 13, but she already knows exactly how she wants her future to look, and she is already achieving her goals. She's auditioned for "The Voice," and this is one young girl who is going serious places.
1. She is 13
Hailey Mia is only 13. Her voice, on the other hand, is not 13. While she does sound young, she doesn't sound nearly as young as she is, which is something that singer Ariana Grande mentioned to her when she turned her chair around to fight for the singer to join her team.
2. She has Been Waiting
Not only is this young woman only 13, but she's also been waiting most of her life to turn 13 so that she could try out for the show. As the mother of a recently turned 13-year-old daughter, this blows my mind. Our daughter has no idea what she wants to be when she grows up, but she does know that she wants to get through her 8th-grade year with perfect 100 percent grades in all of her honors and high school classes. It's not a bad goal (and proud mom alert – she's doing it), but she honestly doesn't know what she wants to do when she's an adult. Or, like, next week. But this young woman has been waiting years to turn 13 to pursue her dreams – and she did it. We are all proud of her.
3. She is Beloved By the Internet
The internet lost its collective mind when this young girl sang during her blind auditions. No one can believe she is only 13, and no one can believe she sounds like she sounds. She is exceptionally talented, and the world knows that she is going places, she will be someone, and no one will ever forget her name.
4. She Chose Ariana Grande
At the end of the day, she chose Ariana Grande over coaches like Kelly Clarkson. While Clarkson tried her hardest to get this young woman to join her team, the young singer chose Grande, who was actually the judge that singer Blake Shelton felt would be the best fit for the young singer.
5. She Was Born with a Medical Condition
When Hailey Mia was born, she was diagnosed with a condition called double elevator palsy. It affects her vision. Essentially, she could see out of both eyes, but her brain will eventually take the vision of one eye from her and slowly blind her in that eye because it only recognizes one eye as being a working eye. It is a rare condition that does not affect very many people at all.
6. She's Not Blind
When she was only 7, she underwent surgery in an attempt to correct her vision. While she's not 100 percent in one eye, she has regained the vast majority of her vision, which is great news for her. She's a strong kid to have already gone through so much at such a young age.
7. She's a Jersey Girl
Hailey Mia is 13. She knows how to sing. She chose Ariana Grande over Kelly Clarkson, and she is from New Jersey. She was born and raised there, and she is making her hometown very proud at this moment in time.
8. She Has a Large Following
She may only be 13, but she has so many people following her story. She's got more than 6k followers on her public Instagram page, and we imagine this excites her. We also wonder how many of those followers she had before versus how many she picked up after her audition.
9. She Sings Regularly
The oldest post on her Instagram account is from November 8, 2019. It's a video of her singing a song performed by Kelly Clarkson when she was only around 11 at the time. Her talent is literally breathtaking.
10. She's Relatively Private
She's a teenage girl on the internet and on national television, and we imagine her parents are making sure the personal details of her life remain as private as possible. We don't know if she is into sports or clubs at school, but we do know she's a singer through and through.
Tell us what's wrong with this post? How could we improve it? :)
Let us improve this post!