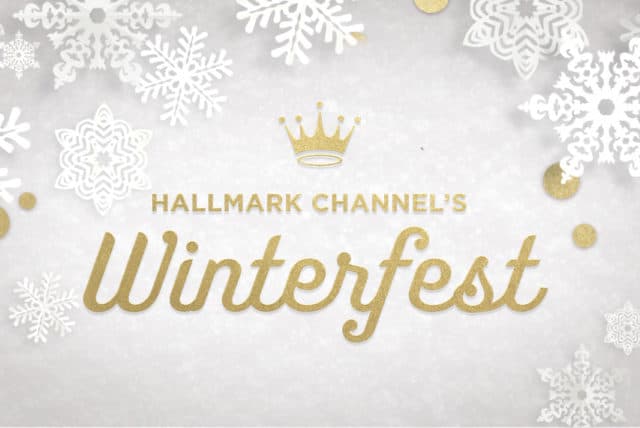 The Hallmark Countdown to Christmas movies are always so unforgettable that, just like Christmas, we hate to see them end, The sets are so perfectly decorated for the holidays, the snow always looks so white and perfect, and of course, the couples are unforgettably beautiful together. But, just like Christmas itself, the holiday season Hallmark classics come and go. And, with them goes the romance and ethereal quality of the holidays. Fortunately, you probably saved a few on your DVR but, frankly, it just might be time to move on. To what, you may ask?
Happy New Year from Hallmark!
Well, to the new year and the after-Christmas Hallmark world, where the movies are the perfect vehicle for carrying you into 2018 with a smile. Enter Winterfest 2018. It's your perfect way for waving goodbye to the holidays and welcoming you to January. It's a month that will be remembered for four amazingly romantic world premiere original Hallmark movies, so just tune into the Hallmark channel and watch them all:
1. Love on the Slopes,- Saturday, January 6, 9/8c:
Starring in this Hallmark movie is Canadian actor/photographer/cinematographer, Thomas Beaudoin, as Cole Taylor, and an Esquire Sexiest Woman Alive winner, Katrina Bowden, well-known as the gorgeous receptionist on "30-Rock", as Alex Burns. It takes place at Ridgeline Resort where a copy editor from New York City meets a fan of extreme sports and the sparks fly.
2. Frozen in Love- Saturday, January 13, 9/8c:
Frozen in Love stars Rachael Leigh Cook, a busy L.A.-based actress probably best known for her recurring role on "Psych", as Mary in this engaging Hallmark movie. Playing her love interest is Niall Matter, a Canadian actor with numerous TV shows and movies under his belt, as Adam. She's the owner of a struggling bookstore and he's a professional hockey player known for being quite the bad boy. Both are in need of a serious makeover and they team up to help each other, falling in love in the process.
3. One Winter Weekend- Saturday, January 20th, 9/8c:
Starring Taylor Cole, an actress with a string of TV credits that include "NCIS", "CSI", "Castle," and "Hawaii Five-0,", as Cara; and Jack Turner, a veteran Oxford-educated actor from TV, films and commercials, as Ben, this Hallmark movie takes place on a ski getaway. Cara is the writer of a women's magazine whose employer asks her to write an article about her recent breakup with her boyfriend. So, she goes on a ski getaway with her BFF and ends up in a ski chalet that has been double-booked, which means the two girls are bunking with two guys, one of whom is an entrepreneur named Ben. When the four get snowed in, Ben and Cara end up together.
4. Winter's Dream, Saturday, January 27th, 9/8c:
In this movie, Dean Cain plays Ty, a former ski champion. You probably remember him as Superman but he was also the host of "Ripley's Believe It or Not!" in addition to numerous feature films and popular TV shows. He stars opposite Kristy Swanson, an actress with considerable TV and movie credits who also won a skating competition on the FOX reality show, "Skating With Celebrities". She plays Kat, who is a young downhill racer in need of help with her career from a professional.
Need More Romance in January?
Only four? That's not quite enough romance for a whole month, right? Well, no problem because there are also a lot more encore Hallmark movies every single Saturday and Sunday in January, too. And, what's even better is the fact that they're on all day! From" June in January" on the 6th at 9a/8c to "A Country Wedding" on the 28th at 9/8c, you're going to love them all. Can't wait to see what romance February will bring to the Hallmark channel. After all, it is the month that offers us Valentine's Day!
Tell us what's wrong with this post? How could we improve it? :)
Let us improve this post!