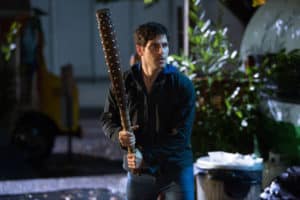 We pick up with where we ended the last episode of Grimm: Renard and Juliette locking lips in the spice shop, but once she sees Monroe, she hightails it to her car and heads home. In addition to her vehicle and Renard's vehicle, both on the road and going different directions, we see two black-clad figures on motorcycles, each with double diamond symbols on their hands. They work for Adalind Schade, the (former?) Hexenbiest that has been a thorn in Nick's paw since the third episode of the series; she had them, a brunette female and a blonde-ish male with longer hair, stalking the Captain in order to gather information on his obsession with Juliette.
Monroe sits Nick down to tell him about what he saw with Juliette and Renard, but he can't bring himself to tell him the complete truth. Instead, he leaves out the identity of the man that she was kissing, which Nick doesn't find out when he confronts her, either, even though he does ask. While Juliette heads over to Monroe's to seek comfort (and answers) from her friend, Renard gets confronted by the two motorcycle riders/lackeys for Adalind in an elevator and eventually comes face-to-face with his former flame inside his apartment. Adalind gives Renard 48 hours to acquire the key from Nick's possession and get it to her; if he doesn't, she'll inform the Grimm as to the Captain's real identity, royal or otherwise.
In order to get Nick at his weakest, Adalind begins targeting the people closest to him. First, she shows up at Hank's doorstep, all smiles, apologies, and mentions of her dead mother. Hank manages to keep his cool around her, even throwing in a baking comment (re: the poisoned/magical cookies from last season), but once she leaves, he gets attacked by two Wesen that came in another door, his home thoroughly trashed and his body bruised and beat up.
While Juliette is trying to get Monroe to tell her what he was going to tell her the night of the coma (he only gives her that Nick has a lot of enemies and wants to protect her), Nick is visiting Hank at the hospital, who tells him that Adalind thinks he had something to do with the death of her mother. Before Nick can do anything to find Adalind, though, she shows up at Juliette's and the two head for coffee at Portland Java. The two might be in good spirits around one another, but the topics of conversation are anything but jolly: the cat scratch that sent Juliette into a coma, Adalind's mother dying, Juliette's problems with Nick. However, Adalind uses the girl talk to get to what she really wants to know about: the trailer. She hits Juliette with a round of questions about where the trailer is, what happened to Aunt Marie, and how nice the trailer was, hoping to get a location out of her in order to go looking for the key. Alas, Juliette remains tight lipped…until Nick calls; he had Wu triangulate Juliette's cell phone in order to figure out where she was, as he and Monroe couldn't find her at the house and he knew that Adalind had been by. Juliette gets defensive, even passing the phone to Adalind so she could talk to Nick, resulting in her inviting him down for coffee.
He does arrive – only with a team of officers that arrest her on suspicion of involvement in her mother's death, which only drives Juliette farther away from him. At the station, he talks to Adalind in the interrogation room and the two verbally tussle over everything that's happened; she feigns concern at Hank being hurt and he gets a hotel room number and place of work out of her, with the final blow coming when she asks about the key and her cat.
Meanwhile, Monroe headed over to Hank's and caught a whiff of the Wesen involvement – there were two Hundjagers involved in the beating, meaning that Adalind is working for the royals. Nick goes to the trailer and gets the key, beating Captain Renard to the punch, while Monroe provides the bait for the Hundjagers. He goes to the hotel room that Adalind gave Nick looking for Leroy, knocking on the door on two different occasions and raising their suspicions enough to get them to follow him out. Once out, he lures them deep enough into the storage lot where Nick can come in behind them with a spiked bat he got from the trailer and exact his own brand of justice. Before he can get any information on who they're working for from the remaining living Hundjager, another one comes storming in and rips her throat out, leaving him with a mountain of evidence (IDs, wallets) and no concrete information. Yet.
Nick visits Adalind in jail and there, she confesses to trying to kill Aunt Marie and dangles the information about who she's working for in front of him. If he gives her the key, she'll give him a name, but he doesn't pull the trigger; he does, however, move out of the home that he shares with Juliette, since he's tired of being on the couch, and into Monroe's home for the time being. There, Monroe shows him a tape of the Captain's press conference last week, while Renard has found the trailer. It might not have the key, but it has enough valuable information that, if lost, could hurt Nick deeply.
Additional thoughts and observations:
-The only thing that I didn't like about the episode, which was a lively, fun bit of TV (thanks to the reemergence of Adalind), was the continued reticence of Grimm to tell us anything. They'd get to the edge of divulging an answer and then narratively pull back, which got frustrated after the third, fourth, and fifth instance. I don't mind them not telling everything at once, but telling me that you know something big and then not telling me is irritating.
-Well, that's it for Grimm this fall. The 2013 promo didn't hint at much aside from an impending sex scene, but you can talk about Wesen sex (Wesex?) and everything else Grimm-related on the TVOvermind Grimm discussion forum during the hiatus.