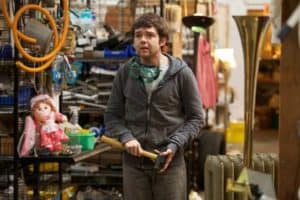 How much is too much serialization when it comes to a procedural? The whole point of having a series be more episodic in nature is that it allows casual viewers to drop in without feeling overwhelmed at complex mythology, but allow things to become too routine and you risk making your entire fan base "casual fans". Having certain serial elements and character growth in a procedural, especially one with supernatural elements like Grimm, hooks in other types of viewers and can allow your series room to grow. However, those moments tend to have to be earned, not so obvious as to disrupt an episode's flow but impactful enough to actually mean something going forward.
Grimm has been walking that tricky tightrope since episode one, leaning heavier on the familiar cop elements but sprinkling in moments that hinted at something bigger than police work and perp wrangling. In "Of Mouse and Man", it finally reversed course and buried its head in the serial bowl like a hungry 2nd grader, which made for some extra tense moments and interesting set-up going forward. Most notably, we had the creature community sending a strong message to Monroe about his continued involvement with Nick Burkhardt, card carrying creature killer. Instead of a one-off run-in with some punks, it seems like tension is growing in Portland, with Nick's reputation preceding him in many aspects. I don't expect a full-out war between the two mostly peaceful men and every critter in the Pacific northwest, but stoking the fires between the two camps gives some of the more routine cases additional stakes (will this one try to take them out, is that one connected to anyone powerful, when will they strike again) and makes the supernatural aspects of Grimm a little fuller. Until now, we've only gotten bits and pieces of clues about the way that one species interacts with another and the attitude they all have toward Grimms, which tonight's episode hinted at and all but promised to expand upon in future weeks.
One of the true bits of serialization that Grimm has toyed with has been Nick's true identity and when to reveal that to Juliette, who has been growing more suspicious with each passing week. There have been strange men in her home acting petrified of her boyfriend and an intruder that injured said boyfriend pretty badly, but tonight amped things up even more, as Juliette spotted people spying on her home. After tracking them down, one of the people that had been in the truck locked eyes with her, ushering her children in the house out of fear. Presumably, they think she's a Grimm like Nick is, or at least skilled enough to take anybody out, but all the encounter did was freak Juliette out even more. It's puzzling how her faith in Nick has never wavered ("At least I know who you are.") with how much he's been involved in their recent string of unusual encounters, but maybe she's just doubling down on what she knows? Obviously, one doesn't assume their loved one comes from a long line of creature hunters dating back several centuries, so I can see her trying to rationalize this as "job hazards" from Nick's detective work and hoping it all goes away soon.
I've mentioned before that I'm all for Juliette finding out Nick's identity; their arrangement could use a little shaking up and once she comes around, her medical acumen (and sarcastic tongue) would be an asset to the team of Nick and Monroe. As much as I like the chemistry between the stoic policeman and his loyal sidekick, I can see how that arrangement could use some zhushing after a while. Who knows, with a three-man team, they could take on bigger and badder bad guys.