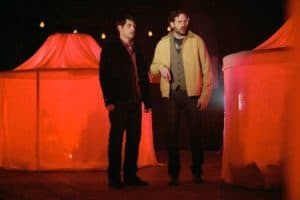 Using a callback can be a pretty tricky thing for a series to do. You don't want to rely on previous events in lieu of creating new ones, but utilized properly, they can help create a tighter world for the main characters to inhabit. Particularly within a procedural like Grimm, having a recurring peripheral character can help the show highlight the fact that life isn't as neat and orderly as had been previously indicated. Cases go unsolved, the bad guy can get away, and even when you think you're doing something for the greater good, you can sometimes unleash more than you bargained for.
"Island of Dreams" follows Grimm's recent trend of adding more serial elements, stacking the number of guest appearances and flashbacks like a mountain of playing cards. I liked seeing Adalind for the fourth time, only because each of her appearances has only scratched the surface on a potentially potent character. There's something about her presence on screen that's extremely unsettling, like she's the type of baddie people constantly underestimate before she takes them down, and digging into her motives a little more can only heighten the fear factor. Especially when you take into account that Captain Renard had a hand in getting her to make the cookies that have been messing with Hank's head and nearly killed Wu; it adds a level of conspiracy theory and general wonderment, in that Renard has showed how dangerous he can be and you have to wonder why he's pulling Adalind's strings. Are the two fully working together or is Renard the one truly in control and using her to carry out his bidding? And what exactly is he after? Grimm may not go to the Renard pool as much, but each layer they peel back makes him a more interesting character, for his royal blood, what he's hiding from his co-workers, and how terrifying he could potentially be, should he fly off the handle.
"Organ Grinder", one of the better Grimm episodes, made another appearance, at least in spirit, as the fuchsbau victim tonight appeared there as well, selling gallenblase to Monroe. It may have only been a small reference, but it not only deepened that episode, finding out what happened to the shopkeeper, it also made the Grimm world seem more compact. As a cop, Nick's going to run into the same establishments and some of the same people, especially considering that Portland, while fairly populated, isn't on the level of a New York or LA in that area. Having the case reappear made for a cool storytelling vehicle, introducing Rosalee, but it made logistical sense and brought a little more realism to the procedural side of Grimm.
However, while other parts of "Island of Dreams" were intelligently done, there were some elements that felt a little rote. Adalind's evil blood cookies, while producing some awesomely WTF imagery from Wu having ingested them, ended up not being that great. Two episodes ago, there was a storyline about something
magic that changed the person that possessed it. It made "Island of Dreams" feel like a weird rewrite of that at times, which isn't the first time Grimm has repeated itself so close together. In a procedural, it's hard to be consistently original in every element of your structure and story, but the proximity between "Three Coins in a Fuchsbau" and "Island of Dreams" do neither any favors in the originality department. Adalind having something to do, especially something to follow up her cliffhanger-y dinner date with Hank, is a definite positive and the effect of…whatever happens here will probably be worth it, but the methodology, I just don't know. Plus, can Hank get something to do aside from being reactionary to everything? Old cases, coins, cookies – the man is being thrown back and forth by the influence of outside stimuli, to the point where they're kind of losing him as a character and making him more of a pawn than a man. I like Hank in his non-mind controlled scenes with Nick, but there's not much to him and it'd be nice if there'd be a little more shading to him from here on out.