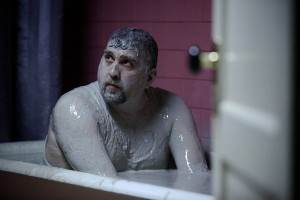 From the first time he appeared on screen in the pilot, I was transfixed by Grimm's Eddie Monroe, reformed blutbad, cellist, and VW bug enthusiast. In a procedural like Grimm, sometimes it can be tough to service both character and case, which tends to leave character beats to be sandwiched in between truth, justice, and catching the perp with a couple of minutes to go in the show. In Monroe's case, however, it felt like the show already had a fully formed, interesting character, as his dryly sarcastic humor and knowledge of all things creature-related helped Nick Burkhardt get on his feet after discovering his impressive lineage. Monroe's always been a light in an increasingly dark show, a tone shift I'm in favor of, and despite the occasional exposition dump, he's a generally reliable episode highlight.
Knowing all this, you can imagine how happy I was to read that "The Three Bad Wolves", the sixth episode of Grimm to air, was Monroe-centric and gave us more of a look at who Eddie Monroe was pre-Nick Burkhardt and pre-sobriety. He may be by far the most complete supporting character on the show, but he's also the most interesting and considering the amount of time that he spends with Nick, it's good to have a little more meat to the Monroe story. In "The Three Bad Wolves", we get to meet two old friends of Monroe's: hapless Hap, pork loving comic fan, and his sister Angelina, motorcycle driving ex of Monroe's and certified Grimm hater, both of whom bring up bad memories that cause the Monroe of this episode to be unlike the Monroe of most other episodes. When around Hap and Angelina, you could almost see him struggling not to let himself fall too deep into his impulses, as he kept Hap at arm's length and let his heart lead the way with Angelina to the detriment of a rabbit, Hap, and his self-esteem. It was intriguing to see Monroe exhibit real vulnerability and longing for human contact, mostly because it highlighted one of the major themes of Grimm; Monroe and Nick are kindred spirits because they're both caught between two worlds and try as they might, they'll never have both feet in one or another. It's that duality that has given Grimm some tone issues that it's been trying to work out, but it's that duality that gives wonderful developments like what we saw with Monroe.
It's that exploration of humanity that kind of made "The Three Bad Wolves" feel off, since this is the episode that has felt the most straight-laced out of the opening sextuplet. Of course, it included the introduction of yet another new creature (the bauerschwein) and reintroduced us to Aunt Marie's Trailer of Knowledge, but after that, it was noticeably lighter on the supernatural fair than I expected. Grimm has always had that procedural base from which to build its episodes, so it's not a mark of grand treason for the show to lean that way, but after three episodes that had amped up the horror movie elements, something this normal (for lack of a better word) just feels weird to go through. Not weird bad, just weird in the sense of how different this was from each preceding episode. I like a show that's willing to experiment and tweak itself until it finds itself, but that open mind can (and will) lead to perfectly serviceable but ultimately bland episodes like this from time to time.