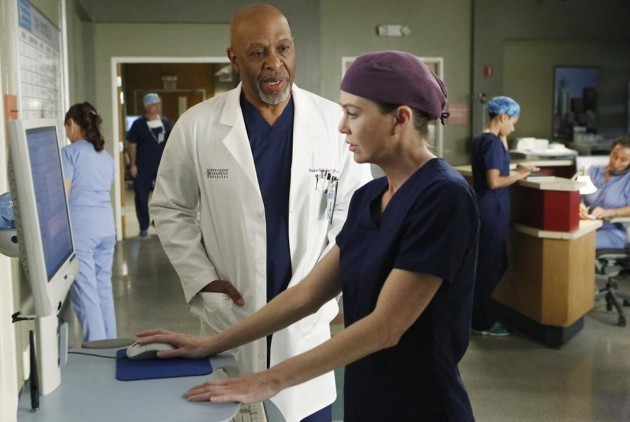 Give me a minute to regain my composure here, because this week on Grey's Anatomy the doctors lost another one of their own, and it was all the more heartbreaking because he was one we barely got to know. We knew it was coming, we knew it would be heartbreaking, but that didn't make it any less painful.
This week's episode began where last week left off, with Jackson and April receiving the devastating news that their baby had Type 2 Osteogenesis Imperfecta. That meant that their little boy's bones were breaking inutero, and he wouldn't live very long after he was born. So as much as they could go back and forth on it, there was really only one decision the couple could make: they would induce labor and let their son go.
Jackson and April are devastated, and do spend the day crying and screaming about the injustice of their situation amid flashbacks of their relationship. Surprisingly, it is Avery's mom Catherine who returns and gives the most poignant speech I think I've ever heard for a situation this dire. If ever there was a right thing to say when your child is about to die, it is Catherine's words to April about giving her child a name, a baptism, and simply holding and loving that child as long as he lives. Catherine herself later receives comfort from Richard after losing her grandchild.
April continues to pray for a miracle and decides to help in the ER when the talk of death certificates becomes too much for her. She runs into a woman who has been wandering the hospital in scrubs after losing her fiancée, and realizes that she will survive this. Jackson takes a different route, instead taking a page from his wife's book and going to the chapel to pray for God to be there for his wife. Both Jackson and April gain the strength to move forward with the procedure, and so Samuel Norbert Avery is born, and subsequently dies in his parent's arms.
The rest of the doctors all spend the day feeling for their friends. Unable to come up with any good ideas on how to help, it is Amelia who steps up and advises them to give Jackson and April their space, and simply light a candle for the baby in the chapel. So throughout the episode the doctors one by one light a candle for Baby Avery and his parents, just hoping for anything that will ease their pain. While nothing will take away the pain of losing a child, by the end of the day all of the candles in the chapel are lit. In that moment you realize that the one bright spot is that no matter how difficult the pain, we are never alone.
Life seems laughable sometimes when a situation like Jackson and April's happens, and yet a miracle is happening just right downstairs from their heartache. Bailey and Callie receive a case of a woman accidentally shot on a hunting trip with her husband. They receive a very big surprise when the woman goes into labor mid-surgery, and she didn't even know she was pregnant. The couple in question thought they couldn't have children, and so made their life about having adventures. Both mother and baby survive, and it really is a miracle.
Elsewhere Meredith (and seriously, where was Meredith's head during all of this heartbreak?) was scrambling to find someone to cover her shift and watch her kids so that she could fly to see her husband. Meredith went on about how she needed her person, who Alex has this year been designated, to watch her kids. Though she may not understand the whole "person" concept yet, Maggie steps up to the plate as Meredith's sister, saying she would love to watch her niece and nephew. Meredith gets one better when Webber volunteers to cover her shift because, as a person who wasted time away from his relationships, he wants to see Meredith make her relationship work.
There are two people hit particularly hard with the death of the baby besides Jackson and April. Arizona, who is April's best friend, can barely look at her while the news is being delivered. She becomes such a mess that Herman takes her off the case, because it is not her emotions that matter today. Arizona later thanks Herman, agreeing that it was the best decision. The other person floored by the day's events is Amelia. She keeps herself busy basically performing a miracle surgery and yelling at Stephanie that you must find the light even in the darkest of places. Anyone who's watched Amelia on Private Practice however, knows that Amelia gave birth to an anencephalic baby boy, and the enormity of that heartache is reopened when she tells Owen her baby only lived for 43 minutes.
We've seen some devastating deaths on this show in the last 11 years (George, Mark, and Lexie were perhaps the most brutal). This was the first time we saw a child this close to the doctors die, and yet one thing remained the same. These doctors banded together in Jackson and April's time of need, and the beauty was that no one was ever alone.
How devastating did Baby Avery's death feel? And how will Jackson and April begin to recover from losing their son?
[Photo via ABC]