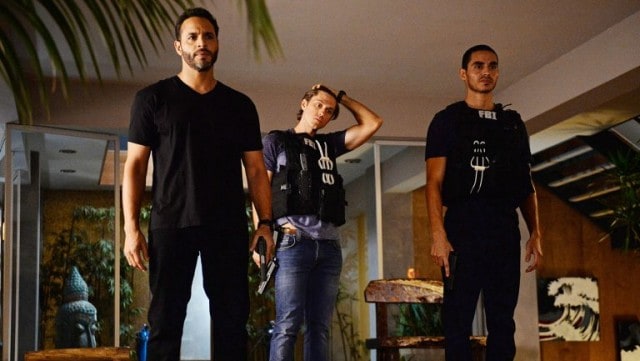 Graceland opened its Season 3 finale with a very angry Agent Logan questioning Briggs for the case report he filled after Martun Sarkissian was apprehended. Understandably, the Bureau's suit is not happy with the creative writing Paul applied to the recount of events; however, what weighs heaviest on Logan is the fact that, against all odds, Briggs seems to have turned tables and regained the upper hand while simultaneously avoiding going to prison. Logan, like pretty much everyone else, underestimated how good of a master manipulator Paul is. However, he puts a damper on the FBI agent's agenda when he tells him that Mike has to sign off on the file.
When faced with the fact that he might have to perjure himself in order to prevent Graceland from being destroyed, Mike is hesitant. To begin with, he wholeheartedly believes that Paul deserves to pay, but most importantly, Agent Warren doesn't want to lie. Briggs does a good job at reminding him that telling the truth would have a domino effect since an investigation would be conducted and, among other things, Mike's addiction could be exposed. And that's the tip of the iceberg. Every Gracelander was involved in the failed operation that ended with Colby's death, so at the very least they would be burned, but the stakes are even higher than that.
In the meantime, Jakes introduces Courtney to Charlie, Paige, and Johnny, who unanimously advise the ICE agent to tell his girlfriend the truth about who he is. As it turns out, she still believes he is a money launderer, and furthermore, she is convinced that Charlie, Paige, and Johnny are criminals as well. And she's perfectly fine with that, which makes the character even more endearing. In spite of everyone but Dale forgetting about Charlie's birthday (which was pretty sad), the meet with Courtney was the lightest scene this finale had.
Later on, Dale gives Paul the $9 million he took from the fake bank and makes it clear that their debt is settled. Though he's right to be disappointed with Briggs, the bro break-up is heart-wrenching to watch.
When Paul gets a call regarding Ari's whereabouts, he decides to go after him solo, which creates the perfect opportunity for Mike to tell everyone else that he won't sign the report; therefore, they all need to lawyer up. Charlie and Johnny try, in vain, to justify every wrongdoing, Jakes simply states that he's not going to jail, and Paige says they have all been acting like criminals. The interaction is perfect not only because of the caliber of the acting but also because, in a way, everyone is right.
Given that Mike seems firm in his decision to tell the truth, Jakes makes a last ditch effort to save everyone's skin and suggests to split the money and run. Of course, now the Gracelanders have questions about the crash's precedence, which as a result leads to Dale finally explaining why he had a debt with Briggs to begin with.
As it turns out, on a drunken rage, Jakes killed a sex offender who was living next to his son Daniel's home. Paul was the one who helped him cover up the crime. The confession shocks everyone but still doesn't convince Mike to sign the report. While everyone opposes facing the music, Paige is the only one who says that whatever Mike decides, she understands. Even though more Pike interaction wouldn't have hurt, Paige's gesture speaks volumes as to how the character has grown.
Elsewhere, Ari surprises Paul, as he is taking a look at his vehicle, and the two have a talk. Briggs' cover is still intact and so is Ari's trust in him. It turns out that after Martun was apprehended, Ari ended up without funds and with too many enemies looking for him. The later becomes more evident as men with guns start chasing after Briggs and Ari. A shootout begins, and both of them get injured.
In the meantime, Mike faces Logan and blames him for basically every death of the season. He then mentions that he has demands that need to be met in order for his signature to be on the truthful statement.
Cut to Gusti getting a visit from Mike, in jail. The two have a brief exchange after which Mike leaves the gate open and a bag with money and a passport for his friend. After freeing his friend, Mike sees the birds again.
Having waited for hours for the gunmen to run out of bullets, Paul and Ari are weak, and just when it looks like they might be done, Charlie and Paige come to the rescue. However, another conflict arises when Charlie realizes that Paul wanted to end Ari's life and cover the whole thing up. Paige doesn't agree but deems it necessary. So yet again, Charlie gets her heart broken, while Ari gets a bullet between his eyes.
In parallel, as Johnny sets up the Christmas tree, he has an argument with DJ, who has gotten rid of his dreadlocks and claims that he hasn't been happy in years and that he wants to be with Courtney. Burned by Lucia, Johnny tries to convince his friend that his girlfriend doesn't really know him. The exchange of opinions heats up to the point where it turns into a physical fight. Johnny loses, and Jakes runs with the money. He then shows up at Courtney's place, and the two leave together, which is a first for any Graceland couple.
Back at the house, Mike and Johnny sit on the floor, depressed. As Charlie hugs Johnny, Briggs and Paige start to clean up (much like at the start of the season). Slowly, everyone gets pensive. The last frame of the season features the characters in different places, starting at opposite directions. It was beautiful, meaningful, and well-executed.
"No Old Tigers" was an entertaining episode and a great way to wrap up a complex season. However, if USA Network doesn't pick up Graceland for a fourth season, that last frame would in fact be the series finale, which, of course, would be unsatisfying.
As a setup for what's to come, the installment is perfect. Practically everything is up in the air now, agents were pushed to their limits, and there were crises galore. Yet at the end of the day, somehow every Gracelander has a pulse. However, the "what now?" feeling would provide no closure if it became the end of the series.
Hopefully, Season 4 becomes a reality.
[Photo credit: Jeff Daly/USA Network]
Tell us what's wrong with this post? How could we improve it? :)
Let us improve this post!