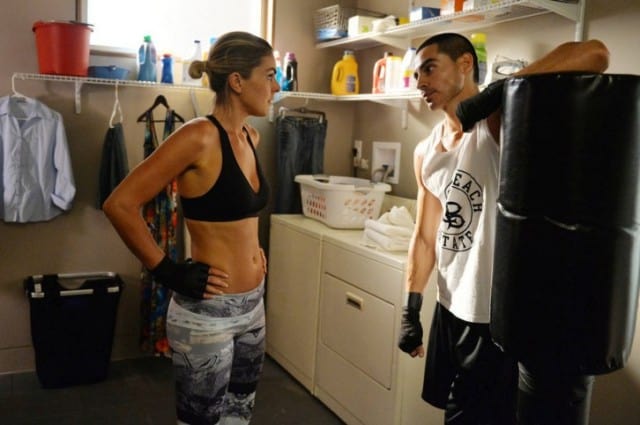 Graceland's previous episode left a bittersweet aftertaste. The confusion that arose from Briggs's actions was overwhelming; however, "Master of Weak Ties" shed some light as to what Paul's cunning mind was up to. Even though the bigger picture remains blurry and of questionable nature, new developments seem to point to the kind of shady game that a character as skilled as Paul Briggs could singlehandedly pull off. Needless to say, rogue Paul is both dangerous and magnetic.
Following Toros' death, a self defense action by Paige's hand, it is Ari who gets the desired initiation, tattoos, church, and whole nine, a scene that was beautifully shot and very reminiscent of The Godfather. The sequence is also juxtaposed by images of Mike, Briggs, Johnny, and Paige cleaning up the murder scene and disposing Toros' body in Ari's couch alongside a forged suicide note. Since the montage opens the installment, some of the bothersome questions that "Hand of Glory" unleashed found (at the very least) a tentative answer. It is uncertain if Briggs wanted Paige (or any of the Gracelanders for that matter) to kill Toros, but what is clear is that his death does grant Paul an edge in the game for two simple reasons. First, with Ari gaining power, Paul ascends by default, and second, Paige, Mike and Johnny, now co-conspirators, have no choice but to remain tight-lipped, or else Graceland and Paige would be over.
Mike naturally questions Briggs' plan. Agent Blue Eyes is convinced that his fellow FBI operative has an angle, which is easy to agree with; after all, the reason to cover up a cut and dry self-defense action, is to keep Briggs's cover intact. However, Johnny and Paige take Paul's side, at least initially, which not only fits but also keeps feeding the ongoing cat-and-mouse dynamic between Mike and Paul and is reminiscent of the first season of the show, when Warren was onto Briggs and tried to convince Paige. It is later on in the episode that Paige and Johnny finally discuss that the nature of Graceland has been shifting. Everyone in the house has done things they are not proud of, and it's starting to take a toll. The series tagline, "Lies that bind," is beautifully played throughout.
In the meantime, Operation Germaine needs to be rushed after Charlie pays a visit to the ATF agent who is basically covering for the criminal. The interaction between the two operatives generates frustration both in Charlie and the audience; however, it rings very realistic (and that is a term I usually refrain from employing). The ATF agent, as a fellow female, has empathy for Charlie, yet, as due to her tittle, she couldn't care less and refuses to help. It makes sense; different agencies, each with their set of rules, are at odds. Motivations collide. This is another good example of the good guys doing things that are in a grey-ish area, holding on to the justification that there is always a bigger picture. As a result, Charlie asks Jakes to speed up his actions in order to gather more information and possibly meet more players from the criminal's network. As the great agent he is, Dale delivers. An upcoming meeting is set.
I must say, Charlie and Jakes working alongside has been one of my favorite elements this season, not only because they make a good team, but because they have also managed to find a friend/colleague balance, which is a rare gem. After talking shop, Jakes urges Chuck to go back to Graceland and talk to Briggs about the loss of her pregnancy, an action that works very well, especially when contrasted with the previous interaction between Charlie and the ATF woman. Not every agent needs to be apathetic in order to function. Jakes is the perfect example of that.
When Charlie makes it back to California, she comes clean, and for a few beats, Paul's most human side is back (Daniel Sunjata kills it). He apologizes for not being there for Charlie, but is also clear that he has already mourned the loss of their child. It is compelling to witness Briggs' on/off switch. The person battling the agent is a leit motiv the entire episode, and Briggs is perhaps the one who gets to show that duality the most.
Similarly to what he did to neutralize the Solanos, by putting them in close proximity with the Caza Cartel and letting mutual destruction ensue, Paul decides that igniting a gang war could be the way to finally make the Sarkissian mob go kaput. For that purpose, he engages in sexy times with Eva, the girlfriend of Javi, the head of one of the gangs he is trying to provoke. It works; he is found out with Eva and then Javi threatens him in front of Ari and his entourage. As if that wasn't enough, Briggs also enlists Johnny to go under and infiltrate Javi's clique.
Speaking of Johnny, Manny Montana did an impeccable job with his boxing scene, while his undercover persona as a fresh-out-of-jail bird looking for a job is believable. Johnny is at first dismissed by Javi, but then he proposes that the two fight it out on the ring. If Johnny loses, he is out, but if he wins, they have to discuss a deal. Javi takes the bait only to have his ego destroyed in the ring; however, his gang retaliates, and they jump Johnny while he is getting dressed. Once again, Briggs' plans have put another agent in jeopardy. As a side note, thanks to the Art Department for that Argentine flag; it made me smile.
Back to Mike, he visits Gusti, who still, unknowingly, has a weapon of mass destruction in his trunk. The boy, who remains as likable as he was the first time he was introduced to us, is surprised that Mike is clean and sober; however, he doesn't want to do business with him. On the other hand, he asks Agent Blue Eyes to see Madison, who has been using Gusti's morphine. The woman is not very happy about Mike's sobriety; not only she has lost her drug buddy but also, by default, she feels inferior. Like the good guy he is, Mike enlists Charlie, and the two of them perform an intervention of sorts in order to get Madison clean. They succeed in that front, while Gusti/Vin has a change of heart and lets Mike back in. To that I must add that when Madison offers Mike to take some morphine, Aaron Tveit's acting is as nuanced as it gets and works like a charm.
Even though the arc with Madison seems unnecessary (personally, I would have rather seen more development from, let's say, the lady in white, who just killed a man), pieces fall into place when Gusti tells Mike that by showing his wife the right thing (the little amputee girl at the hospital) and saying the right words, she finally saw the light. Agent Warren comes to a great realization: the flyer with the birds that he saw, which prompted his return to a drug free life, was planted by none other than Paul, who is a genius and can also use his manipulative ways to do good, if he desires so.
What is fascinating to me is not only how Briggs owns the game and manipulates the players, but also how he made a choice to help Mike, when in reality, if he wanted to stay in the dark side, a high Agent Warren would have been an easy operative to keep off his scent. Briggs' duality and the ways he executes his deceitful plans are always mind-blowing, yet the fact that he LITERALLY made Mike follow the birds to health was a bright idea. Obviously, there is more to the plan that what we can see at the moment, a notion reinforced by Paul asking Jakes, aka Graceland's undisputed voice of reason, to skim some money from Germaine, in case he needs to vanish. Dale calls Paul out on basically everything that has transpired lately, but he still agrees to help, since he owes him.
As if the episode didn't offer enough twists and turns, "Master of Weak Ties" closes with Paul visiting Gusti and handing him a cage with a big rat. Briggs has always been an excellent puppet master, yet the title is starting to fall short.
All in all, the tenth installment of Graceland's third season worked like a well-oiled machine, driven by a volatile man who has proven to be king of manipulation. The episode was also dynamic and showed the many ways the agents can do evil, while they can also be selfless, two elements that reply to what Paige and Johnny discussed. It was also nice that the issue about Tevan's transplant was brought back. Now the mafioso needs another kidney, which I am grateful was mentioned since I highly doubt there is a single viewer who has been able to forget how the first organ the man got was harvested.
On a last note, Lucy Liu did a remarkable job directing, while the actors kept the excellent standards they have been honoring for three seasons now.
With only three episodes left, and the stakes getting higher and higher, Graceland once again manages to keep us at the edge of our seats and waiting for more undercover shenanigans.
[Photo by: Jeff Daly/USA Network]
Tell us what's wrong with this post? How could we improve it? :)
Let us improve this post!