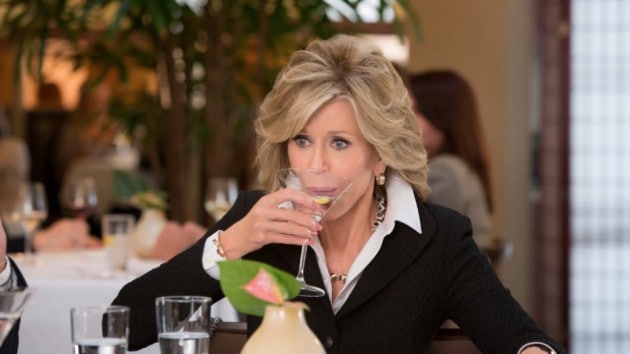 The previous episode of Grace and Frankie ended with the two women realizing how important they actually are to each other, so it was interesting to see how this huge development would continue into Episode 6, "The Earthquake."
In the beginning of the episode, Grace gets a message from a man on the dating website asking if she'll go out on a date. Unfortunately, she still doesn't think that she's ready for actual contact, even after a month. Frankie manages to convince her to go on her first date in 40 years, though, and she sneaks some condoms into Grace's purse as she goes to get dressed for her lunch. Back at the other house, Sol and Robert argue over where Sol should keep his pills. They realize that they're bickering, though, and it ends up making them happy.
A small earthquake hits the area, and Frankie absolutely loses her mind over it. Grace decides to ignore it and prepares to leave for her date, and Sol heads over to Frankie because he knows how terrified she is of quakes. Grace leaves when he gets there, and Sol manages to comfort his ex-wife. Meanwhile, Coyote visits Mallory with a gift for her kids to help them understand their grandfather's new relationship. The two have a nice conversation, and it appears that their relationship has begun to improve. Unfortunately, Mallory's husband Mitch shows up, and he is not at all happy about Coyote being around.
At the restaurant, Grace's date isn't going quite as well as she had hoped it would. She tries to make the best of it, but her date is just much too overanxious about everything going on. Meanwhile, Sol and Frankie attempt to be friendly after she's calmed down from the earthquake, but it isn't working as well as it could. They go out for a bite to eat, trying to act normal, but they end up having a conversation about how everything between Robert and Sol began. He tells her everything, and the two seem to be more okay with each other than they were before.
Grace gets back home, and one of Frankie's art students is in the kitchen. Unexpectedly, he kisses her. They almost end up sleeping together, but Grace breaks it off before it can continue. Sol also arrives home from the day, and he finds Robert eating their planned dinner with some of his friends because of Sol's lateness. They get into a brief argument, but they end up making up after realizing it was really no big deal. Grace and Frankie tell each other about their days in the most abstract of terms, and everyone ends the episode in a great place.
After the growing pains of the first couple of episodes, Grace and Frankie has really begun to grow into something great. There are still flaws, sure, but the show's strengths are, thankfully, drastically outweighing those rapidly shrinking negatives. The cast is clicking, the storylines are working, and the show is exhibiting a real heart that is delightfully welcome in the television landscape of today.
[Photo via Netflix]
Tell us what's wrong with this post? How could we improve it? :)
Let us improve this post!