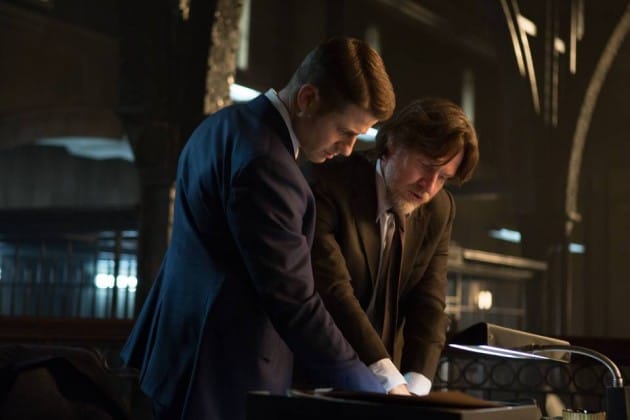 With the 2014-15 TV season coming to a close, TVOvermind is taking a closer look and reviewing the most recent seasons of some of network TV's biggest shows. First up: FOX's "Gotham."
Often, shows have a lot of ups and downs in their first season. Probably one of the greatest showcases of that in recent memory is the FOX drama, Gotham. If nothing else, Gotham was balanced, because it seemed to have something really good going on to balance out everything not so good. The first season certainly took time to find its sea-legs, but lots of shows have that problem, so I'm excited as ever for the next season to begin.
One of the elements that Gotham struggled with during Season 1 was its eagerness to connect to the Batman story. I don't wholeheartedly disagree with that approach, either, but at times it seemed excessive. Of course, I think part of that could be attributed to the 22-episode order they received, rather than the 16 hours that the show's writers had originally planned for. There are some elements of the Batman story that I really like. Penguin is an excellent villain. Sean Pertwee might be the best Alfred ever. David Mazouz is a wonderful young actor. However, there are some other parts that didn't work. FOX's promo department was all about the Flying Graysons and the Joker, but it felt like just an episode-long Easter Egg for Batman fans. I'm a big fan of both Camren Bicondova and Erin Richards as actresses, but their characters (Selina Kyle and Barbara Keen, respectively) had a lot of unnecessary screen time. I loved Cory Michael Smith's Edward Nygma, but what felt like an excellent slow burn descent into villainy sped up quite a bit towards the end, which worries me a little.
I will certainly give Gotham credit where it is due. As a prequel to the Batman story, this show is a mixed bag, but as a buddy-cop drama and a mafia war show? This show WORKS! Ben McKenzie and Donal Logue are two of my favorite actors on television today. As slightly corrupt and incorruptible, they made the perfect odd-couple buddy cops. Bullock made laugh, and Gordon made me want to be a better person. The corrupt city, corrupt police force, and the mafia responsible for said corruption were by far the most compelling elements of the show. I wasn't the biggest Fish Mooney fan, but Jada Pinkett Smith was fantastic in the role, and she made me into a believer by the end. If I were to change anything about Gotham, I would burn the villain-origin-stories a little slower, and focus on the skyrocketing mafia crime that works for the show. As is the case with Penguin, the longer a villain takes to become a super-villain, the better.
Gotham made some good decisions and bad decisions, but one of their BEST decisions was to turn into the slide when it comes to Barbara. What I mean by that is that it is obvious to me that their original "plan" for Barbara wasn't really working out. Again, I love Erin Richards, but the character wasn't working. But, not only did this lead to the addition of Morena Baccarin as Leslie Thompkins (which is a happy decision, in case you couldn't read my tone of voice), but they decided to go some interesting places with Barbara toward the end of the season. Honestly, when "The Ogre" arc began, I was worried it would be a halfhearted attempt to include Barbara. Instead, it was some of the best material they put forth this season. Why? They turned into the skid. Barbara's neuroses, rather than being written off as such, went into full blown crazy while she was with the Ogre, and subsequently attacked Leslie. This is just one example, but it proves to me that the creative team on Gotham understands when things aren't working and actively tries to correct said things. I appreciate that trait more than a lot of other things when it comes to a series.
Gotham, you have my full attention. Not every first season of every show is a home run, but there is plenty about Gotham that works. While it may not have been my favorite comic book show of the 14-15 TV season (more on that later), there is still plenty of good stuff there. Netflix has already nabbed the rights, and it's definitely a binge-worthy option as we inch closer to the second season. For the most part, I very much enjoyed Gotham, and I'm looking forward to Season 2.
What did you think? Did you enjoy Gotham's maiden voyage? Let us know in the comments!
Gotham's second season will premiere this fall on Mondays at 8/7c on FOX.
[Photo via FOX]