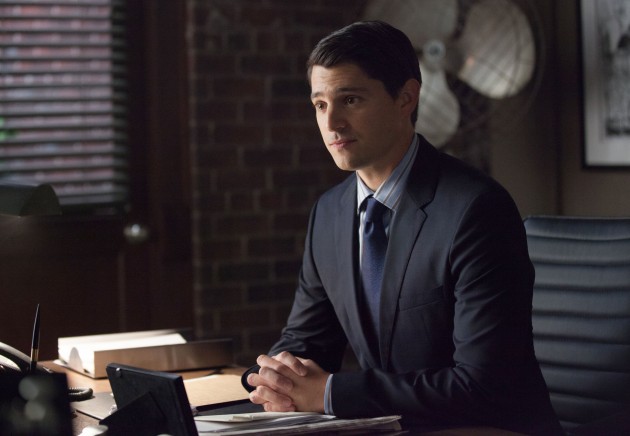 As FOX's Gotham has started to step up a lot for the past few episodes, this week we got to meet another iconic Batman character that will one day become one of his biggest villains, Harvey Dent (guest star Nicholas D'Agosto) a.k.a. the future Two-Face.
Before I get to my positives, I will start right of the bat (no pun intended) by saying that I had no interest for the villain of the week, Blackgate prisoner Ian Hargrove who actually was just a victim as he was kidnapped by the Russian mob. Gotham definitely needs to start moving way from the case of the week format in 2015 because it has already gotten old, although this plot did progress the Arkham arc further. We will get to that later.
I have been a fan of D'Agosto since his role on Heroes where he played West Rosen, so this isn't the first time that he is part of a comic book-related project. I will comment on the fact, which a lot of Batman fans have so far, that it's odd to see a version of Harvey that is much older than Bruce. Traditionally, Bruce and Harvey have always been the same age while in some incarnations, Harvey having been just a few years older than him. But on the show, he is already an adult and like a lot of the future villains that we have seen, this Batman will grow up to have some of his iconic rogues being much older than him. I can respect that, but I was always hoping that the show would make Harvey the same age as Bruce so that we could get another person for Bruce to interact with.
But since we got such a talented actor like D'Agosto to play Harvey, I'm OK with him now being older. Something that D'Agsoto does here that not a lot of previous actors have been able to do with their versions of Harvey is make him likable. I always only cared for when him he became Two-Face, but this portrayal is very enjoyable so I give the writers and D'Agsto himself a lot of props. We do get several hints to Harvey's two-faced personality, especially in the scene when he snapped for a second at Lovecraft. I didn't have a problem with the dialogue per say, but I didn't like the delivery of it. That was my only nitpick with the introduction of Harvey and overall, I was very happy with his introduction and I'm looking forward to see more of him.
Another aspect that I loved was the first meeting between Bruce Wayne and Selina Kyle as Gordon takes her to Wayne Manor while the police are trying to find the person that she described was the Wayne murderer. Was it just me or didn't that sketch photo look a lot like Butch, Fish's right hand man? I guess only time will tell. I'm glad that we are getting more of Bicondova's Selina as she just keeps getting more fun and intriguing for every episode that she is in. Who knew that we would ever get a version of the Batman mythology where a teenage Catwoman would live at a young Batman's place? Bicondova and Mazouz have great chemistry and I think their characters will learn a lot from each other.
Can someone just go ahead and give Robin Lord Taylor an Emmy Nomination? His portrayal of Oswald/Penguin is one of the best characters on the show, if not the best and the performances he gives each week are remarkable. Even though we know what his future is, seeing all the creepy moves he does still leaves me not knowing what this guy will do. Overall, "Harvey Dent" was another solid episode with a good introduction of Harvey as well as the beginning of Bruce's relationship with Selina. It's inspiring to see how much the show has improved since the last scene in episode six, "Spirit of the Goat," because it does show a lot more strength and promise than ever. The final scene where it was revealed that Barbara was hooking up again with Montoya wasn't a big surprise, but I care a lot about that relationship so I'm interested to see where it will go from there.
Don't miss the epic mid-season finale of Gotham titled "LoveCraft" next Monday, November 24, 8/7c on FOX.
Photo via Fox