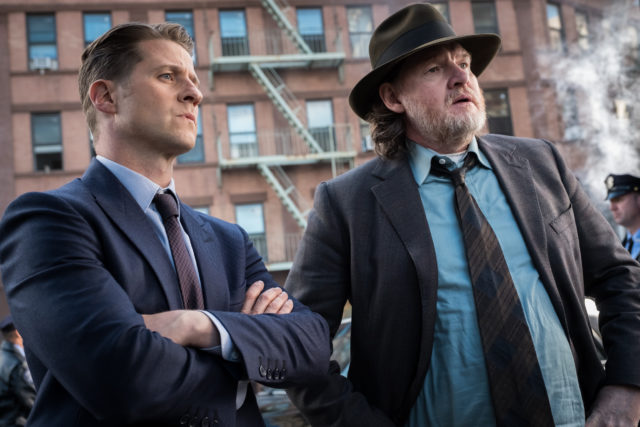 Last week's episode of Gotham left me reeling and itching to watch the next episode immediately. The Professor Pyg saga started out by returning Gotham to its roots of buddy cops and mafia problems. This week's saga remained as interesting, but only when it was about Professor Pyg, and it added some additional stories that were off the wall and slightly unnecessary. Still, certain elements of Gotham can hang with any show on television, and it would do well to remember those.
The story involving Selina, Tabitha, and Barbara was the first time we've seen any of them since their financier was taken off the map. Selina did a dumb thing and the other two bailed her out. Tabitha was frustrated and Barbara was cold and calloused. These three women represent some of the best characters that Gotham has to offer, but the story may have been a better fit in another episode. Still, Camren Bicondova is one of the better young actors on television, and Erin Richards' take on Barbara has been non-stop delightful since the end of Season One. My attention may have been diverted by the Professor Pyg story, but I still appreciate this group of characters and their story.
Here's the real outlier: What in the heck was Bruce doing? I think using my ultimate detective skills has led me to the conclusion that Bruce was making an effort to forget his killing of Ra's Al Ghul, which was not being satisfied by the fundraiser at Wayne Manor, and instead led him out with old school friends to party at a club…also owned by Bruce Wayne. In my head, I'm sure this was Bruce trying to forget that he broke Batman's rule and killed someone. But we all know that we're going to see Ra's again before this season is over, right? I simply don't believe that he was killed off so unceremoniously to see Bruce live up to the "billionaire playboy" title. This story didn't fit at all with everything else going on in the episode, but there were a couple of positives. One: Bruce showed his dark side when he took down that bully without his fists. Even though I do enjoy a good bully whacking, this story was more compelling and a better one for David Mazouz to showcase his layered performance. Two: Bruce Wayne smiled during this story. I don't remember the last time I saw that happen.
Taking up one third of the episode did lessen the Professor Pyg story just a bit, but it's still one of the better stories they've told in some time. I'd have preferred they had Victor Zsasz when teaming up Penguin's lackeys and the GCPD, but the guy the replaced him with was still moderately compelling. Still, the thrilling hunt for the cop killer was enhanced by Gordon's desire to do the right thing and Bullock's conflict about keeping peace in the city. This was a story about hunting a madman just as much as it was a story about two cops, as close as brothers, resolving a conflict on how to accomplish their goals. Ben McKenzie and Donal Logue handled their roles masterfully, and their conflict came to a heartwarming conclusion.
A few other thoughts:
I really like Professor Pyg as a villain, and I didn't see the twist coming at all. Though I should have, because…Officer Fazoli? Really? Kind of making me hungry now.
My favorite part of the episode was the way Bullock so subtly took a stand against Penguin. When a man with a license to commit crime came into the precinct, a cop said "We don't take those here" which caused Gordon to do a double take and Bullock just walked back into the office. Of course, this could mean more trouble for these gentlemen in the near future, but it gave me some warm fuzzy feels.
Ultimately the episode was still a good one, but only because the Professor Pyg story was so strong. I'd have like to seen the other things take place in a future episode. But hey, I'll take what I can get!
What did you guys think? Did you enjoy the episode? Let us know in the comments!
Gotham airs Thursdays at 8/7c on FOX
Tell us what's wrong with this post? How could we improve it? :)
Let us improve this post!