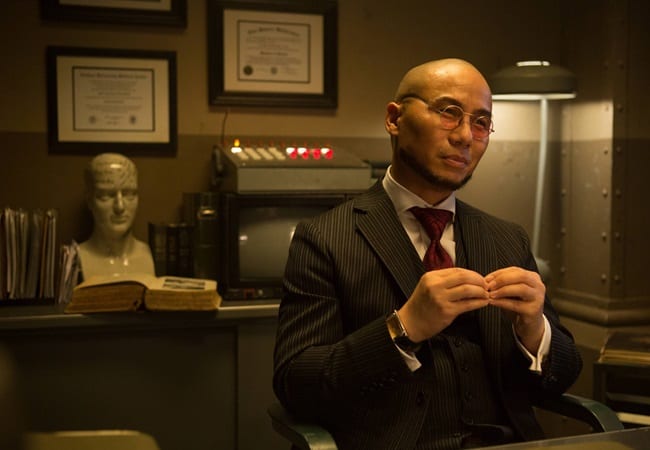 After a long winter hiatus, FOX's Gotham has finally returned to our television screens as the spring premiere was a strong opener with the introduction of B.D. Wong as Hugo Strange and Nathan Darrow as Mr. Freeze, two of the biggest villains in the Batman mythology.
As critical as I may have been on the show in the past, this wasn't only one of the strongest episodes of the season for Gotham, but also one of the better return episodes of the comic book TV shows out there. I've always wanted to see Strange in live-action, whether it be television or film (which is where I actually thought he would make his live-action debut), and I was quite happy with what Wong brought to the table. Just like executive producer John Stephens said in our exclusive interview, Wong brought a very deliciousness tone to his portrayal of Strange who is in comics, animation and video games (most notably, Batman: Arkham City), very slick, but yet very intimidating.
The scenes he had with Penguin at Arkham Asylum was some of my favorite moments of the episode because while I'm enjoying every second of it, this man can cause so much main just physiologically. While I will always have a little hesitation for any of the big Batman baddies showing up so early in Gotham City's history, I'm at this point treating Gotham as an elsewhere take of the mythology, hence one of the reasons I could get behind Strange so easily. I definitely look forward to see more of his interaction with Penguin specifically because when even Oswald is terrified, you know this man is all sorts of trouble. Also intrigued with what he will be doing with Indian Hill which is supposedly where he wants Mr. Freeze at.
Speaking of Gotham's coldest newbie, we also get to meet Nathan Darrow as Victor Fries a.k.a. Mr. Freeze, a character that I have never really given much thought since Arnold Schwarzenegger's painful (literally the nicest way to phrase it) in the flop that was Batman & Robin. But getting a fresh take on the character through Darrow made me feel a lot for this man because if you are a huge Batman fan and know his backstory, this is truly one of Batman's most tragic villains. Even though I have a very good grasp at Freeze's origin story, it still feels just as heartbreaking to see how hard he is working to try and save Nora through his freezing technology. Darrow makes you care deeply for Victor and I feel I will most of the time throughout these episodes be cheering more for him than the good guys!
Besides these two character's powerful entrances, we get a very good catch-up with our main characters as Gordon continues to deal with the aftermath of the winter finale. It's terrifying though to know that Barnes is totally aware of Gordon's bull excuses on what really happened to Galavan. I'm just curious to see how these two will eventually, if this is where they are going, go at war between one another because that's the only way I see happening between Gordon and Barnes. The only weakness in the episode was that because Strange and Freeze had such large presence in "Mr. Freeze", the other characters' situations sort of slipped my mind easily because of enjoyable their debuts were. But as a whole, "Mr. Freeze" was an impressive return to what looks like will be a powerful second half for Gotham's second season.
Gotham airs on Monday nights, 8/7c on FOX.
[Photo: FOX]
Tell us what's wrong with this post? How could we improve it? :)
Let us improve this post!