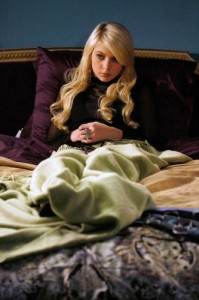 So last night's moral lessons of Gossip Girl were the following: actions can be deceiving, and the Humphreys are idiots.
Jenny, Serena, and The Sacredness of Virginity
While Rufus thinks he has Jenny in check, he clearly doesn't know his daughter. As soon as she is ordered to school then back home, Jenny makes a date with Damian, who wants to make their relationship official by taking it to the next level. Jenny stops homeboy in his tracks by saying that she doesn't rush into things, not admitting that she is a virgin.
Meanwhile, after getting a call from a teacher, Rufus calls just about everyone in the entire cast sans Blair and Chuck to be on the lookout for Jenny. Serena feels that Rufus is only running Jenny into sleazefest Damian's arms and feels that she needs to play big sister to her half-sister by telling her how horrible Damian is. Nate agrees. As the two girls talk about the parallels of Jenny's life with that of Baby's from Dirty Dancing, Jenny reveals that she is ready for the big step and Serena cheers her on, but only because she has a plan up her sleeve. The plan consists of Serena calling up Damian, have him come on to her and have Jenny walk in on the scene. Nate doesn't like this plan one bit, but follows Serena's orders to wait for her call. Damian stops, but tells Serena that he's into Jenny now and apologizes for his actions at the ambassador's dinner party. After he leaves, Serena calls Nate, who ignores her calls, because he has called Rufus to come scoop up Jenny. What?
Elsewhere, Serena and Blair prepare for this episode's social gathering event, which is in honor of Bart Bass, when Nate calls Serena and Blair answers. The two have words about Nate's duplicity, but Nate says that Jenny's virginity is sacred and shouldn't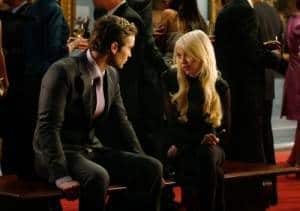 be played with. And Serena's wasn't? Uh-oh, Nate… Serena is so not happy.
Rufus 'grounds' Jenny, but she throws in his face that he doesn't know Damian, because he is used to jumping to conclusions, which is why he and Lily are having problems now. Later Rufus drags Jenny with him and Lily to the social event where everything comes to a head. Serena confronts Nate about his actions, but instead of Nate coming up with a legitimate reason up front, he slicks insults Serena a bit about her past. But he finally admits that he did what he did was because after losing his virginity to Serena, she left him cold and alone the morning after. Really, Nate? He's got a point, but really?
Later, Nate tries to talk to Jenny, who has not listened to anyone's advice on Damian the entire night. He tries to talk to her in a big brother manner, mentioning Damian's "attack" on Serena at the ambassador's party as justification to his actions, but Jenny reveals the drug scam and Nate panics. Enter Damian, Jenny's Knight in Shining Honor. Nate tries to stop Damian from leaving with Jenny, but Damian slugs Nate and he and Jenny run off.
Damian takes Jenny back to his hotel and Nate follows close behind, but not to close. Damian booked a different room under an alias, which is where he and Jenny are located. After some heavy making out, Jenny is ready to become a woman. Wait, no she's not. She asks Damian to talk to her about what they are about to do and reveals that she is a virgin. Damian wants to talk later and Jenny is not budging, rethinking letting go of her innocence. But Damian gets fed up and leaves, commenting on how he knew Jenny was still a kid. Jenny sits alone in the bed in stunned silence.
Jenny finally returns home and accepts her punishment, but doesn't really feel like being bothered. Serena decides to check in on her. When Serena asks Jenny if she and Damian did it and Jenny lies like they did and asks Serena to leave. When she is alone, Jenny plays "(I've Had) The Time of My Life" on her phone, feeling like Baby from Dirty Dancing all over again.
Serena and Nate make up with Serena saying she wished she could redo the night they lost their virginity to each other to make it be as special as it was supposed to be.
Chuck has a new dilemma: two of his former staffers have filed lawsuits on Chuck for sexual harassment. This little faux pas can be bad publicity for Chuck's hotel AND on his character with Elizabeth, but as long as doting Blair is by his side, things will be OK, right? Wrong.
Because Jack Bass is back in town and with the story of the lawsuit being leaked all of a sudden, Chuck has a lot of crap to deal with. And to make matters worse, Bart has left a little seed of doubt on Elizabeth's true identity and tells Chuck that he is not behind the slander attack on Chuck's character. This causes Chuck to get paranoid and suspicious, especially after Elizabeth announces that she and Jack have a bad past together and will not attend the gala honoring Bart. As Blair comes to go to the gala with Chuck, she finds him putting a glass Elizabeth used in a bag for DNA testing. Blair, who has grown fond of Elizabeth, has had it with Chuck's constant self-doubt and is horrified when Elizabeth walks in on the betrayal. Chuck ends up going to the gala alone.
During the gala, Chuck gets more bad news from his lawyer in the form of boycotts from Christian conservatives who have a lot of pull in the travel industries family circuit. The lawyer suggests turning ownership of the hotel to someone else for the meantime. Enter Jack Bass, who Chuck declares will never get his hands on the hotel. Jack, being the basstard that he is, warns Chuck that he will be watching when Chuck's empire starts to crumble and will be there to pick up the pieces. Later, Blair finds out about the drama and Chuck's decision to turn ownership over to someone. Blair volunteers herself, but for obvious reasons, Chuck declines. He also declines Lily, who is Bass Industries. Chuck's phone rings and it is the results of the DNA test. He has another option.
Chuck visits Elizabeth and after some apologizing and prodding, Chuck gets Elizabeth to be the temporary face of his hotel. While Chuck and Blair ponder Chuck's newfound ability to trust others, the scheming woman that is his own mother, his uncle and his slimey ass lawyer are all scheming on taking over his hotel. HIGHLY PISSED OFF, PEOPLE!!!!!!!
The Humphrey Men and the Women Who Love Them
While the Jenny debacle rages on, Lily tries to comfort Rufus, who blows her off after she asks him to come with her to the bart Bass dedication soiree. His excuse? He didn't want to be honoring any of her previous husbands at the moment. Wow. After Rufus exits the room, Lily takes the scarf he left in Holland's apartment and leaves it on his table. Your move, Rufus.
After Jenny blasts him on his own relationship problems, Rufus finds the scarf and an "uh-oh" look comes across his face.
Meanwhile, Humphrey Jr. is snuggling up with Vanessa and the two list the boundaries that they should set to slowly reveal their dating status. Dan later almost tells Rufus about Vanessa, but decides to hold back. The entire day consists of the two crossing and uncrossing boundaries and ends with Dan giving Vanessa a Seth Cohen-esque speech about how he likes a girl who is also his friend. Hopefully these two will reveal themselves to everyone next week.
During the soiree, Jack Bass's presence startles the hell out of Lily, but Rufus comes to his wife's defense as he tells Jack Bass to go
mate with a manatee or something. Lily figures that Rufus found the scarf and wants to talk now. He admits that he wanted to even the score, but couldn't because he loves Lily too much. THANK YOU! Moving on!
Then here come CeCe stirring up the pot. She calls asking Lily to contact the good Dr. William van der Woodsen about her condition, but Lily doesn't want to, because things are picking up with Rufus and this is another thing that I hated about last night.
So to add to add another lesson to the chalkboard: family sucks.
See you guys next week…