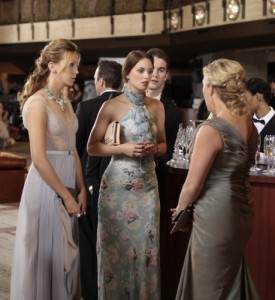 Okay, so Gossip Girl realized they were in the middle of November Sweeps and gave us a game changer in Juliet's plans to bring down Serena van der Woodsen. And it will involve everyone's favorite platinum blonde dye abuser… I can hear the screams of agony across the nation at that thought.
Since Colin's book appeared again this week like a product placement for a new search engine or cell phone brand, I will follow suit and hopefully cash in on this stage prop gone rogue.
Chapter Six – When Opportunity Knocks, Crush Your Competition Even In Their Most Vulnerable State
The "takedown" tonight was a bit flat given that I didn't care for either party involved. I could've cared less if Serena stayed with Colin or not, because the formula is getting kind of old. Serena falls for a guy who has more flaws than a new piece of first generation technology and it ends with her heart broken. Now, I'm not saying that she can't meet someone, but how about her next beau be someone without a controversy clause attached to his neck? In short, I need Serena to be in a healthy, happy relationship for once, just once, with a guy who isn't jealous (Nate), a criminal (Carter), or married (Chip). I just want my girl to be happy is all…
So, Juliet was served her walking papers by the Upper East Side's Mod Squad, and again, I felt that this "banishment" was laughable at best. Is it wrong to want to see these four taken down a peg or two? Just to let them know they aren't that powerful at all? I would've probably enjoyed the takedown if it 1) left the banishment part in high school. I mean seriously, their 4-on-1 bully stance
was a bit much. I was almost expecting one of them to spit on the poor girl. 2) I wish they could've had a more definite reason for the takedown's execution (i.e. Poppy, Georgina, etc), because Serena pretty much gave Juliet all the ammo she needed on a silver platter. I say the UES crew needs to take a class in public relations and how to not leave ingredients for a disaster for someone to turn into a grenade or two in their wake. Trust me. It will come in handy for them in the long run…
Now for the other side of the takedown. Juliet's motives were all over the place last night to the point I had to make a cheat sheet to stay informed. So Ben used to be a teacher? Wonder what Serena could've possibly done to induce such wrath from the guy, because if he's stooping this low to get back at her, then maybe he shouldn't have been a teacher to begin with. I mean, you have to learn how to keep your anger under control when dealing with kids in an educational environment. Hell, I'm scared to even know what he did to cheaters when he caught them. Flatten their tires or something? Jeez…
While I am the sole person on this planet who defends Vanessa since she was brought onto the show, I had a hard time being her shield tonight. It was like the writers set up Vanessa to get the "Who Are You?" line to only appease the fans hatred for the poor girl by placing her completely out of character. I wasn't amused at all by her actions, but I sure as hell am not amused with the directions the writers are knowingly taking her character. You would think Vanessa learned her lesson a long time ago that the Upper East Siders don't play fair, at all, and kind of should be avoided at all costs.
Chapter 12 – Let Your Past Stay In Your Past, Including Lovers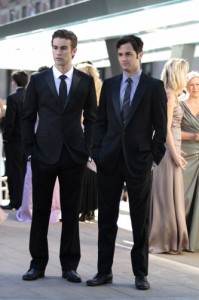 Seriously, I'm getting wigged out every time Dan yearns for Serena. It's Cruel Intentions-lite, but still. Then to make matters worse, Rufus encourages the insanity. Have we forgotten about Scott, Serena and Dan's brother, already? I don't know about you, but I'm going to need Dan to find someone else and take himself out the running for Serena's heart, because it's past disgusting now.
Chapter 21 – An Enemy of My Enemy Is A Friend Of Mine… Until The Takedown That Is.
The National Weather Broadcasting Channel has issued a storm of epic proportions and it is coming in the form of Little Jenny Humphrey, Vanessa Abrams, and Juliet Sharp. Hide your boyfriends, personal belongings, and seek immediate shelter because this crap storm is going to get ugly as hell… I'm sure that when these three strike next week, no one will be safe. If they don't bring the heavy, then I will be one ticked off spectator…
Oh, One More Thing…
Was the Chair "hate" sex enough to whet your appetite? Did you guys think their final scene with each other last night was the reconciliation everyone has been waiting for? At least I hope so. I really liked how they sat and talked like two adults tonight and mentioned their friendship, which is, to me at least, the basis of any lovers' relationship. If they still have that then they are ready for the world. At least in my eyes.
What do you guys think?