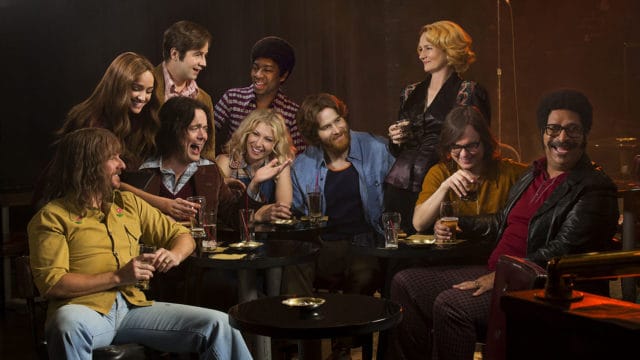 I'm Dying Up Here is an American TV show with comedic as well as dramatic elements. It is based on the book of the same name, which told the stories of the hundreds of people such as Jay Leno, David Letterman, and Andy Kaufman who moved to the city of Los Angeles in the 1970s because of Johnny Carson's Tonight Show. However, the TV show is interesting in that it is not meant to be a retelling of their stories but rather a fictionalized narrative in which the characters are composites that are sometimes recognizable as their sources of inspiration and sometimes not so much.
Here are some of the reasons that viewers should consider watching I'm Dying Up Here:
Humor
Given that I'm Dying Up Here is centered around a cast of comedians as well as the people surrounding comedians, it should come as no surprise to learn that it is packed with plenty of humor. Better still, said humor comes packaged in a narrative, meaning that it is perfect for those who love to laugh but also prefer to do so while being engrossed by other goings-on at the same time.
Nuance
There is a piece of popular wisdom stating that comedians often have serious personal issues, which is something with some basis in truth. Combined with the high-pressure environment of the setting in which said individuals compete for limited shots at fame and fortune, this makes for natural drama, which should come as welcome news to those who love nothing more than human interactions.
However, it is interesting to note that the single most interesting character to come out of the TV show so far might be Melissa Leo's Goldie Herschlag, the owner of a comedy club who can make or break comedians with her judgments. She is an excellent example of the controlling businessperson, but at the same time, she manages to bring enough nuance to the role to make it something that stands out instead of fading into the crowd of all of the other characters with the same roles out there.
Fascinating Blend of Fact and Fiction
As mentioned, I'm Dying Up Here is not a retelling of real stories but rather a fictional narrative that has been inspired by them. For example, Goldie Herschlag was not a real person, but she was based on Mitzi Shore, who had an enormous influence over generation after generation of comedians because of her ownership of The Comedy Store over in the city of Los Angeles. As a result, this mix of fact and fiction results in a narrative that is real enough for people to get an authentic feel for what the city of Los Angeles was like for comedians in the 1970s, but at the same time, fictional enough that interested individuals can still be surprised by what happens. Some people might see the blending of fact and fiction as more confusing than it needs to be, but when executed in a competent manner, it can result in something fascinating.