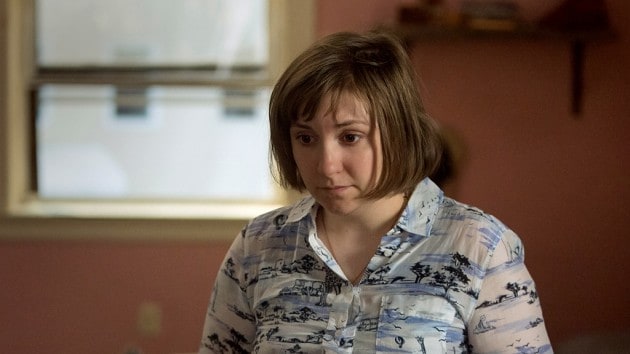 The fifth chapter of this season of Girls begins right were the previous episode, "Cubbies," left off. After the realization that Adam has a new leading lady in his life, Hannah is in shock. What she is going through is awkward; it is not pretty, and and above all, it rings true. There is no glamour in heartbreak after all, just a whole lot of pain and questions.
Given the fact that Hannah is having a hard time processing that her relationship with Adam is over and he has moved on before she knew they were broken up, her now ex offers her a glass of water. There is enough tension in the apartment to electrocute an elephant; therefore, Mimi-Rose articulates that she is going to get cold press juice, and offers to bring beverages for Adam and Hannah. Adam asks for apple juice; Hannah declines in the nastiest way possible. The situation cannot get any more unpleasant for her, and quite honestly, she cannot be faulted for that.
As soon as Mimi leaves, Adam asks Hannah if she is okay,and she throws a fit. Understandably. He and Mimi are all shacked up in what used to be her apartment, her things in storage in Fort Green, every sign of her having been part of Adam's life has been erased, and she was clueless about the full extent of it. Adam retorts that what is going on is not all about her, which, as Ms. Horvath points out, is obvious. Pained and frustrated with a battle she knows she cannot win, Hannah announces she is going to get some rest in "her" room and slams the door closed in Adam's face. This is another great moment of the show where a character makes the conscious choice to go down in flames.
Not knowing what else to do and after being unsuccessful in his attempts to reach Marnie, Adam calls Desi, asks about Hanna's BFF, and tells her to call him back. Then he and his new girl try to figure out what else they can do, since their apartment has a new, uninvited guest. Mimi volunteers to talk to Hannah, assuring she is very good in a crisis, yet that idea is shot down by Shoshanna's presence.
Shoshanna enters the bedroom that Hannah has taken hostage and tries to make her feel better; in the process, they discover that the room has been made into a suite, in a rustic way. Basically, there is a whole on the wall connecting both bedrooms. Hannah laments how that was a project she and Adam had shared. With nothing better to say, Shosh suggests they do research on Mimi, and the two of them find a YouTube video where she is talking about relationships. Hannah wants to hit play; however,, Shosh convinces her that no good would come out of it. Subsequently, Hannah covers her head with a blanket and kicks her friend out. Literally. While exiting, Shoshanna finds Jessa, the next person who is about to try and be a breakup buddy. Since the audience already knows that Jessa purposely didn't mention Adam's new relationship to her friend, it's easy to anticipate a train wreck.
In her constant unaffected manner, Jessa goes inside the bedroom and casually implies that she has mentioned Mimi, who she refers to as "MRH," but Hannah corrects her and it comes to light that Jessa was the one playing matchmaker. This new bit of info causes Hannah to feel inevitably betrayed. In parallel, it begs the question: did Jessa set Adam and Mimi up as a punishment for Hannah for leaving to go to Iowa, or is she that naive not to consider that by finding a new girl for her friend's boyfriend she might be causing a lot of pain? As usual, Jessa's enigmatic nature works like a charm.
When it comes to defending herself, Jessa claims that Adam is happy and asks Hannah not to be a child. Because she always does what she is told, Hannah hits Jessa, who, hits her back. Because exchanging slaps is not enough, the two of them then call each other names. The unique cat fight reaches an end when Hannah covers her face again and flips the finger at her friend (or frenemy?), who leaves the room. On her way out Jessa tells Adam to call Marnie, since Hannah has reversed into a pre-verbal stage.
Later on, Hannah leaves a message for Marnie, in which once again she emotionally blackmails her. To Hannah's credit, her sense of entitlement translates into a hilarious speech. What does not read as humorous as might have been intended is the fact that she urinates in a trashcan, which is also shortsighted considering that right after committing such a gross action, she opens the door, meaning she could have headed to the bathroom.
Anyways, Caroline is lying on the couch, and Laird is rubbing her feet. After asking Laird to make Hannah tea, Adam's sister says she doesn't see MRH and her brother working out because she believes he is meant to nurture the lost and profoundly damaged, which makes Hannah a perfect fit for him. Hannah doesn't even try to fight the assessment and before she can say much, she is pulled into an awkward group hug with the expectant parents, who make out while still holding Hannah. Somewhere in between, Caroline even offers Laird to Hannah, if she needs him for any kind of release. The scene is both absurd and colorful.
The next morning, Hannah wakes up in her former bed and heads to the kitchen where Ray is grilling bacon. He hugs her and admits he's sorry and sickened by Adam's new romantic development. Hannah admits to him that she is not fine and prompts Ray to deliver one of his speeches. As a result, he gets so caught up in his words that he asks her to flip the bacon, which leads to Hannah burning herself. Ray keeps talking, like a maniac, until he sees her wounds.
Hannah asks Ray about Marnie as he takes care of her burned hand, also in a very rustic way, employing a hardware glove and tape over gauze. He tells her that she is now with a Mumford and Son and abhors the fact that he has been Marnie's whore. He then reminds Hannah that she does not deserve what she is going through. Their interaction is all kinds of fabulous and for all the right reasons.
While Hannah watches MRH's video, Marnie finally shows up at the apartment and explains that she and Desi were on a cellphone diet. Hannah's response is to fake a shower, miserably, as she continues to stream the video on her mobile inside the bathroom. Marnie does not fall for the poorly executed trick and barges in. She apologizes again, and breaks in the news that Desi has moved in with her. She adds that she doesn't know how to express that Hannah needs to let Adam go. Marnie does a great job at articulating that since Hannah was the one who left and that even though Adam may have moved on too fast, he is just trying to be happy. This seemingly more mature Marnie, who now speaks up, also warns the heartbroken Hannah that if she doesn't give Adam the space to try things out, he'll resent her while she'll hate herself. Hannah is as honest as she can be: she is not good at letting go. Marnie is now forced to administer a dose of tough love and asks if she thought Adam and her were a forever couple. When Hannah words that she would have liked to have the chance to find out, Marnie cleverly retorts that she has JUST found out. All of the sudden Marnie talks like Buddha and acts like a perfect friend.
By the time Adam comes back, Hannah lets him know that she is letting the apartment free. Adam notices the glove she is wearing and offers to give her the other one. She says she just needs the one since it's her cast and tells him she got burned. While he checks the wound out and does a better job than Ray did, Hannah admits to not being proud of her behavior, but she is also clear that she had hoped, deep down, that he'd wait for her. Adam comes clean with the fact that he felt relieved when she left for Iowa; he also asks if she thought that things were working between the two of them. In his own words, they tried all the ways he knew how, and they failed. He agrees they had something beautiful, weird, and terrifying, but he also says that he doesn't love Hannah anymore and that he needs to see where things lead to with Mimi-Rose. Then he volunteers to move out of the apartment in a few days and thanks Hannah for stopping by. She corrects him and says he was stopping by and also tells her ex not to call her "kid" anymore.
The episode ends with a lonely Hannah and her luggage entering the storage unit where her belongings are. She opens the door and curls up on her old couch. Home is not where the heart is for her. Not anymore, it seems.
This was one of my favorite episodes of the season so far. The virtual revolving doors that brought character after character to aid Hannah in such a personal moment were a nice touch. Not to mention that every single interaction was delicious to watch. The heartbreak was handled very realistically as well, and though painful, it does open up multiple creative doors when it comes to possible story arcs for Hannah. In addition, Mimi-Rose seems to be a very rich character. My one question: whatever happened to Elijah?
Highlights:
– Caroline and Laird. Please someone write a spin-off show about them. They have to be the most endearing weirdos in television right now.
– Marnie's attitude towards Hannah was just perfect. Long gone seem to be the days when she was an enabler. Way to go, girlfriend!
– I probably sound like a broken record by now, but: Jessa, Jessa, Jessa. She is the wild card of the show, and one that is played right 99% of the time. Even though her screen time was limited, it was quality time, and I can't wait to figure out, if we ever do, if she was really intending to sabotage Hannah and Adam's relationship in retaliation for what she felt was her friend abandoning her.
[Photo via HBO]