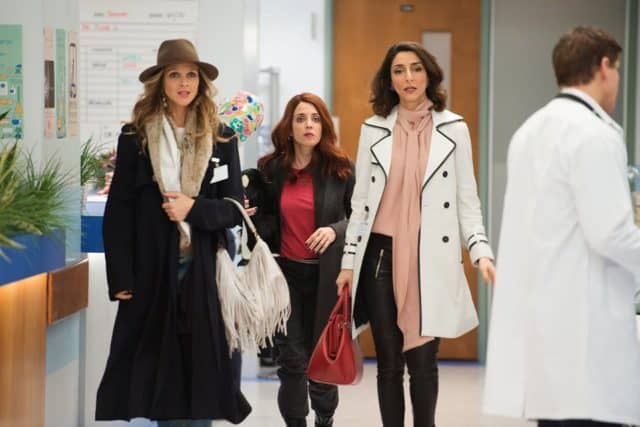 The loss of a parent is hard no matter how old you are. These are the people that brought you into this world, raised you when you needed someone 24/7, and it's something everyone can relate to. Regardless of if your parent was an active part of your life or not, there's always something the pulls us towards that parent. A connection that is unlike any other. To add in a sudden death, it's hard. This episode of Girlfriends' Guide to Divorce dealt with Abby coming to terms with her parents mortality and not having them around.
As you go through life, living your own, making your way in the world, you tend to not always be in contact with the family that you have around. Sometimes a tragic incident is what brings you back together. Abby is in the middle of building her business with Barbara. They're looking for investors when she gets the call that her dad had a stroke. Times like these you do toss whatever you are doing and run back home. That's what she does, she goes to be with her parents. It's hard on her to deal with the thought of her father never waking up.
However, while she's dealing with one sick parent the other suddenly has a cardiac arrest and passes without giving her the chance to say goodbye. This scene is gut wrenching. She's mentally preparing herself for the loss of one parent, while the other goes without warning. Now she's left with the thought that she may lose them both on the same day.
Meanwhile, back in Los Angeles, the girls are dealing with their own issues. Phoebe's ex is filing for full custody of her children. She clearly does not want to lose her kids but she's flailing and doesn't know how to deal. Her kids seem to have a normal life at their dad's place and are not having said 'normal' life at hers. What does she do? She's not sure but she wants them to know she loves them immensely.
Delia and Jo are having a spar off with the idea of Jo and Albert dating. Obviously they don't want anything to come between them but dating your friends ex is sticky. On the one hand this could be the one for Jo, but on the other you're breaking girl code. Delia is naturally against the idea but part of it is she doesn't want her friend getting hurt. Will they be able to move past this?
Barb is holding down fort at Lady Parts, trying to find the right investor. She's the first to hear about Abby's mom and is more than ready to hop on a plane to be with her friend. However, Abby would prefer if she stayed and kept the business up and running so she didn't have to think about it. She agrees but lets the others know who don't hesitate to hop on a plane and make it out to see Abby. Friends like these are hard to come by, if you have them hold on and never let go.
The girls make it to the hospital to give their friend the moral support she needs at this time. While they're there, a nurse calls Abby in to her dads room. She's obviously thinking the worst that here we go, I've just lost both parents. But to her surprise, her dad's awake. He made it. Even though the odds were against him, he made it and asks where her mother is. Abby is left with having to tell her father, that while he was unconscious, his wife had a heart attack and died alone…
Loss is inevitable, how we deal with it is a personal thing. Having people around while you're going through a tragic event can make all the difference in the world. Abby will need her friends to get through this.
Stay tuned for more Bravo Girlfriends' Guide to Divorce news, previews and episode reviews! You can also follow me on Twitter to live tweet with me during the episodes every Thursday night at 10PM.
Save