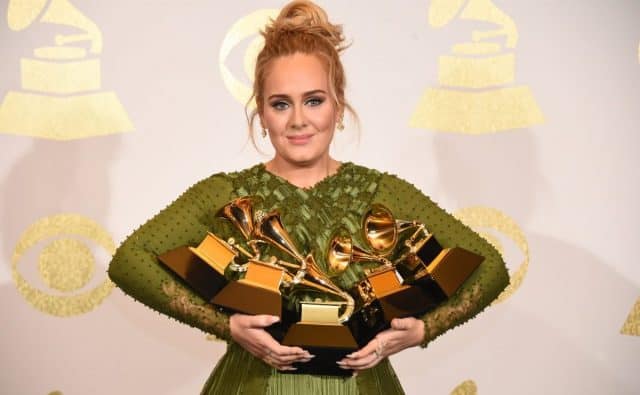 For someone who just won every Grammy Award she was nominated for Adele does not look happy in the above photo. It says a lot about her as an artist as well saying something about the American music industry. The former is a good thing, the latter, not so much. Adele at the Grammys proved to be a revelation – one not everyone was ready for.
This was going to be an article about how Adele stripped away the performance glitz of show business and showed her heart while doing her tribute to George Michael. However, I was watching the show while writing and during that time she doubled and tripled down on showing honest emotions and humility. At the end of the night the big voice with the big heart turned the room upside down when she won album of the year. Leave it to the Brits to make Americans consider their own prejudices.
Adele at the Grammys: Starting Over
Let's start with her George Michael tribute. There had already been a bunch of fabulous performances at the Grammy's for 2017. Beyoncé slayed, Katy Perry burned down a white house, Maren Morris did a great duet with Alicia Keys that suggests a cross-over artist is being born. However, then it was time for Adele and her tribute to the late British pop star George Michael.
She'd opened up the show doing her smash song "Hello" (which won song of the year later) and was flawless. No sound issues like last year…. However, Michael's death was just in December and, unlike, the other tributes to deceased singers, the lost of George Michael was a personal one for her. As you can see from this 2015 Halloween tweet he was one of Adele's childhood idols.
Thank you for the birthday wishes I had a wonderful time! I was my hero x #gottahavefaith pic.twitter.com/FMSPQPUGMD

– Adele (@Adele) May 6, 2015
//platform.twitter.com/widgets.js
Obviously this was not a video-op, "let me get some more visibly" performance for Adele.
The song she did was an arrangement of Michael's British hit "Fast Love." Whether it was emotion, nerves, or a sound issue (There were a number of those in these 2017 Grammys.) it was quickly apparent that she'd started in the wrong key. So she stopped, cursed, apologized, and asked to start over.
I know it's live TV, I'm sorry, I can't do it again like last year. I'm sorry for swearing, and I'm sorry for starting again, can you please start it again? I can't mess this up for him, I'm sorry…..
The artists in the Grammy's audience went wild with applause. They've all been there – maybe not in front of millions of viewers worldwide – but still. It takes guts to stop and say you've screwed up, but it also shows respect for the art they all love and devote their time to perfecting. Then there was her anguish about why she doing the song in the first place. It wasn't just a performance for her.
Adele at the Grammys: Song & Record of the Year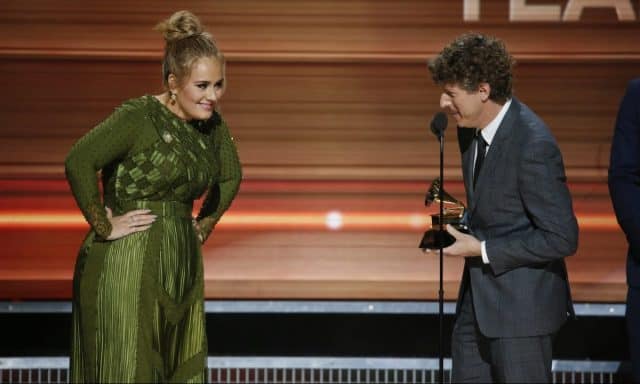 When Adele won the Grammy for best song, she was still apologising for cursing and having to start over the George Michael tribute. Then she introduced Greg Kurstin. He was Adele's co-writer on "Hello" – as well as a producer of her entire 25 album. After thanking her label, manager, etc, she expressed appreciation and gratitude for his work with her, noting that she has "a short attention span."
He would come to me in England so I wouldn't have to leave my son, yet you would leave your son and daughter. So thank you for your patience with me.
At this point she handed him the mike, but Kurstin was drowned out by music as they cut to a different stage! People rightfully booed the sudden shift. (In hindsight it may have been yet another technical snafu, but it was rude and disparaging to Kurstin regardless.)
So, when Adele later won for record of the year, she handed Kurstin the microphone.
You talk. (to the audience) They cut him off last time.
Adele at the Grammys: Album of the Year
For the 2017 Grammys there was much pre-ceremony hype about the fact that Beyoncé and Adele were up for some of the same awards. Both were nominated for best song, record, and album. Overall Beyoncé was nominated for nine Grammys and won two: best urban alternative album for Lemonade, and best music video for, "Formation." Adele won all five of her nominations. (The others were best pop vocal album and best pop solo performance.)
However, neither woman played into the "dueling divas" narrative. Beyoncé seemed genuinely happy when Adele won song of the year. As an artist I doubt anyone could argue with it being a brilliant piece of music with stunning vocals.
It's not until Adele won for record of the year that she seems a little subdued. However, she thanks her manager for "orchestrating her comeback" after she took time off to raise her son. Again, she's big on giving credit where credit is due. As such, when she wins album of the year she told the entire audience that she couldn't possibly accept it! This, is something you have to see to believe! (Warning, she does curse once.)
[youtube https://www.youtube.com/watch?v=ctuggqUSITM?rel=0]
Some might take this as the reaction of an extreme fan girl. After all, in her previous speech for record of the year she talked about how much she loved Beyoncé and wanted Bey to be her "Mummy." However, you didn't hear Adele saying that she thought "Hello" didn't deserve the wins for song of the year, and for her vocal performances. (Record of the year is for the vocals and production a single song of an album. ) That would be indicative of a fangirl's logic. It's not the case here.
What upset Adele is a belief Beyonce's work is being ignored, and that race has something to do with it. Although she never says the word racist, she's talks a lot about the content in Bey's album. Specifically she is at odds with her album 25 being conceptually seen as a more cohesive and artistic body of work than Lemonade.
The 'Lemonade' album is monumental, so monumental, so well-thought-out, so beautiful and soul-baring.
What also is striking about this speech of Adele's were the number of white men standing behind her as she said these things. They are the team that put together 25. Adele may not think she deserves a best album award, but those guys standing behind her certainly think she does. After all, her win is theirs as well.
Adele at the Grammys – The Wrap Up
Adele can't give back her best album Grammy. For one, it also goes to the album's producers. That doesn't mean she has to accept the win – and she clearly doesn't.
In a rare press room interview, she makes that plain. The first interview question is from a guy at CBS. His question is really about mansplaining to Adele why she should be thrilled about the best album win. He obviously feels she shouldn't have spoken out against the choice of her "peers."
You've become the first artist in history – and I don't know if you know the historic aspect of it – to sweep the top three awards, record, song, and album – twice.
The condescension in his voice throughout their exchange is grating! I just have to praise Adele for not cursing at this man about being such a jerk. Nor does she give into his not-so-subtle hints that she should distance herself from her speech after winning best album. You can see full video commentary on this here. (She does curse once.)
Historically, British singers have never shied away from acknowledging the influence of African-American music on their own music. The Beatles and The Rolling Stones are probably the most famous examples of this. It's only the American music scene that has a difficult time with acknowledging the roots of its biggest stars are black artists. This history is still playing out today.
The last question in this press conference was from an Associated Press reporter. When she asked Adele why she'd spoken up the way she did, Adele had no problem explaining why Beyoncé was personally important to her. However, she also placed Bey in a context of worldwide musical influence and hinted at the historical significance of Beyoncé. She noted that all the other artists that "made her feel" the way Beyoncé has with her music, "are all dead." You can see that clip here .(There's some cursing involved.)
At a time when American culture is taking a hard look at the levels of racism that exists within it. Adele at the Grammys shone a light on yet another level of how race plays out here. No one would ever say #Grammyssowhite. What does play out are musical African-American ghettos. The categories of hip-hop, rap, r&b and "urban" guarantee that everyone gets a Grammy. Lemonade, done by one of the biggest-selling recording artists of our time, is by far the biggest concept album done in decades. Furthermore, it's a brilliant, thought-provoking multi-media piece with many different musical influence from around the world. Adele summed up the issue perfectly:
What the f*** does she have to do to win album of the year?
It's a darn good question, one that people like the CBS reporter would rather we not think about.