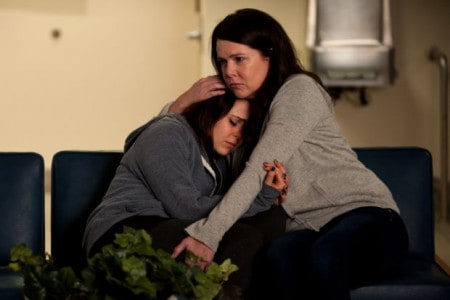 Mae Whitman, Lauren Graham's second TV daughter, is the latest star cameo revealed for the new Gilmore Girls reboot on Netflix.
Graham and Whitman played mother and daughter Sarah and Amber for six seasons on NBC's Parenthood but it is no secret that Whitman is a die-hard Gilmore fan at heart. Honestly I would have more surprised and concerned if she wasn't somehow included in the reboot.
Last June at the Austin Television Festival, Lauren Graham posed for a picture with Alexis Bledel and Mae Whitman.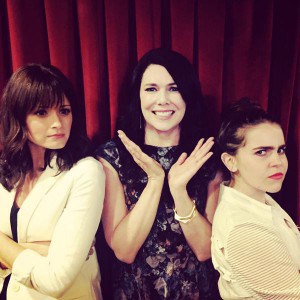 Don't worry! There's no hard feelings between "Rory" and "Amber" because they're all friends despite their serious faces with their TV mom.
TVLine revealed all they know (and can legally say) about her role, which is that it's a very brief moment with Graham that's sure to please Parenthood fans. I just wonder if there's a chance she could somehow be Amber passing through Stars Hollow for whatever reason, and maybe make the obvious observation that Lorelai looks a lot like her own mother. Might be too much but it would be a nice wink that the Bravermans are all doing well in fictional TV land. It's hard to believe it's already been over a year since the series finale aired.
This won't be the first reunion of sorts staged on the Gilmore Girls revival. Sutton Foster starred alongside Kelly Bishop in Amy Sherman-Palladino's critically acclaimed but cancelled too soon ABC Family series Bunheads. It was announced before that Foster also will have a cameo in the new series. Again, no word yet on if she'll be playing the same character but we can dream.
Are you excited about Mae's cameo? Are there any other famous fans of the show you still hope get a shot at appearing in the revival? I listen to the Gilmore Guys podcast so besides those two hosts deserving a chance, I would kill to see Jason Mantzoukas and Jessica St. Clair score even non-speaking roles. By the way, if you don't already listen to the Gilmore Guys podcast and you're a fan of the show, go listen to it right now!
Tell us what's wrong with this post? How could we improve it? :)
Let us improve this post!