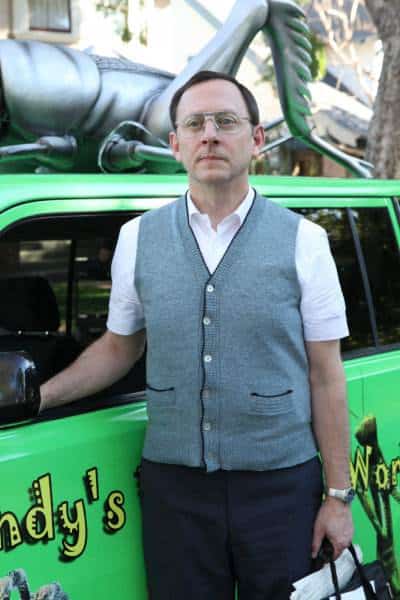 It's birthday time for the Braverman bunch and you know what that means? Well, aside from bug cupcakes, tension headaches, and some ill-advised bathroom sex, it means that Max gets a storyline for the first time in what seems like forever. Due to his obsession with insects, Adam and Kristina hire well known bug show impresario Amazing Andy, he of the bright green vehicle with a huge cricket on the roof, to entertain the 25-ish people expected at the party. Andy, played by the always awesome Michael Emerson, is twitchy, rigid about details, and a glimpse into Max's potential future, as Andy also has Asperger's.
Emerson may not have had a lot of screen time, but he made such good use of what he did get, culminating in a powerful scene where Adam questioning the quality of life for an adult with Asperger's and realized that Max just might be okay after all. While Amazing Andy was showing off hissing cockroaches and dangerous spiders, complete with running commentary from bug expert Max, there were a whole lot of other creepy crawly things going on in the Braverman world, all of which worked quite well to advance existing storylines and break new ones.
The fall out from last week's intense Crosby/Jasmine fight was more than the hatted one could have seen coming. While the decidedly non-confrontational Crosby tried to smooth things over, Jasmine took everything he said quite personally, going as far as to keep Jabbar away from Max's party for some pretty ridiculous reasons. I actually agreed with some of the things she said last week, so having Jasmine be as petty and emotionally closed off as she was tonight was beyond frustrating. It's also quite hypocritical; she can accuse Crosby of being immature (which he is), but she not only kept secret the fact that they even had a son in the first place but she can yank him away at the first sign of trouble? I understand that she doesn't want to subject Jabbar to an unstable relationship and all (every single parent I know has trouble with when to take the leap and when to get out before it gets too deep), but she just needs to let Crosby be a father and put aside whatever struggles they may be going through.
Feeling emotionally vulnerable, Crosby settled on a rebound fling with returning guest star Minka Kelly's Gabby; the two were both in emotional low places, with Gabby baring the brunt of yet another Max tantrum that went undisciplined and Crosby feeling alone after Jasmine disappears. I completely get the motivation behind this occurring and it makes perfect sense, but I'm just afraid that things on the show will get too soapy as a result. I only hope that this is resolved next week, ideally through a clean-ish break for Crosby and Jasmine that allows for some visitation with Jabbar.
Emotional lows were also an issue with Seth and Drew, but instead of wallowing in their pain, they decided to inflict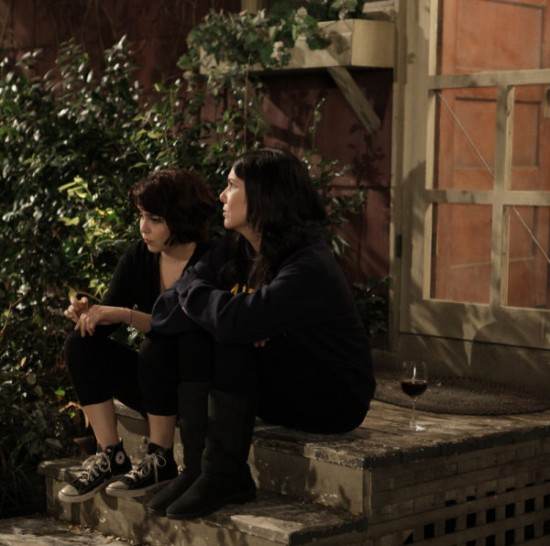 some, whether it be on a bully who insults Drew's vest (that he got from his father) or punks at the batting cages who don't quite know when to leave. The story sets up an interesting dynamic for the coming weeks because every confrontation that Seth had with other members of the family, Drew took his side on, so seeing how Sarah deals with that, how much space she gives Drew to just love his father, and how quickly it all comes crashing down should make for another quality storyline in a season that has had some great improvements over season 1.
My favorite storyline of the week, though, has to be Joel and Julia. When Julia mentioned having another baby a few episodes back, I cringed because I thought her type-A personality would make it the most unpleasant start of a new life in the history of the world. However, this was surprising comic excellence, due to the 48 hour period of abstinence before Julia began ovulating that fell on the day of Max's party. That could have been all types of sitcom stupidity, but man, the entire storyline just loosened things up and we got to see a lighter side of Julia that is too few and far between. Not only did every event turn a little naughtier (baking cookies will never be the same), but things boiled over in Adam and Kristina's bathroom in probably the funniest scene the show's done yet.
This week's Parenthood wasn't quite amazing, but it was pretty damn good, mixing the light with the dark, the emotion with the goofiness. It brought reassurance in some cases while raised doubts in others, culminating in a quiet scene where Amber goes up to Sarah after another romantic moment with Seth unnerves our favorite single mom and simply sits down beside her. It's this type of simplicity that shows that no matter what emotions you're dealing with, sometimes you just need somebody there.
Grade: A-
Episode MVP: Joel and Julia
MIA: Camille, Sydney, Jabbar
Favorite Bits: 'Does he mean 10:00 a.m.?', Julia's control issues extend to her ovulation, 'That statement should turn me off but, y'know, it didn't', ethical superheroes, Crosby/Gabby sexual tension, Joel's awkward baking metaphors for sex, Andy's smiling plush cricket, Joel's dirty texts, 'I'm wearing a giant muumuu…', Drew's continued defense of his dad, 'Ladybugs are hermaphroditic', Kristina offering Joel and Julia the bed, Sarah scaring Crosby as they're looking at the spider
Least Favorite Bits: Zeek's continued anger/violence problem, no Andy/Max private moment
Next Week: Crosby faces consequences, Adam's annoyed with Alex, and Drew gets disappointed.