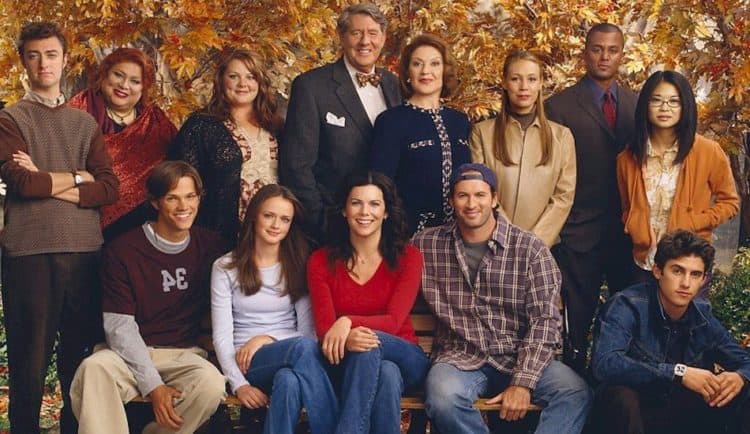 It may have been on in all seasons, but let's be real – "The Gilmore Girls" is a fall show. It's as warm and fuzzy and comfy-feeling as wearing a flannel shirt while wrapped in one of those big blanket scarves and sipping a pumpkin spice latte while going on a hayride and holding a pumpkin and smelling a bonfire all at once. In fact, if pumpkin spice lattes ever sponsored a show, it would be this one. But even with a show that invokes all the best parts of fall all year long, some episodes just feel the fall-iest, you know? Lucky for you, we've rounded them up here! Grab your cider and your fuzzy slippers and let's get to it.
10. Season 3, Episode 6: "Take the Deviled Eggs…"
In this episode, the town is awash in in twinkle lights, fall leaf garlands, corn sheaves, and pumpkins. But of course, a great episode isn't made on pumpkins alone. This one begins with a satisfyingly silly town hall meeting (where we meet Miss Patty's date!), and ends with a satisfyingly fun scene where Lorelai and Rory egg Jess's car, with those adorable fairy lights twinkling in the background.
9. Season 5, Episode 5: "We Got Us A Pippi Virgin"
A double-date with your mom…that's not weird at all! Dean and Rory's on-again, off-again romance is on-again in this one, so Lorelai plans dinner and a movie with them, plus a cranky Luke. The night is horribly awkward, but you know what isn't? The shot of a twinkle-lit town at the end of the show which will revive all those cozy feelings again.
8. Season 5, Episode 7: "You Jump, I Jump, Jack"
One of the things the Gilmore Girls does so well is to put characters in cringe-inducing, awkward-but-funny situations. Wealthy, refined Richard golfing with Luke who shows up wearing a backward baseball hat? That's some solid cringe. Rory and Logan's shenanigans with the Life & Death Brigade bring a good dose of fall collegiate feels, and we actually start to like Logan (just a little? Yes?) here.
7. Season 4, Episode 9: "Ted Koppel's Big Night Out"
What's more fall than tailgating at a college football game? The older Gilmores, of course, do it in style, with Bloody Marys and Yale sweatshirts (with their proper collared shirts underneath, of course.) There's a touch of nostalgia in this episode, too, when you see Richard join current Yale students in a chant and realize what he must have been like in his college days.
6. Season 6, Episode 7: "Twenty-One Is The Loneliest Number"
Lorelai and Rory aren't speaking to each other, and therefore Rory's traditional October birthday celebration with her mom is out. Emily, however, plans a swanky soiree where the two speak nicely but awkwardly. Also in this episode – Lorelai tries to get Luke to participate in a terrible Halloween skit after neighbor Babette mocks her sad decorations for the holiday.
5. Season 3, Episode 8: "Let The Games Begin"
The day after the dance marathon (we'll get to that show in a minute), Lorelai and Rory wander exhausted through a pumpkin-filled town. Later, Richard gives a tour of Yale which feels even more fallish. To round out the episode, Jess and Rory share their first kiss.
4. Season 3, Episode 9: "A Deep-Fried Korean Thanksgiving"
In this Thanksgiving episode, Lorelai and Rory have to make appearances at four Thanksgivings…and eat at all of them. They survive Mrs. Kim's healthy holiday meal, head to Sookie's where her husband is attempting to deep-fry everything in sight, then move on to Luke's and the lavish (of course) Gilmore family Thanksgiving. It's a nice little tour of Stars Hollow and all the regular Gilmore Girls haunts.
3. Season 2, Episode 4: "Road Trip To Harvard"
After Lorelai and Max break up, she does what every sensible person does and heads on a road trip with Rory. They find themselves headed toward Harvard, where they tour a campus ablaze in fall color. They also stay in a verrrrry overdone B&B, leading to some seriously (maybe too serious) cozy vibes.
2. Season 3, Episode 7: "The Shoot Gilmores, Don't They?"
The show kicks off with Taylor announcing, "Smells like fall"! This is the episode where Lorelai and Rory participate in an all-night dance contest that ends with (spoiler alert) Rory and Dean breaking up. It ends with mom and daughter dancing together while Lorelai comforts Rory…and Kurt dances bizarrely in the background. The perfect blend of emotional and absurd, just like the show.
1. Season 1, Episode 7: "Kiss And Tell"
This episode kicks off with a fight between Taylor and Luke over fall decorations. The town fall festival is coming up, the Horn of Plenty is staged in the village center, and there's fall decor galore in this one. It's also the episode where Dean and Rory share their first kiss, and there's not too much drama so it will leave you with all the happy, fuzzy, fall feels.
Is your favorite episode on this list? Did we miss any good ones?
You can watch all episodes of "The Gilmore Girls" on Netflix.