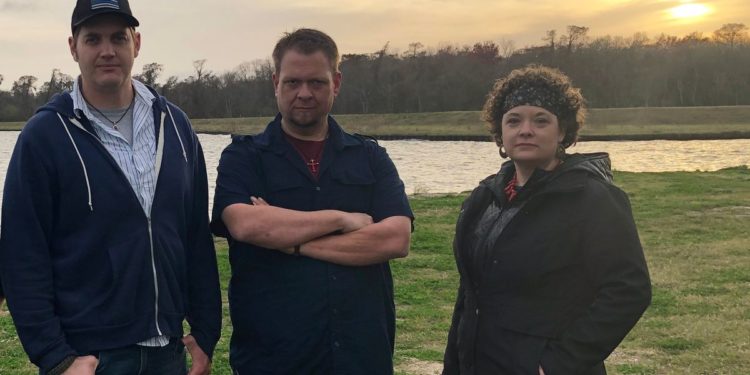 Morgan City, Louisiana would appear to be your typical small town. Located in St. Mary Parish, it boasted just under 12,500 residents after the census of 2010. Situated on the banks of the Atchafalaya River, which has long been considered the life-force of the town. Morgan City has a rich history, some of which can either draw more people or drive them away. Recently, the Travel Channel, which aired Ghosts of Shepherdstown, announced that they would also air what would be considered a sequel of sorts in June of 2019. The Morgan City project will have a mostly refurbished cast, including Sarah Lemos, Ben Hansen, and Jereme Leonard (sans Bill Hartley, Elizabeth Saint, and Nick Groff), the program will include Chief King from Ghosts of Shepherdstown, for those of you familiar with the prior series.
Those of you familiar with the Travel Channel's paranormal programming have a pretty good idea what to expect, but nobody knows everything. Until now, most haven't even heard of Morgan City; now we have become aware of several new and unusual reports of eerie happenings and perceived hauntings reported by the locals. Because of these reports, received by Chief James 'Bo' Blair himself, The Travel Channel decided to investigate, sending in new, fresh eyes and ears to see if there is any credence to the issues the locals are discussing with both each other and authorities, as well as those from The Travel Channel.
So, while you may have done some research yourself, or perhaps have witnessed some of the spooky occurrences because you live in Morgan City yourself, there is likely some information you simply aren't aware of. That's why we have provided the following list for you: To further your knowledge of the ghosts of Morgan City, which will enlighten you a bit more if and when you decide to view The Travel Channel's upcoming program, which airs June 21 at 9 pm ET/PT. Below you will find ten things you likely didn't know about the Ghosts of Morgan City, either as a program or simply Morgan City, its history, and its current 'ghost' issue. Read on and discover information that may plant doubt, but it also may make you a believer.
'Ghosts of Morgan City': 10 Unknown Facts
1. There Will Be Eight One-Hour Episodes in the Series
The episodes, which will document the investigation into the paranormal occurrences of Morgan City, will be led by Louisiana native Jereme Leonard, Ben Hansen, who is a former agent for the FBI, and Sarah Lemos, who is a psychic (technically a psychic medium). They are investigating in response to complaints issued by Morgan City's Chief of Police James Blair. The three investigators, along with Chief Blair, will explore not only Morgan City but its locale, St. Mary Parish, as well.
2. While the Morgan City 'Tales' Have Been Ongoing, the Team is Finally Investigating Due to an Unexpected Increase in Calls Regarding the Ghostly Activity
Chief Mike King, from the Shepherdstown series, suggested that Chief Blair get in touch with and hire a paranormal expert team to do the investigating after the occurrences in his town. Because the team, other than Jereme Leonard, was unfamiliar with the history of Morgan City, area historian Diane Wiltz was recruited to assist with digging up the town's history to aid in the investigation. Thanks to Wiltz's research, the first series episode will focus on the first female to be executed in the town, a situation which is believed to be directly linked to the activity that has been taking place there.
3. The Focus Isn't So Much On the Occurrences Themselves As It Is on the Recent Cascade of Reports
The growth in the frequency of reports Chief Blair has received is the main cause for concern. It seems that the town has endured odd paranormal-type activities for a while, but as of late, these incidents have grown. This has incited alarm among the town's residents, which in turn has motivated the chief to take some kind of action toward figuring the situation out and discovering what, if anything, can be done about it. Keep in mind that now the sightings are not just limited to Morgan City, but are being witnessed throughout the whole of St. Mary Parish.
4. The First Call Received By the Team is About the Sighting of a 'Shapeshifting Mist' in the General Parish Area
When the team initially goes to investigate the situation, one of the first things they become aware of is that the mist somehow is tied in with the first execution of the woman mentioned above, which was the result of a conviction to a 1927 murder case. Ada LaBoeuf was executed by hanging in 1929, and the case was unusual for the times for several reasons, including the fact that it made national headlines during an era when limited state-to-state news sharing was a difficult task to accomplish. The murder, which was related to a suspected extra-marital affair and involved a trapper, a physician, and a hunter resulted in LaBoeuf being the seventh white woman, and only the twenty-fifth woman overall, to be executed in the USA. Though the public pled with Governor Huey Long to spare her life, the execution took place anyway.
5. The Trial Was Considered 'Unconventional'
According to the Terrebonne Parish newspaper, 'Houma Today', a librarian and local historian have worked together to preserve the true story behind the murder and the trial. Librarian Fran Middleton has invested more than two years of her time on research, determined to publish a book on the actual trial, and she says that she has unearthed much fascinating information regarding the case and the trial itself. Historian Pam Heffner has also been extremely busy igniting a movement to put a book about the case into re-release. 'Ada and the Doc: An Account of the Ada LaBoeuf, Thomas Dreher Murder Case', the book she has been backing, has already had 750 reprints sold, and surely there will be more to come after the airing of The Travel Channel's program. Charles M. Hargroder originally authored the book in 2000, after retiring from the Times-Picayune in 1986. His interest in the case grew from the fact that he was born only one block from the courthouse where LaBoeuf's trial was held, and stories ran rampant throughout his childhood. You can view a photo of LaBoeuf and find more information on NOLA.
6. Jereme Leonard is a Demonologist and Heads a Team Called 'GhostQuest Paranormal of Louisiana
Leonard considers his team to be a 'small, elite group' and states that each member specializes in the paranormal. They have fifteen years of combined experience and are considered professionals in their field, not simply 'ghost-hunters', as some like to call them. The team specializes in exorcism and 'house-cleaning', demonology, and the occult. (Information courtesy of Paranormal).
7. This is Not Ben Hansen's First Paranormal Gig
While Hansen is a former member of the FBI, his interest seems to fall exclusively in the paranormal. He was also a cast member on 'Fact or Faked: Paranormal Files', which was eventually canceled. Since 2012 he appeared not only on 'Ghosts of Shepherdstown' but also on 'Paranormal Lockdown'. With a briefcase full of skills suited to investigative tactics and his history in paranormal programming, he seems to be a good fit for the series' he has participated in for The Travel Channel.
8. Sarah Lemos' is a Psychic Medium
There is not a lot of information on Sarah out there, but she does have experience in television as a guest on 'Ghost Hunter Cruise' by Banner Travel. Originally from Salem, Oregon, Sarah has an e-book available entitled 'Saging Your Home with Psychic Medium Sarah Lemos', and interested parties are welcome to follow her on her Facebook page.
9. Ghostly Encounters and Scenes on the Program are Not Authentic
Any contact made with ghosts or spirits on the program has been re-created. The purpose of this is to build suspense for the viewer. This tends to get them in the proper mood for the program, and it gives the team a chance to add any information they feel is pertinent according to their areas of expertise. This makes things much more understandable for those tuning in who don't have experience with the paranormal and/or what the team may be doing or going through. The format itself is much like that of a mystery program and includes information on Cajun culture and some of the town's older history. These points make it much easier to provide watchers with a 'cliff hanger' ending to each episode, motivating them to tune into the next one.
10. As in Any Good Story, the End Provides Some Nice Factual Twists
No spoiler alert needed here, but prepare yourself for the uncovering of new information regarding the conviction of Ada LaBoeuf which provides an interesting twist to the hauntings. Also, the investigation manages to give Ada's family a bit of closure regarding the ghostly, or spiritual, sightings that have long been cause for alarm and fear in Morgan City. While there aren't many paranormal gadgets or machines used to detect ghosts, except for one used by self-proclaimed 'fringe' scientist KD Stafford, which is said to detect the ghost of Ada LaBoeuf.
(Information from #6 through #10 courtesy of Ghostly Activities)
Being a person who enjoys being spooked and is a bit interested in the paranormal and the truth behind it, I find this to be one of the more interesting stories I have heard in a long time. While unable to watch the original first episode, I will be working to catch up and get the story from the perspective of the cast and crew. However, I believe I would most likely benefit from reading up on Ada LaBoeuf and what she endured during the late years of the 1920s. With this in mind, start tuning into this series for even more information. We hope you enjoyed learning about the 'Ghosts of Morgan City' and some of the facts you weren't aware of. After all, knowledge is power, particularly when it comes to the paranormal and the unseen.
Tell us what's wrong with this post? How could we improve it? :)
Let us improve this post!