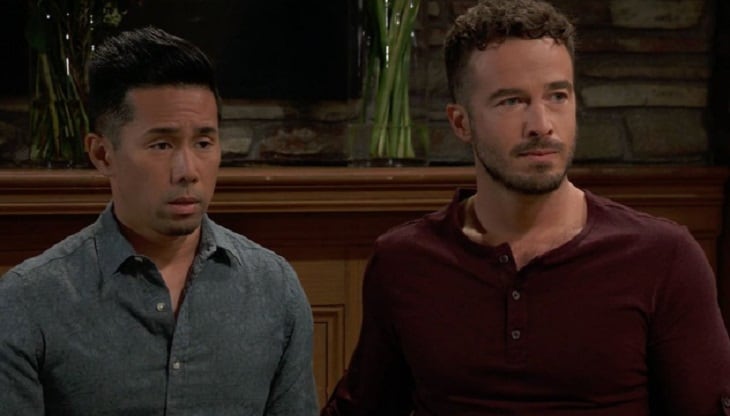 General Hospital fans know a thing or two about disappointment, but what about the kind of things that aren't disappointing so much as they are just sad? They might not be moments, specifically, but they are things that happen that make us feel sad, hurt, and lost for the people living those situations. We cannot handle some things, an we know that disappointment happens. But, we also know that sadness is a thing. We hate the sadness we feel in these situations, but we also know that many people cannot handle what is coming when they go out of their way to make this situation seem better. However, we cannot help but wonder if there might be a little something we can do to get through this as a family or a team. These moments make us sad, and we want to know if they make you sad, too.
Michael's Baby Loss
Nothing was as sad for us as watching this situation happen to this kid. He was a young man who went through so many horrible things in his life already at this point, and this was too much. Nelle came into his family and destroyed them. She came into this family and she made what was already a horrible marital situation with his parents even worse by lying about sleeping with his father after drugging him and making it seem like it happened, but lying to him the entire time and causing him to fall for her, and by making sure his mother was locked up. All because she thought that they had something to do with her own past and history. And she destroyed this family after all that happened with his brother and his death, and that was a horrible thing. He was so sad when his baby died, and it was a crushing blow for this family. We couldn't handle it at all, and we are just sad that it all went down this way to begin with. We hurt for him, especially knowing that his baby is alive and well and he seems him regularly.
Ava's Life
What about Ava's life is not sad? She is a strong, capable woman with so much to offer the world around her, yet she chooses not to all the time. She's someone who has so much to offer, and she makes horrible choices regularly. She does all she can to upset everyone in her life, and she doesn't seem to realize she can do so much better. She cannot handle it, and that makes us sad about it. It makes us sad to hear her feel sorry for herself, to assume she cannot do better, and to assume she cannot live her life the way that she could. She is someone who could take her personality and her power and change the world for the better, but she never manages to make it happen. We hurt for her regularly, especially going through this situation she is going through now after all that went down with Ryan/Kevin.
Drew and Jason
Maybe we missed something along the way, but they are brothers who never knew about one another. Imagine coming into this knowledge at some point in your life and realizing you have a twin who went through horrible things like they both did. They went through things that would make us all feel horrible, awful, and potentially like we didn't have much hope, and then they found one another. But, then they didn't work it out. They refuse to be friendly or even family to one another, and we don't get that. Drew didn't know he was Drew. He was brainwashed and told he was Jason. He didn't come to Port Charles to steal his brother's wife and family, but that's what happened because horrible people interfered in their life. We want to see them make this right, but they both seem to resist that at every chance. We thought losing Oscar might bring them together, but it did not. There is nothing here that we understand, get, or want to see. We want more from them, but we aren't sure we will get it.