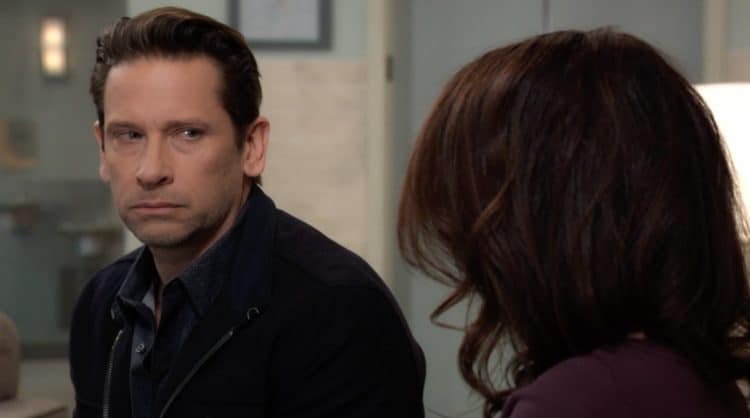 General Hospital fans know that sometimes a moment doesn't seem like a moment until it's over. There are small moments each and every day on the show, and most of them are moments we will never remember the rest of our lives. We will not see them coming, we will not remember them happening, and we won't think about them a second time. That's the basic of everyday life when you're on the air for an hour. However, there are some moments that came at us so fast and without so much as an expectation that have turned into the most memorable moments of all times. They aren't the big ones — at least, they're not all the big ones — that stand out because they're big. They're just moments that didn't seem like much of anything when they happened, but they turned to everything since.
The Moment Jason Woke Up
Most people remember things like the following days when he was so different and he was not himself, but we remember the moment he woke up. That was the moment his eyes were different. He was no longer perfect Jason Quartermaine. He was Jason Morgan. He didn't have his own brain. He lost so much of who he was in the accident his brother caused, and he didn't go back. Most people remember thinking that he would change back into himself once he had a few months of being a bad guy. They thought that the writers would absolutely make that change and he'd go back to being his perfect self, but he did not. We did not know it at the time, but that moment when he opened his eyes for the first time since his accident was the moment that we knew that it was all different. His eyes. They said it all, and we can look back at that small moment in time right now and realize that we knew then he'd never come back to us as the man he was before.
Robin's First Appearance
It was one of the most pivotal moments in television because we had no idea in that moment just how much she would bring to the world. Not only was she adorable and fun to watch, but she was a total Rockstar at her job. More importantly, it would be her love for a man who was diagnosed with HIV who would be her ultimate hero moment. She loved him anyway, and she also ended up being diagnosed as HIV positive. She would go on to lose him at a young age, but she would also take her own diagnosis in stride. It might not have seemed like much to her at the time, but her story changed lives. It brough awareness to a disease that most people were not even talking about, that they were not dealing with, and that they were not going to handle well. The world needed to know what they learned from her character. They needed to learn that they could talk about it, that it was important that they did, and that they had to do this for more than just show. She meant so much to her fans.
The Pregnancy that Wasn't Welcome
Does anyone remember when no one liked Sam because she came into town all about herself and slept with Sonny knowing he was married — and then we didn't like Sonny for a moment because he not only slept with her and cheated on Carly but got Sam pregnant? — and then we all hated her more when she got pregnant? But, it was that moment that Jason stepped in to help his friend — not so much Sonny as Carly. He did not want to her to find out, so he pretended he slept with Sam and she was pregnant with his baby — they lost that baby, unfortunately — but he did that. It was the start of a beautiful if sometimes sad love story for the two of them, but it was that moment that we just don't think about anymore. That one moment changed the entire game, and for the better if you ask us.
Tell us what's wrong with this post? How could we improve it? :)
Let us improve this post!