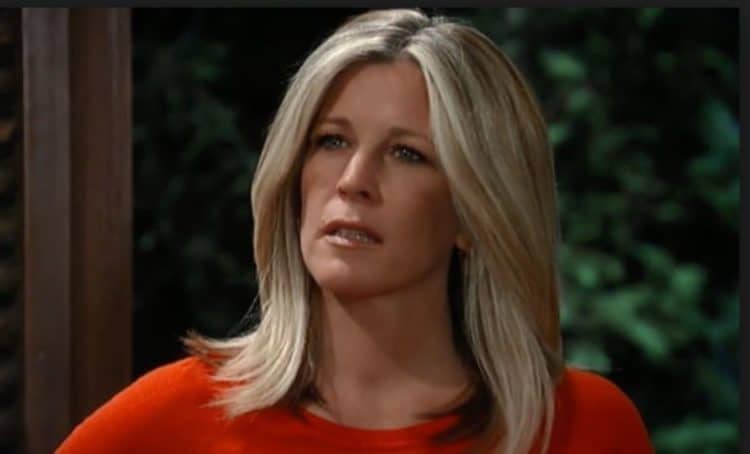 General Hospital fans don't see too many actors come and go with new faces. In fact, while they do have their fair share, there are more faces that have been around for decades than not. We love the same people now we've loved forever, and that makes it easy to pick out who our favorite people are. Some of these people have never been played by anyone other than the person already on the show and already playing the role. For example, Sonny is an original. Laura is an original. Jason is an original. And that's just to name a few. So, while we've never seen another Liz, we have seen another Carly. And she's one of the very few — at this point in the show — who was not the original actress to play the role. And that makes us wonder, who do you love as Carly more? Let's go back and find out.
Sarah Joy Brown
She is the woman who made Carly come to life. She showed up in 1996 and made some very big waves in the role. She was brought into the show as the woman who played the illegitimate daughter of Bobbie, and she made a huge mark. She came into the show as a woman who wanted nothing more than to get back at her mother for not raising her, and she ended up seducing her mother's husband as punishment. That went over really well for everyone, and that made her one of those characters that you didn't like. But then you did like her when she ended up getting together with Sonny. They went from fun and cute to a super power couple in a matter of moment. Brown spent five years on the show, leaving the role in 2001.
Tamara Braun
You know her now as Dr. Kim, but she did spend a lot of time on the show as Carly. She came into the role in 2001 and she ended up hanging around a long time. And she was there until 2005. And then she left, and she came back in 2014 for a moment. And that was a situation, she was great in the role, but we all kind of like her better now on the show as Dr. Kim. She came back as someone who was a doctor with a son and a history with Drew, who doesn't know who he is. But, she was a great Carly. She wasn't our favorite Carly, but she was a good one.
Jennifer Bransford
She only came around for a moment in 2005 when the show was in need of a new Carly. She did not make it work. She wasn't someone fans connected with. She didn't handle the role like we wanted her to, and there was a moment when fans were a little worried that there might not be a new Carly who could take on this role and make it work. We thought, for a moment, that she might be history. And we missed her.
Laura Wright
She's been around longer than anyone. She showed up as the third Carly of the year in 2005, and she was magic. We've never felt as good about a role and a woman as we did about this one, and she made us happy. She's been working this game as Carly, with Sonny, and without him on occasion, since then, and we love her. We are not even ashamed of the fact that she is our absolutely favorite Carly of all times, and we are not afraid to say it. We think that there is a good chance we are not alone in that sentiment, either. She's been there for the hard times, the good times, and the best times, and she's been nothing short of spectacular through it all.
Do you love current Carly the best, or do you want to go back to one of the old-school Carly's more than anyone else? We did like most of them, but we can't remember a time when they were as good as this one. And that's a shame for anyone who might want to come back to this role in the future. We can't handle it.