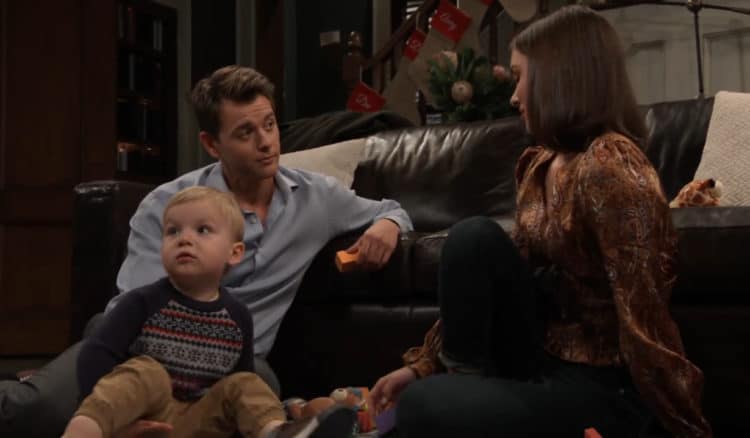 General Hospital fans are looking for things we love about this year. It's almost over, and we are just sitting here struggling to find things that seemed good. You see, this was a dark and sad year on this show. It was a year in which no one was happy, few good things happened, and everyone seems to be spiraling. We have people in prison who shouldn't be there. We have health issues, and lost children, and sick parents, and sick babies, and dead babies, and couples who aren't working out too well. We have secrets being kept, horrible moments of bad judgement, and we cannot figure out what is going on. We need something good to happen around here, though it does not seem entirely possible. You see, there is a lot of sadness, and we get that. But, we want to see more. We want to see someone happy, and we aren't getting that. It made it difficult for us to find our favorite moments of the year. Honestly, we just didn't feel this was a good or enjoyable year on the show, so we had to dig deep.
When Willow Protected her Son
She might have no idea her son is dead and gone, but she would do anything she could to make sure he remained safe from Shiloh. When a judge ordered her to share with him the location of the baby she had when she gave him up for adoption, she literally said no thank you, moved on with her life, and went to prison. She was more willing to go to prison than she was to allow him to make sure he got her kid. She was that adamant that she had to keep him safe, and she did just that. Of course, we know that her son died, and we know that her world is about to come crashing down when it all comes out, but she did something we thought was more than a little bit amazing.
When Kristina Came Home
While we do think that she was amazing when she was kidnapped and brought home to her family, we are talking about that moment when she finally overcame the brainwashing she was under. That moment in which she was herself again after so many months of being someone who was adamant that being part of the DoD was a good thing. She was a total mess, and there was nothing we could do about that. She had ugly days, and she made her family miserable. No one was at all happy about things, and there was nothing that she could do but work out her issues when people were working on her. It was all sad, but she did come through in the end. She might not be back to herself entirely, but she did find a way to get a little bit of her old self back. It would be amazing if she could get past her guilt, too.
When Baby Donna Was Okay
When she was conceived, it was a shock to everyone. When the doctors told Carly and Sonny that their baby girl was not going to be okay, they were shocked. They were diagnosed with a baby who was suffering from Spina Bifida, which is a devastating diagnosis. There is nothing as hard as hearing that your unborn baby will be born with serious health issues, and that was a crushing moment. However, when her surgery went well and her future looked a little brighter, we all felt a little better. She still has a very long road ahead of her, but she is better than they thought she would be, and she's bringing a bit of joy to the lives of a family who feel so little to be happy about. Their lives have been quite rough for some time now, and that's been a situation no one saw coming. For now, though, they are happy, their daughter is doing well, and their lives are about to change for the better, and we are over here hoping there is a trend of things working out around here in the new year. Please, anyway.
Tell us what's wrong with this post? How could we improve it? :)
Let us improve this post!